Hurricane Hermine Tears Through Florida, Raises New Zika Fears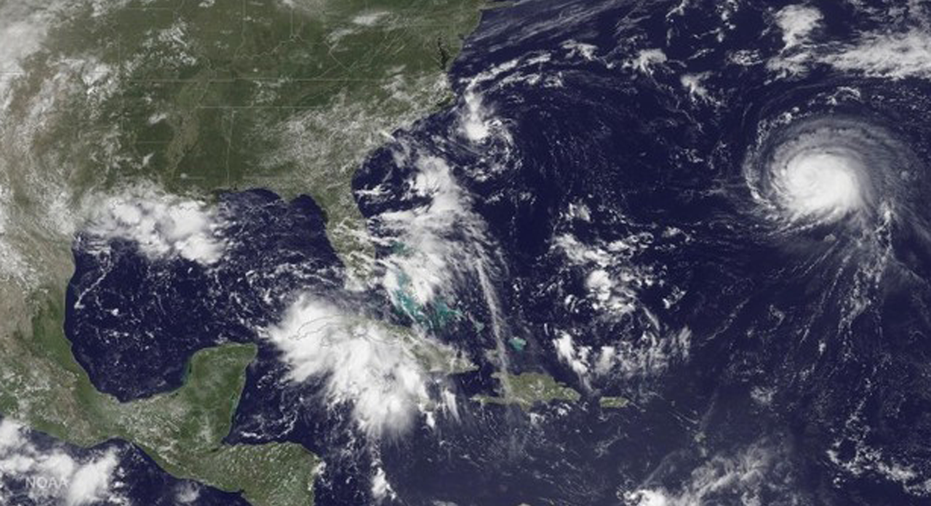 Hurricane Hermine tore a path of destruction across Florida on Friday, leaving more than 253,000 homes and businesses without power, flooding low-lying areas and raising concerns about the spread of the Zika virus due to the massive pools of standing water left behind.
The first hurricane to make landfall in Florida since Wilma more than a decade ago, Hermine came ashore early on Friday near St. Marks, Florida, 20 miles (30 km) south of the capital of Tallahassee, packing winds of 80 mph (130 kph) and churning up a devastating storm surge in coastal areas.
It was set to snarl U.S. Labor Day holiday travel after battering Florida's $89-billion tourism industry.
The tempest headed toward the Atlantic seaboard on a path where tens of millions of Americans live, causing storm watches and warnings stretching to New Jersey, the National Hurricane Center (NHC) said.
One homeless man was hit by a tree and died, Florida Governor Rick Scott said, but officials have not confirmed whether the death was storm-related.
"Now is the time to come together. There is a lot of work to do," Scott told a news conference, warning people to look out for downed power lines and avoid driving in pools of standing water.
Concerns over the standing water in which mosquitoes breed intensified as the state battles an outbreak of the Zika virus.
"... It is incredibly important that everyone does their part to combat the Zika virus by dumping standing water, no matter how small. Any amount of standing water can serve as a breeding ground for mosquitoes," Scott said.
According to the Florida Department of Health, there have been 47 cases of Zika in people believed to have contracted the virus through local mosquitoes. Active transmission is thought to be occurring only in two small areas around Miami.
As the sun rose on Friday morning on Hudson Beach, just north of Tampa, cars sat askew in the middle of flooded out roads. Palm fronds, tree branches and garbage cans were scattered about.
Overnight, Pasco County crews rescued more than a dozen people and brought them to shelters after their homes were flooded.
Richard Jewett, 68, was rescued from his home in nearby New Port Richey, around 1:30 a.m. EDT (0530 GMT) on Friday as emergency workers carried out a mandatory evacuation.
"The canal started creeping up toward the house and even though it wasn't high tide it looked like it was coming inside," he said.
A weakening Hermine moved across southern Georgia, blowing winds of 60 miles per hour (95 km) at 8 a.m. EDT (1200 GMT), according to the NHC. The tropical storm was expected to reach the coastal Carolinas later Friday, then move offshore from North Carolina on Saturday. Forecasters said it could strengthen over the sea.
In Cedar Key, an island community in northwest Florida, waters rose more than 9.5 feet (2.9 meters), among the highest surges ever seen, the National Weather Service said.
Officials in the affected region on Friday warned that homes continued to be threatened by high water and implored people to avoid flooded roads.
"This is one of the worst that we have seen in the city in a long time, and unfortunately, it is not over yet," Mayor Rick Kriseman of St. Petersburg, Florida, told reporters.
On its current path, the storm could dump as much as 15 inches (38 cm) of rain on coastal Georgia, and the Carolinas. Forecasters warned of "life-threatening" floods and flash floods.
The governors of Georgia and North Carolina declared emergencies in affected regions.
As it moved north across Florida, the storm continued to whip up heavy rain. Trees blocked roads and bridges were shut to assess the damage caused by high waters, the Florida Department of Transportation said.
(By Letitia Stein; Additional reporting by Zachary Fagenson in Hudson Beach, Fla., Brendan O'Brien in Milwaukee, Laila Kearney in New York and Jon Herskovitz in Austin; Editing by Angus MacSwan and Jeffrey Benkoe)