Huntington Ingalls Scores a Direct Hit on Earnings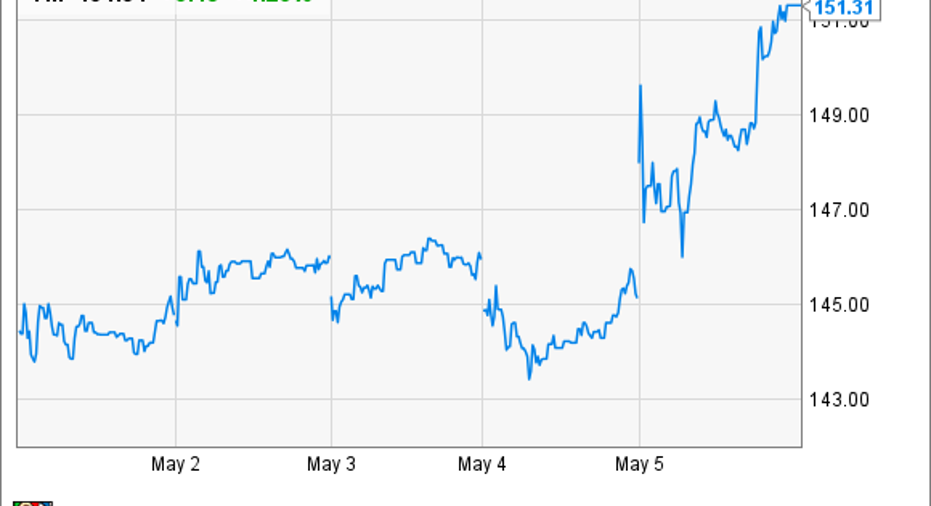 Huntington Ingalls reported earnings Thursday. Its stock jumped immediately.HII Price data by YCharts.
Investors went into earnings day Thursday expecting Huntington Ingalls to report growth in both revenues and profits -- and it did. But even the most optimistic investors were probably surprised at just how well Huntington Ingalls performed last quarter.
And that's where we'll begin our story.
The newsOn Thursday, Huntington Ingalls reported:
$1.76 billion in quarterly sales, up 12% year over year and 11% ahead of analyst predictions.
Operating profit margins of 11.2% -- up 120 basis points year-over-year.
Operating profits of $198 million (up 27%).
And on the bottom line, $2.87 in profits per diluted share -- a staggering 60% improvement over last year, and 35% ahead of Wall Street estimates.
Commenting on the quarter, CEO Mike Petters modestly observed that his company was continuing to "execute well," crediting a "strong operating performance at Ingalls Shipbuilding" for helping to boost results for the company at large.
How'd they do that?What's perhaps most interesting about the huge earnings beat is that it does indeed appear to have come about entirely by dint of "strong operating performance." There were no one-time charges inflating comparisons to last year's Q1 to explain away, nor any large tax benefits recorded this time. The impressive earnings came quite simply from booking revenues, controlling costs, and dropping profit to the bottom line.
Now the question is whether Huntington Ingalls can keep up the good work?
Trouble in the water In fact, that could prove difficult. Given how good Huntington's quarter was, it's hard to find facets to quibble with this week. But here are a few to chew on.
During the quarter, Huntington brought in only $1 billion in new orders for its shipbuilding businesses. And yes, $1 billion is an impressive sum, but it's considerably less than the $1.76 billion in revenues billed during the quarter. As a result, Huntington Ingalls' book-to-bill ratio was a discouraging 0.57 -- a number that if not quickly improved upon, points to lower revenues for the company in future quarters.
Another thing to keep in mind: As Petters pointed out, Ingalls Shipbuilding was the company's bright shining star in Q1, growing its operating profit margin 440 basis points year-over-year. Ingalls, which builds vessels such as destroyers, coast guard cutters, and amphibious assault craft, saw revenues surge 25%. And naturally, a big increase in very high-margin revenue was good news for Huntington Ingalls stock.
In contrast, the Newport News Shipbuilding division, which builds submarines and aircraft carriers for the Navy, did less well. Revenues at Newport News increased less than 9%, and profit margins actually declined by 110 basis points to 7.7%. And Newport News is still Huntington Ingalls' bigger business, producing more than twice the revenues that Ingalls brings in. Thus, its results weigh much more heavily on the company's overall performance.
Long story short, this is a good news/bad news situation: The first quarter was a great one for Huntington Ingalls as a whole. If the company plans to keep the gains flowing, though, it simply must improve profitability and grow revenues faster at Newport News. On the other hand, if Huntington Ingalls succeeds in raising the tempo of operations at its biggest division (Newport News) to that of its best division (Ingalls), then the outlook for Huntington Ingalls stock should be very bright indeed.
The article Huntington Ingalls Scores a Direct Hit on Earnings originally appeared on Fool.com.
Fool contributorRich Smithdoes not own shares of, nor is he short, any company named above. You can find him onMotley Fool CAPS, publicly pontificating under the handleTMFDitty, where he's currently ranked No. 294 out of more than 75,000 rated members.The Motley Fool has no position in any of the stocks mentioned. Try any of our Foolish newsletter services free for 30 days. We Fools may not all hold the same opinions, but we all believe that considering a diverse range of insights makes us better investors. The Motley Fool has a disclosure policy.
Copyright 1995 - 2016 The Motley Fool, LLC. All rights reserved. The Motley Fool has a disclosure policy.