Howard Schultz Steps Down As Starbucks' CEO: What It Means For Investors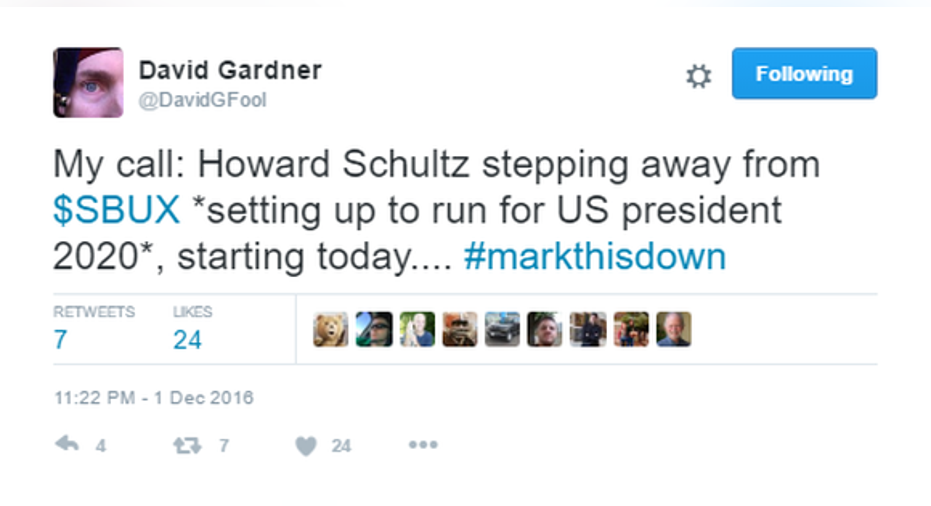 Image: Starbucks Corporation
On January 8th, 2008, Starbucks Corporation (NASDAQ: SBUX) stock surged 8% on nearly five times its normal volume, adding one billion dollars to the company's previous session market capitalization of $13.5 billion. It was Howard Schultz's first day back on the job as CEO after an eight year hiatus, and investors had reason for ebullience -- the market had cut company's stock in half during the previous twelve months.
We can literally say, then, that Schultz has created enormous value for the company since "day one" of his return. Starbucks' market capitalization has increased 6-fold, to over $83 billion, over the last nine years. Those who had the foresight to purchase shares on the 8th of January, 2008, are proud owners of a 587% total return today.
Regardless of when shares were purchased, investors should rightfully feel some trepidation over Starbucks' announcement yesterday that Schultz will step down from the CEO role next April. Yesterday's press release stated that he plans to remain involved as chairman of the board, and will focus on retail innovation as well as social impact projects.
How long Schultz will stay put as chairman is an open question. Given a flirtation with politics over the last year, and a history of voicing deep conviction on social and economic issues, some folks (including Motley Fool co-founder David Gardner) on Twitter are already conjecturing over what might be next for the 63 year old entrepreneur:
Image: Twitter.com.
A capable replacement, but questions remain
Schultz's chosen successor, current Chief Operating Officer Kevin Johnson, has been a Starbucks board member for seven years, and has filled the COO role for the last two. Johnson was brought on to the management team for his technology prowess, having served stints as a Microsoft executive and holding the CEO role atJuniper Networks. He's proved an extremely deft and creative operations professional, and has helped the company scale its operations, particularly its digital platforms.
Shareholders can take comfort that the company is two years into a five year strategic plan which should yield continued revenue and margin expansion.What's less clear is if Johnson will be able to maintain the level of innovation that has characterized the company since 2008.
Schultz possesses an almost preternatural ability to visualize future opportunity and the sometimes obscure actions needed to capitalize on it. From breaking the code to the China market (pitch the company's culture to influential parents of employees), to a headlong rush into premium categories which fed into previously untapped consumer demand, Schultz is one of the few CEOs to whom the label "visionary" applies without exaggeration.
With such a transformative leader stepping down,what should investors look for to understand how Starbucks will fare going forward? The following are four broad road signs, as we move into 2017 and beyond, which can be used to measure the company's continuing -- or maybe declining, potential.
1) Annual revenue growth of 10% or higher
Much attention has been focused lately on Starbucks' U.S. comparable store sales, or "comps." They've hit a speed bump, falling below 5% year-over-year growth twice in the last two quarters, after twenty-five consecutive quarters above this mark. But as I've argued recently, this isn't necessarily a problem, and in fact,the company's comps will be lumpy going forward. Starbucks' major investments, including its digital platform, store expansion, and product innovations, will pay off over different periods, and with varying rates of return, making consistent comps harder to come by in the future.
Investors should instead focus on a benchmark of annual revenue growth at 10% or higher. Starbucks has maintained a compounded annual revenue growth rate, or CAGR, of 12% over the last five years. Inevitably, this rate will slow a bit in the coming years. But through several initiatives, including the projected opening of 1,000 "Reserve" stores, and a focus on higher average tickets, Mr. Schultz has created a structure for the bulk of this growth to continue.
2) "Two-thirds" is just right for Asia
Starbucks has experimented for years on the most profitable balance between owned and licensed stores. Generally, the company has held a higher degree of corporate owned stores in the U.S., its biggest market (about 58% owned versus 42% licensed). Globally, management loves to sign deals with local partners in order to rapidly expand in crucial markets.
Thus, in its crucial China Asia Pacific segment, the equation is flipped: Roughly two-thirds of stores are licensed rather than owned. The organization confirmed recently that the same "two-thirds" benchmark will apply as it doubles its locations in China over the next five years.
This is an important equation which has allowed Starbucks to obtain market share in the battleground major metropolitan areas in Asia, while still pulling in profit. It's one of Mr. Schultz's quiet legacies. Shareholders should expect to see this continue for several years in Asia, and should seek to understand the reasons behind any drastic changes in this proportion.
3) U.S. store format innovation
For all the attention on China, and even newer markets in South America, Starbucks under Schultz has continued to broaden its U.S. revenue and operating leverage. Changing up store formats has become key in recent years to this success.
Look for Johnson and the rest of the management team to continue to expand Starbucks' profitable drive-through formats. Newer formats such as the "espresso shot" stores, which at one-third the size of a traditional store, pull in nearly the same revenue in high density neighborhoods, will also be vital to growth. Executives should keep the corporate foot on the accelerator with store format evolution.
4) Higher investment in channel development
One natural way for Starbucks to increase margins and its beverage dominance in general is through the licensing of its products through joint ventures. "Channel Development" is the company's most profitable segment, and a Starbucks without Schultz can find much room to grow simply by pouring more resources into this revenue stream.
The company already enjoys bottling partnerships with PepsiCo, through which it sells Frappuccinos and similar beverages, andAnheuser-Busch InBev, the chosen bottler for its ready-to-drink Teavana tea line to be launched next year. And it's busy entering the single serve coffee market in Europe via Starbucks-branded Nespresso pods.
These forays into product licensing have a much lighter capital footprint than store development. As such, they represent a partial answer to how a company which has posted $21 billion in revenue over the last trailing twelve months can possibly continue to expand at a rate in excess of 10% each year.
A final note on the four "road signs" above: I've left off one sign that seems obvious, and that is Starbucks' expanding digital platform, which includes its loyalty program and innovations such as Mobile Order & Pay. This is because Johnson's expertise and value is already "baked" into this part of the business. Investors will now take for granted that Starbucks' current momentum in technology will be sustained as a pillar of its overall revenue growth rate.
Don't panic, but monitor the road signs in 2017 and beyond
It's unsettling to see Schultz step back. With his shrewd business acumen, deep market intuition, and an extremely aggressive bent toward execution, Starbucks' popular CEO is a giant in the retail landscape -- few would want to try and fill his shoes. But Schultz leaves the company in as good as shape, and with as many as opportunities, as any incoming CEO could wish for.
10 stocks we like better than Starbucks When investing geniuses David and Tom Gardner have a stock tip, it can pay to listen. After all, the newsletter they have run for over a decade, Motley Fool Stock Advisor, has tripled the market.*
David and Tom just revealed what they believe are the 10 best stocks for investors to buy right now... and Starbucks wasn't one of them! That's right -- they think these 10 stocks are even better buys.
Click here to learn about these picks!
*Stock Advisor returns as of November 7, 2016
Asit Sharma has no position in any stocks mentioned. The Motley Fool owns shares of and recommends Anheuser-Busch InBev NV, PepsiCo, and Starbucks. The Motley Fool owns shares of Microsoft. Try any of our Foolish newsletter services free for 30 days. We Fools may not all hold the same opinions, but we all believe that considering a diverse range of insights makes us better investors. The Motley Fool has a disclosure policy.