Howard Hughes Corp. Cashes in on an Asset Sale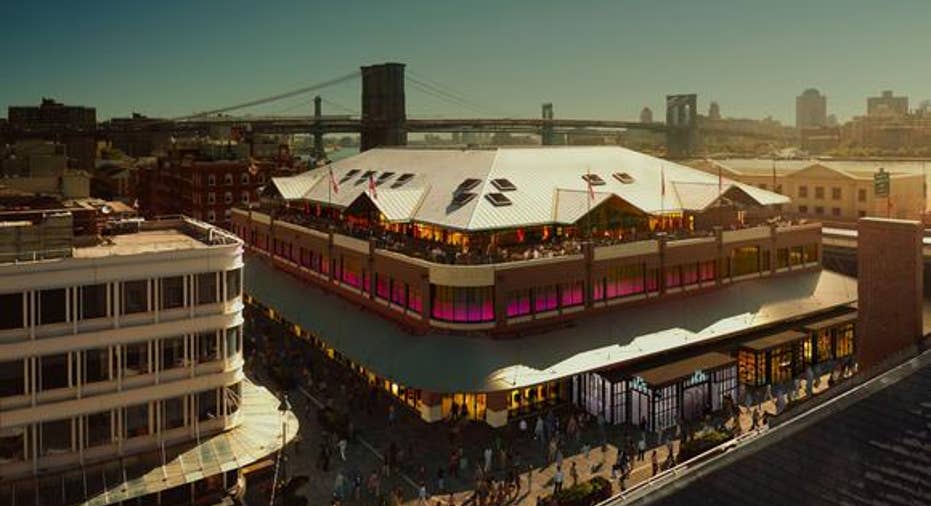 Image Source: Howard Hughes Corp.
Howard Hughes got a big boost this quarter from an asset sale, which catapulted its first-quarter earnings. However, that sale was only part of the story this quarter, with the real estate developer also benefiting from strong condo pre-sales, land sales within its master planned communities, and income from its recently completed commercial properties.
Howard Hughes results: The raw numbers
| | Q1 2016 Actuals | Q1 2015 Actuals | Growth (YOY) |
| --- | --- | --- | --- |
| Adjusted Net Income | $128.9 million | $16.8 million | 667.3% |
| Net Operating Income from Operating Assets | $31.5 million | $27.1 million | 16.2% |
| Adjusted EPS | $3.04 | $0.43 | 607% |
Data source: Howard Hughes Corp.
What happened with Howard Hughes Corp this quarter?An asset sale provided a big boost to Howard Hughes this quarter:
Adjusted net income skyrocketed as a result of the sale of the company's 80 South Street Assemblage. The company, which created the Assemblage from a series of transactions over the past two years, sold the property for $390 million in the first quarter. That resulted in a pre-tax gain of $140.5 million and net cash proceeds of $378.3 million.
The company also enjoyed strong double digit growth in net operating income from its income-producing operating assets. This growth was driven by the the ongoing stabilization of its retail and office developments that were opened last year.
Even the company's Master Planned Community sales were strong, jumping 32.1% to $59.2 million. That's after the company completed a $40 million residential sale to a home builder at its Summerlin community as well as closing two commercial sales at its Woodlands community to medical-related entities.
Howard Hughes also saw an increase in condominium rights and unit sales in Hawaii during the quarter compared to the year-ago period. Further, it was able to recognize more revenue from its Anaha project under the percentage of completion method of accounting.
What management had to sayCEO David Weinreb,commenting on the company's results, said:
Howard Hughes benefited from four drivers during the quarter: The Assemblage sale, condo sales in Hawaii, stronger Master Planned Community land sales, and the stabilization of its income producing properties. Of the quartet, the stabilization of the income producing properties is noteworthy because these are properties that were either built or bought to generate consistent income for the company to help it mute some of the impact of the rest of its real estate developments, which provide lumpier results because they rely on asset sales to drive income. The reason that segment is important is because while Howard Hughes might have enjoyed strong asset sales in the first quarter, they can't always be counted on.
Looking forwardThat being said, the company does still have a lot running room in Hawaii. While its Waiea and Anaha towers are selling out fast, with 85.8% and 81%, respectively, of total residential square feet under contract, the company has two more towers in the pipeline to drive future sales. It's Ae'o tower began construction during the first quarter and now has 40.4% of its residential square footage under contract. In addition to that the Hawaii Real Estate Commission approved the marketing for sales at its Ke Kilohana tower in March and 90% of the units are under pre-sale contracts already. Given that the company uses a percentage of completion accounting method, it will be recognizing the income from these sales for quite some time, which will provide a nice base for earnings growth in the future.
The article Howard Hughes Corp. Cashes in on an Asset Sale originally appeared on Fool.com.
Matt DiLallo has no position in any stocks mentioned. The Motley Fool recommends Howard Hughes. Try any of our Foolish newsletter services free for 30 days. We Fools may not all hold the same opinions, but we all believe that considering a diverse range of insights makes us better investors. The Motley Fool has a disclosure policy.
Copyright 1995 - 2016 The Motley Fool, LLC. All rights reserved. The Motley Fool has a disclosure policy.