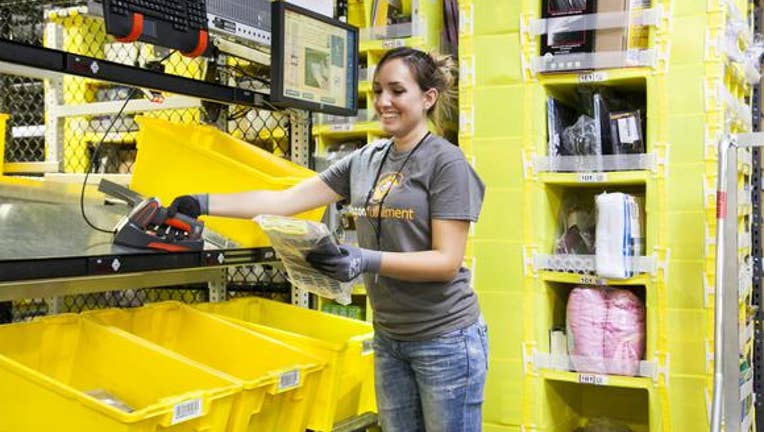 While many public companies focus their attention on embellishing their quarterly results,Amazon has always taken the long view.
The online retailer leader has invested heavily in infrastructure including a nationwide network of warehouses, robots which help ship orders, and even predictive technology that helps the company know what a customer plans to buy before he or she orders it. Amazon even has a pioneering deal with the United States Postal Service which allows for Sunday delivery in some markets.
All of this has not come cheap, and it has hurt Amazon's short-termprofitabilityin some quarters, but it has helped the company build a strong competitive advantage over its chief rivals Wal-Mart and Target. Those two physical retailers are struggling to change their supply chains to meet the needs of individual digital customers rather than stores. That's a radical switch that requires major changes to how both brick-and-mortar chains operate.
But if either Wal-Mart or Target can hope to compete with Amazon, they have to recreate the digital leader's ability to ship millions of products in a two-day windowefficiently. Both companies seem to at least understand the problem and are taking steps to catch up.
Amazon uses a mix of people and robots in its warehouses to fill orders. Source: Amazon
If you can't beat 'em ...Target has taken the logical step of trying to compete with Amazon by bringing in one of its key supply chain andlogisticsexperts. The company recently named Arthur Valdez, a 16-year Amazon veteran,executive vice president, chief supply chain and logistics officer. In his new position, which reports to COOJohn Mulligan, Valdez "will lead Target's supply chain transformation including planning, distribution and transportation."
In his time at Amazon Valdez held a number of positions across the company's global and domestic supply chain. He most recently served as the online retailer's vice president of operations focused on international supply chain expansion.
"While we've made significant progress in improving our operations, Target's growth hinges on our ability to enhance the fundamental aspects of our business, starting with the supply chain," Mulligan said in a press release. "Arthur's leadership and experience will be a tremendous asset as we continue to drive improvements in end-to-end processes including leveraging our almost 1,800 stores to deliver a seamless experience for our guests."
What is Wal-Mart doing?Instead of poaching executives from its online rival Wal-Mart is doing something that has long been a hallmark of the retail giant: It's turning to its vendors to help it find cost-savings and efficiencies.
The chain met with suppliers in Indianapolis recently and put them on notice that 2016 would not be business as usual, TalkBusiness.net reported. During the meeting Chief Merchandising Officer Steve Bratspies said that the retailer expects "'healthy tensions' with its partners as it seeks to improve supply chain capabilities, double down on the everyday low prices (EDLP) strategy while also delivering convenience and customization," the website reported
"Topline growth is key focus for this year. ... We will ask each vendor to support Walmart and our EDLP philosophy," he said. "We have work to do -- we will reclaim EDLP."
Basically, Wal-Mart wants to lower its inventory cost by pushing more of the burden back on its partners. That's a tried and true strategy which has always worked for the retailer because it's simply too big a player for vendors to push back on. The suppliers simply have to do their best to comply or they risk losing an enormous sales channel.
It's not enoughBoth of these moves are smart decisions by Wal-Mart and Target, but they are only small steps toward competing with Amazon. For Wal-Mart, its strategy is simply doubling down on something big retailers have always done. As part of a bigger plan, it's a good idea to put pressure on suppliers and push them for lower costs, but that won't create the massive delivery infrastructure that Amazon has.
Wal-Mart is, of course, also investing in growing its digital and delivery infrastructure and it will have to continue to build that out if it hopes to compete online. Keeping prices low helps, but it's only one piece of the puzzle, with being able to deliver in a timely fashion arguably being the most important one.
Target may have a longer way to go, but it has been very aggressive in its digital transformation and notched impressive gains during the holiday season sparked by its free shipping on $25 orders offer. The company has maintained that deal in the new year and addingValdez should help the company build out the capacity to compete.
Taking on Amazon requires cash and a long-term commitment. Wal-Mart and Target have shown an increased willingness to commit to both, but these are early steps on a long road where the industry leader, Amazon, has shown that it's not going to pause even slightly. The challenge here for both physical retailers is that it's not simply about getting to where Amazon is, but getting to where it will be.
The article How Wal-Mart and Target Are Keeping Up With Amazon originally appeared on Fool.com.
Daniel Kline has no position in any stocks mentioned. He's pretty happy thatAgents of S.H.I.E.L.D. has been renewed.The Motley Fool owns shares of and recommends Amazon.com. Try any of our Foolish newsletter services free for 30 days. We Fools may not all hold the same opinions, but we all believe that considering a diverse range of insights makes us better investors. The Motley Fool has a disclosure policy.
Copyright 1995 - 2016 The Motley Fool, LLC. All rights reserved. The Motley Fool has a disclosure policy.