How Volvo Will Try to Take On Tesla Motors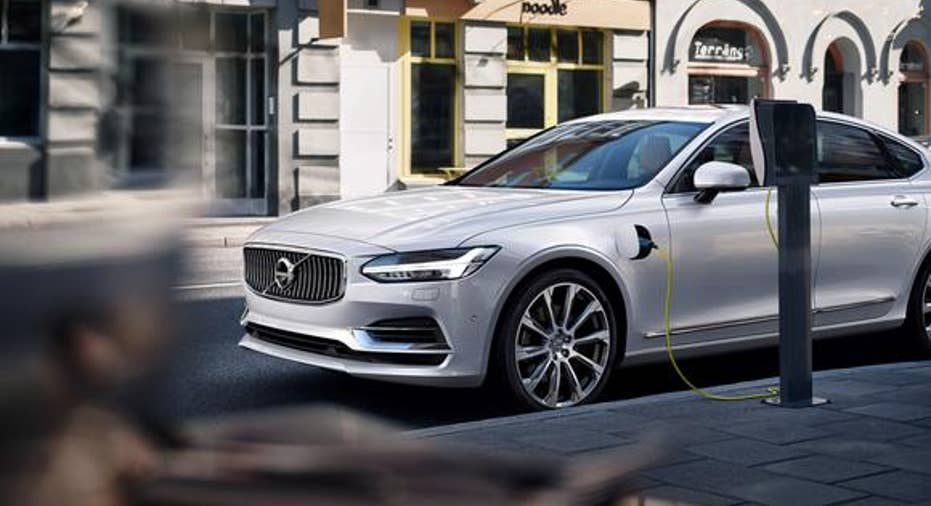 A plug-in hybrid Volvo S90. Volvo said on Thursday that it is committing to an ambitious electrification effort. Image source: Volvo Cars
Swedish automaker Volvo announced an ambitious goal on Thursday: It aims to sell 1 million "electrified cars" by 2025.
Volvo is the latest global automaker to make its electric-car ambitions explicit in the wake of spectacular demand for Tesla Motors' upcoming Model 3.
But what exactly does Volvo have in mind?
What Volvo said: "It is a deliberately ambitious target," Volvo CEOHokanSamuelson said in a statement. "It is going to be a challenge, but Volvo wants to be at the forefront of this shift to electrification."
Volvo said that it has been preparing to shift to what it calls "electrified vehicles," a category that includes hybrids and pure electric cars, for five years now. It has developed two separate vehicle architectures, one for large cars and one for smaller cars, that can both incorporate gasoline, hybrid, or fully electric powertrains.
Volvo said that it will offer "at least two hybrid versions of every model" in its range, likely a conventional hybrid and a plug-in. It will also introduce its first all-electric car in 2019.
Its one-million-electrified-cars target is a cumulative total, it said. The count will start with the introduction of its first hybrid, the V60 diesel plug-in hybrid wagon, which debuted in 2012. Volvo sold just over 500,000 cars (of all kinds) in 2015.
What it means: As Samuelson said, it's an ambitious target. Volvo said last October that it expects electrified models to account for 10% of its global sales by 2020. Meeting the goal announced on Thursday will require that percentage to increase quickly after that.
But don't discount it. The goal is important to keeping the Volvo brand in the forefront of car-shoppers' minds.
Volvo has long been associated with safety, sturdy reliability, and a particular flavor of upscale Swedish comfort that is luxurious without being ostentatious. It has also long been a company that appeals to green-minded customers. Building on its reputation with a line of premium high-tech hybrid sedans -- and eventually, pure electric cars -- makes a lot of sense.
Volvo is one of the few companies that could potentially take on Tesla at its own game. It lacks Tesla's aura of Silicon Valley cool, but it brings its own quirky style along with those well-deserved reputations for safety and durability. A well-executed electric Volvo with up-to-date technology could be the kind of car that appeals even to Tesla fans.
Volvo is still headquartered in Sweden. But it's currently owned by Chinese automaker Geely Automotive Holdings , which acquired the Swedish automaker from Ford in 2010. Volvo has factories in Sweden, Belgium, Malaysia, and China.
What's next for Volvo: Volvo didn't give a lot of specifics on Thursday. We'll have to wait to learn more about that electric Volvo that the company has promised for 2019. But it's now clear that the company is planning to make much more than a token effort with electrified cars.
The article How Volvo Will Try to Take On Tesla Motors originally appeared on Fool.com.
John Rosevear owns shares of Ford. The Motley Fool owns shares of and recommends Ford and Tesla Motors. Try any of our Foolish newsletter services free for 30 days. We Fools may not all hold the same opinions, but we all believe that considering a diverse range of insights makes us better investors. The Motley Fool has a disclosure policy.
Copyright 1995 - 2016 The Motley Fool, LLC. All rights reserved. The Motley Fool has a disclosure policy.