How Universal Display Corp. Gained 17% in January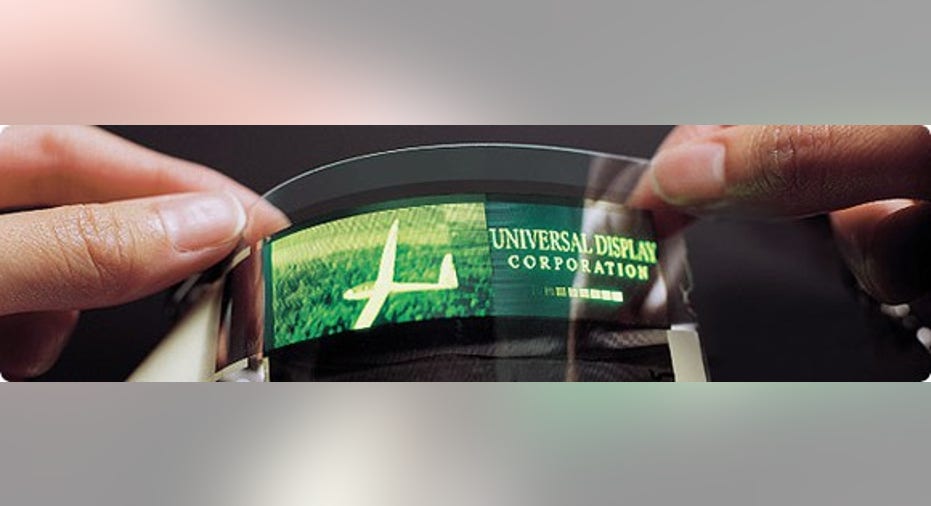 What happened
Shares of Universal Display (NASDAQ: OLED) rose 17.2% in January 2017, according to data from S&P Global Market Intelligence.
So what
The big driver of Universal Display's January gains came from Chinese electronics manufacturing giant Foxconn. The company publicly "mulled" a $7 billion investment in a U.S.-based manufacturing facility, equipped to provide Apple (NASDAQ: AAPL) with high-quality smartphone and tablet screens.
The U.S. factory plan dovetailed nicely with rumors that the next few generations of Apple iPhones might ship with OLED screens. Furthermore, Foxconn recently acquired screen maker Sharp for a cool $5.1 billion, and that company had already dipped its toes into OLED waters before joining the Foxconn mother ship.
Put all the pieces together, and it starts to look as if Apple and Foxconn might want to order quite a bit of OLED equipment and materials in the reasonably near future. Universal Display shares gained more than 12% in three days, based on this collection of circumstantial evidence.
Image source: Universal Display.
Now what
The American Foxconn factory is still an unconfirmed rumor, and we certainly don't know for sure how Foxconn might use such a facility. However, the volume of harmonizing rumors has increased. This week, a Reuters report reaffirmed that Sharp is taking the lead on Foxconn's $7 billion factory-building plans in America, citing unnamed insider sources.
So the Apple rumors remain neither confirmed nor debunked, but the sheer weight of similar third-party reports is making the whole thing sound plausible. And if that wasn't enough, Universal Display just announced a $15 million investment to double materials manufacturing partner PPG 's (NYSE: PPG) OLED emitter capacity over the next three quarters.
Next up, Universal Display is slated to report fourth-quarter results on Feb. 23.
10 stocks we like better than Universal DisplayWhen investing geniuses David and Tom Gardner have a stock tip, it can pay to listen. After all, the newsletter they have run for over a decade, Motley Fool Stock Advisor, has tripled the market.*
David and Tom just revealed what they believe are the 10 best stocks for investors to buy right now... and Universal Display wasn't one of them! That's right -- they think these 10 stocks are even better buys.
Click here to learn about these picks!
*Stock Advisor returns as of February 6, 2017
Anders Bylund owns shares of Universal Display. The Motley Fool owns shares of and recommends Apple and Universal Display. The Motley Fool has the following options: long January 2018 $90 calls on Apple and short January 2018 $95 calls on Apple. The Motley Fool has a disclosure policy.