How Under Armour (Re)Secured Its Curry Shoe Mastermind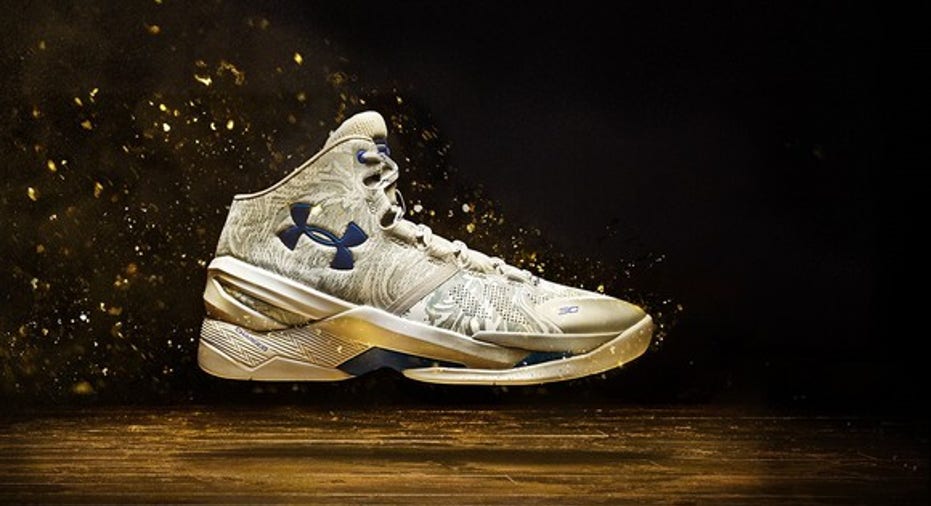 Dave Dombrow is considered the mastermind behind Under Armour's popular Curry shoe line. Image source: Under Armour, Inc.
When Under Armour stock plunged in May following the resignations of two key executives -- including its chief merchandising officer, Henry Stafford, and chief digital officer, Robin Thurston -- I insisted at the time the only executive departure that would cause me to seriously rethink my thesis would be that of Under Armour's founder and CEO, Kevin Plank.
That still holds true. But recent events have highlighted another higher-up whom I much prefer to work for Under Armour than against it: its (now) chief design officer, Dave Dombrow.
For perspective, after putting his talents to work for the past five years for Under Armour, where he most recently held the title of senior VP of design, Dombrow left for archrivalNike in March. NiceKicks.comcalledit a "major industry shakeup" and a "major chess move on Nike's part" as Under Armour's footwear segment continued to gain steam.
Dombrow worked on every major footwear project for Under Armour during his half decade with the company. Perhaps most notably, Dombrow is widely recognized as the driving force behind the creation of Stephan Curry's namesake basketball shoe line for the brand. Last quarter, Plank evensingled out Curry's latest NBA season as bringing "unprecedented attention to our overall footwear business," called it a "once-in-a-generation opportunity for our brand," and revealed the Curry Two basketball shoe was the company's No. 1 best-selling online item. Consequently, it's hard to overstate the importance of Dombrow's contribution to Under Armour's recent sole-centric success.
More specifically, Under Armour's footwear revenue last quarter climbed 64% year over year, to $264 million, representing around 25% of total sales. Meanwhile, Nike most recently reported a more modest 6% year-over-year increase in quarterly NIKE-brand footwear sales, albeit from a much larger base, to $5.08 billion, good for more than 60% of the industry's juggernaut's total sales.
It would make sense, then, for Nike to do all it can to nip Under Armour's early footwear progress in the bud. Nabbing a key executive like Dave Dombrow was a logical place to start.
Three weeks ago, however, news hit that Dombrow was returning to Under Armour from Nike. Of course, it may have helped that he technically wasn't formally employed by Nike yet due to a non-compete clause in his original UA deal.
Incidentally, the management turnover I mentioned at the start of this article also seems to have played a role.Keeping in mind Under Armour reassigned Stafford's duties to chief marketing officer Kip Fulks, who now more broadly focuses on "key development areas for the business," Dombrow recentlytold Footwear News:
That's not to say Under Armour couldn't have sustained its torrid forward march in footwear without Dombrow's help. But I think it speaks volumes of Under Armour's executive leadership and vision that Dombrow was willing to return after receiving an obviously compelling offer from its (and the world's) single largest competitor in the space.
In the end, given the success of his work with the Curry shoe line so far, I think it's safe to say Under Armour will be better off with Dombrow on its side of the court.
The article How Under Armour (Re)Secured Its Curry Shoe Mastermind originally appeared on Fool.com.
Steve Symington owns shares of Under Armour (A Shares) and Under Armour (C Shares). The Motley Fool owns shares of and recommends Nike and Under Armour (A Shares). The Motley Fool owns shares of Under Armour (C Shares). Try any of our Foolish newsletter services free for 30 days. We Fools may not all hold the same opinions, but we all believe that considering a diverse range of insights makes us better investors. The Motley Fool has a disclosure policy.
Copyright 1995 - 2016 The Motley Fool, LLC. All rights reserved. The Motley Fool has a disclosure policy.