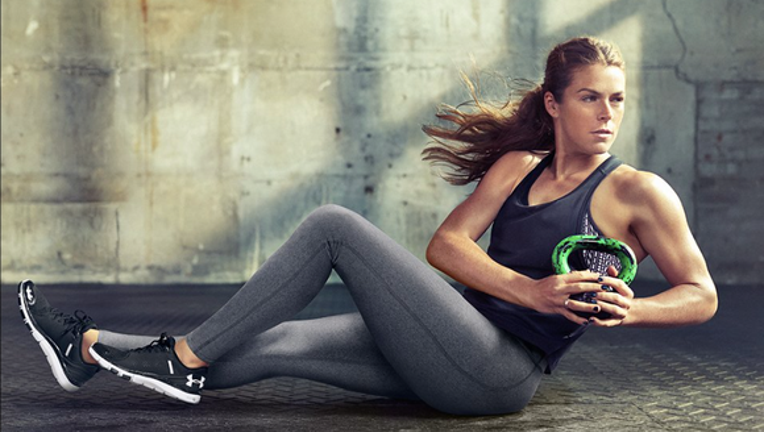 Let's play a word association game. I will mention threewell-known companies, and you say what comes to mind. (To make things awkward,say it louder if you're in the office).
Nike(NYSE: NKE)
Apple
Victoria's Secret
For Nike, did you say,"Just do it,"or"sports?"Maybe you mentioneda particularathlete, like Michael Jordan orLebronJames. With Apple, you probably said"iPhone."
When you think of Victoria's Secret, you mayhave said"sexy"or"pink."Did youjustscream out"lingerie!"fromyour cubicle? If so, stop reading and start explaining yourself to your boss.
The impression left on you by a company is called a brand image. For a consumer-goods company, there may not be a more powerful determinant of success or failure thanthe strength of itsbrand.
At the2008 Berkshire Hathaway annual meeting, Warren Buffett made the following commenton the power of brands:"If you own important branded assets in thiscountry, and you have good assets, it is not easy to take on those products."Buffet is basically sayingthata brand is a powerful competitive advantage. It would be very difficult for anothercompany to start anew and take shelf space away fromHeinz Ketchup.
Anew smartphone maker would have difficulty takingmarketshare fromthe iPhone. During the last two decades, the same could have been said in thesportswearmarket with Nike and Adidas (NASDAQOTH: ADDYY). However, a new player has emerged.
In 1996, Kevin Plank, Founder and CEO ofUnderArmor(NYSE: UA), sold $17,000 worth of moisture-wicking t-shirts out of thetrunk ofhiscar. In2015, UnderArmourexpects to report just less than $4 billion in revenue.The company's success can largely be attributed to how it has created a brandthatresonates with consumers.
Underdog tochampionThehighest-profile athlete to promote the UnderArmourbrand is2015 NBA MVPSteph Curry. Throughthe first threequarters of2015, Under Armour'sfootwearsales increased 48%from the same period lastyear. With the release of Steph Curry's signature shoeduring the critical retail holiday season,expectthatpercentageto increase significantly.
Curry has become a global phenomenon over the past year.He recentlysurpassedLebronJames to lead the NBA injerseysales, and is having anotherMVP season ashisteammakes arun for back-to-back championships. In 2013, however, when UnderArmoursignedCurry away from Nike, he was not awell-knownplayeroutside of Northern California. He was coming off two ankle surgeries, andzero all-star appearances.
Nikebelieved $2.5 million peryearwas too richto haveCurryendorse its brand.Curry signed with UnderArmourand began marketing a signature shoe. Today,Under Armour's goal is to build a $1 billionbasketballbrand.
This underdog-to-champion storyis amicrocosmofthe UnderArmourjourney. The companyhasdone an excellent job of selecting athletesbeforetheir primes to help endorse the brand.Accordingto companyexecutive Matt Merchin,"Young,underdog,and next"are the key attributesUnderArmourtargets with its athlete endorsers.A few notable athleteswho fit this moldare:
Jordan Spieth:Professionalgolferwhosigned a 10-yeardeal with UnderArmourat the age of 21, and went on to win two major tournaments, including the coveted Masters. Heis now the No. 1 ranked golfer in the world.
Buster Posey:Major League Baseball catcherwhosigned with UnderArmouras a rookie.Hisaccolades includeRookie of theYear, Most Valuable Player,andthree World Series wins.
Clayton Kershaw:Major League Baseball pitcherwhosigned with UnderArmourat the age of 21 and became a three-time Cy Young winner for being the best pitcherin baseball.
The UnderArmourroster is also rounded out by veterans such asTom Brady, Michael Phelps, Lindsey Vonn,and Andy Murray -- a group that combines for four Super Bowl victories, 24Olympic Medals, and 33 tennis titles.With animpressive group of endorsers,UnderArmourshould continue to builda brandthatwins.
Capturing the women's market
Image Source: Under Armour.
Oneof the keys to Nike's success has been that it has been able to balance sales of men, women, and youth sportswear. In order for UnderArmourto close the gap with Nike, its brands must resonate with a diverse group of consumers.UnderArmourhascome a long way from being known as a macho brandthat madeitsway into footwear sellingfootball cleats.
Today,women'sapparelaccounts for nearly 30%of Under Armour's revenue. ConsideringthatNike'ssales towomenaccount for 22%of total revenue, achieving thislevel ofsuccess in such a shortperiod of timeis quite anaccomplishment.
Similar to the underdog story with Curry, Under Armour's main female endorser has defied the odds. Thissummer, Misty Copeland became the first African-American to be named a principal dancer with the American Ballet Theater. She was also named one ofTime Magazine's100 most influential people in the world. UnderArmourmanagement once againshoweditskeen eye for talent as they signed Misty in2014, ayearbefore she received herhighly publicized accolades.
Management focus on brandTheimportance of brand is not lost onUnderArmourmanagement. Duringthe company'sInvestor Day,the word"brand"was mentioned more than300times. CEO Kevin Plank stressed the importance of building a brand with thefollowing comments:
Plank'swords are backed up by action, as UnderArmour, duringthe lastyear,spent 11.4%of revenue on marketing. Nike's marketing spendoverthe same period came in at 10.1%of revenue.
Under Armour sports an impressive roster of brand endorsers, appeals to a broad demographic, and has an aggressive marketing strategy. Look for thisfeisty underdog to continue its questtobea champion.
The article How Under Armour Is Building a Winning Brand originally appeared on Fool.com.
Palbir Nijjar owns shares of Apple, Nike, and Under Armour. The Motley Fool owns shares of and recommends Apple, Nike, and Under Armour. Try any of our Foolish newsletter services free for 30 days. We Fools may not all hold the same opinions, but we all believe that considering a diverse range of insights makes us better investors. The Motley Fool has a disclosure policy.
Copyright 1995 - 2015 The Motley Fool, LLC. All rights reserved. The Motley Fool has a disclosure policy.