How to Sign Up for a TradeKing Brokerage Account: A Step-by-Step Guide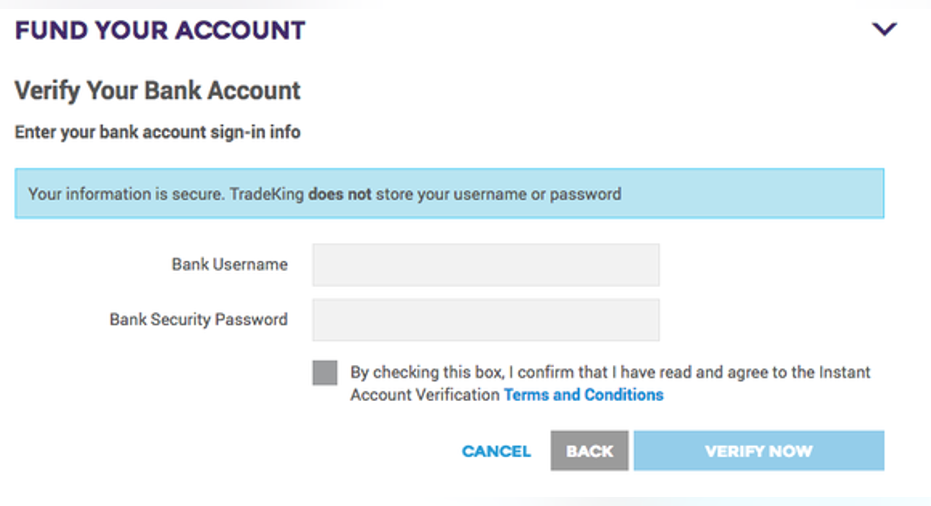 Image source: Getty Images.
Setting up online accounts is rarely fun, but it doesn't have to be difficult. The Motley Fool has created a few step-by-step how-to articles to help beginner investors get started with online brokerage accounts as part of our mission to help the world invest better.
This particular how-to will walk your through the steps for setting up an individual TradeKing brokerage account, which should only take about 10 minutes to complete. If you're interested in other brokers, or you want to compare fees and prices, check out broker comparison page.
Now let's get started!
What you'll need to get started
To set up your TradeKing brokerage account, you'll need to have this information on hand:
Your Social Security number or Individual Taxpayer Identification Number
The contact information of your current employer (if applicable)
Your bank account information so you can fund the brokerage account (you can always set this up later)
TradeKing offers online trading with no minimum account requirements and charges just $4.95 per stock trade.The company says you'll be able to set up the account in just minutes and provides clear instructions throughout the application. But if you have any questions while you're filling out your information, the company provides an online chat link, email address, and phone number for their customer service line. You can also access TradeKing's frequently asked questions here.
I should mention here that some of the application's wording might refer to Ally Financial. That's because Ally recently purchased TradeKing, so don't be alarmed if you see a few Ally references.
Image source: TradeKing.
Step 1: Open the account
To get started, navigate to this page on TradeKing's website. Many of the online brokerage accounts have you set up your account username and password toward the end of the application, but TradeKing puts this right at the beginning. This is a bit more helpful for new account users because some online brokers can leave users wondering how to access their account as they fill out the application. With TradeKing, just fill out the information in the first step and remember to write it down somewhere.
Once you're done, click the big "Register" button and move on to the next section.
Step 2: Select an account
In this section you'll select which type of account you want to open. For this how-to, all of the steps relate to the individual brokerage account.
Just select the individual account option at the top, answer the question about how you first heard about TradeKing, and then head on to the next section.
Image source: TradeKing.
Step 3: Enter your personal information
In this section you'll fill out several pages of your personal information. The first page asks for some simple information (address, phone number, Social Security number, citizenship etc.).
Once you complete this page, you'll answer a few questions about your employer. If you're retired or unemployed, you won't need to fill out these details.
At the bottom of this page you'll also be asked whether anyone associated with the account, or any immediate family member, is employed with a securities firm, securities exchange, or Financial Industry Regulatory Authority (FINRA).You'll also be asked whether or not you or anyone in your home is a 10% shareholder or policymaker in publicly traded company, or whether you or a family member is a political figure. You'll likely answer "no" to all of these questions.
In this section you'll also answer a few questions about your annual income, net worth, liquid net worth, and tax bracket. If you don't know the exact definitions of these terms, just click on the question mark next each term for an explanation.
Once you've answered those questions, answer the question about how much trading experience you have and head on to the next page.
Image source: TradeKing.
On this page, TradKing wants to know what your investing objectives are, what your time frame is for investing (hint: You should probably pick long term), what your liquidity needs are, and what your risk tolerance is. Don't sweat these questions if you're unsure; just answer them as best as you can and remember that they won't impact your trading ability.
There are also two questions on this page asking whether or not you want to apply for margin and options trading. These two techniques are usually best suited for experienced investors, so you probably want to select "no" for each. You can learn more about margin and options trading here and here.
Once you've answered all the questions then click "next" to go on to the next step!
Image source: TradeKing.
Step 4: Submit the application
In this section, you'll just be asked to review all the application information you've entered, agree to TradeKing's customer agreement, and then electronically sign your application, date it, and submit it.
Image source: TradeKing.
Step 5: Open account and fund it
Next, you'll be asked how you want to fund your TradeKing brokerage account. If you want to do this later, you can. You'll just need to enter your bank account information, routing number, and the name of the bank, and then specify whether it's an individual or joint account.
If you choose to fund the brokerage account right away, then you'll be asked for the username and password you use to log in to your bank's website. TradeKing says it needs this information in order to link your bank account with your brokerage account in real time. The company doesn't store your login credentials, but if you feel uncomfortable doing this, you can always fund the account with a check, wire transfer, or another brokerage account. You can learn more about those options on TradeKing's websitehere.
Image source: TradeKing.
If you choose to fund the account with your personal bank account, then you'll simply agree to the terms and conditions to this on the next page.
After you do this, there's one final step you'll need to take in order to fund the account: send a copy of your license to TradeKing, along with a voided check or bank statement. You can do both of these by uploading the files from this page, or by using the fax, mail, or email details on this page.
Even if you don't fund your account right away, you'll be automatically logged into your user dashboard so you can start exploring your TradeKing account.
Image source: TradeKing.
Congratulations -- you're done setting up your TradeKing brokerage account!If you'd like to compare TradeKing's prices to other brokers', then check out The Motley Fool'sspecial broker offers here. You can also read some investing tips for beginners by checking out some of our investing primer articles here:
A secret billion-dollar stock opportunity The world's biggest tech company forgot to show you something, but a few Wall Street analysts and the Fool didn't miss a beat: There's a small company that's powering their brand-new gadgets and the coming revolution in technology. And we think its stock price has nearly unlimited room to run for early in-the-know investors! To be one of them, just click here.
Chris Neiger has no position in any stocks mentioned. The Motley Fool has no position in any of the stocks mentioned. Try any of our Foolish newsletter services free for 30 days. We Fools may not all hold the same opinions, but we all believe that considering a diverse range of insights makes us better investors. The Motley Fool has a disclosure policy.