How to Pick the Best Dividend Stocks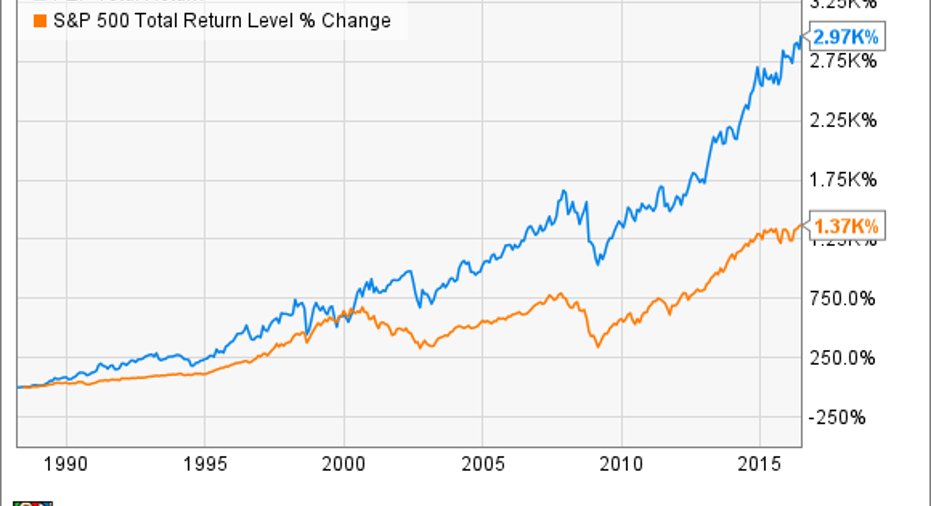 Image source: Getty Images.
Dividend investing is one of the most effective and time-proven strategies to obtain superior returns over the long term. However, picking the best dividend stocks is about much more than simply going after companies with high dividend yields. Investors need to take a look under the hood and analyze key aspects, such as dividend growth history and dividend sustainability going forward.
Why you should invest in dividend growth stocks
Earnings are subject to all kinds of corporate gimmicks and accounting manipulations; on the other hand, dividends are paid in cold, hard cash. This means that dividend payments can be considered a far more transparent measure of a company's financial health. If a company is going to reward investors with consistently growing dividends over the long term, then it needs a solid business generating increasing cash flows through all kinds of scenarios.
According to statistical studies, dividends have accounted for nearly half the total return the S&P 500 index has produced over the last 30 years. Not only that, but dividend-paying stocks have considerably outperformed non-dividend stocks in the long term. Even better, companies with consistently growing dividends have beaten both companies with no dividend payments and those with stable dividends.
Based on data from Ned Davis Research, from Jan. 31, 1972 to March 31, 2016, non-dividend paying stocks delivered a disappointing annual return of 2.4%. Dividend payers with no change in dividends did considerably better, with an average annual return of 7.3% over that period. Interestingly, companies with consistent dividend growth delivered an even higher return of 9.8% over the period under analysis.
There is no infallible magic formula to outperform the market, but the historical evidence indicates that investing in dividend growth stocks can significantly increase your chances of obtaining market-beating returns over the long term.
Buying the best dividend stocks
Many dividend investors tend to put too much attention on dividend yield alone, and this can turn out to be a remarkably expensive mistake. For example, Seagate Technology is trading at a steaming-hot dividend yield of almost 11%; however, I would still avoid this stock like the plague.
Seagate Technology is a market leader in hard disk drives, an industry going through massive challenges due to technological change and evolving consumer demand in computing. In this difficult context, Seagate Technologies reported a 23% decline in revenue during the quarter that ended on April 1, and the company lost money on a net income basis. Investors are clearly feeling the pain, since Seagate stock is down by a breathtaking 55% in the last year.
PepsiCo , on the other hand, is a completely different story. The company is a top player in the global snacks and nonalcoholic drinks market, where it owns 22 different brands making over $1 billion each in annual revenue across the world. This rock-solid competitive position in a stable industry has allowed PepsiCo to generate consistently growing cash flows over the years, which the company translates into dependable dividend growth for shareholders.
PepsiCo has increased its dividends over the last 44 years in a row, including a 7% dividend increase for 2016. The stock is currently trading at dividend yield of 2.9%. That's quite a respectable yield coming from a company with such an impeccable track record of dividend payments, but investors can still find much higher dividend yields somewhere else.
Make no mistake, though. On a total return basis, meaning dividends plus capital gains, PepsiCo stock has downright obliterated the S&P 500 index over the long term, offering a great illustration of how dividend growth stocks can be spectacularly profitable investments.
PEP Total Return Price data by YCharts
Importantly, investment decisions need to be made by looking at the windshield as opposed to the rearview mirror. Starbucks doesn't have a particularly long trajectory of dividend payments, and the dividend yield is quite modest. However, Starbucks is well-positioned to deliver substantial dividend growth over the years ahead.
Starbucks is one of the most remarkable success stories in the consumer sector over the last several years, and the business is clearly firing on all cylinders. Total revenue grew 9% last quarter, while net earning per share jumped 18%. The company started paying dividends in 2010, and what was a quarterly payment of $0.05 back then has rapidly increased to $0.20 per share. The last dividend increase from Starbucks was a caffeinated 23.4% hike announced in November of last year.
Starbucks stock pays an unimpressive dividend yield of 1.44% at current prices; however, the dividend payout ratio is comfortably low, in the neighborhood of 42% versus earnings forecast for the current fiscal year. Chances are that Starbucks will continue delivering vigorous earnings growth in the middle term, and since the payout ratio is quite conservative, it allows a lot of room for sustained dividend increases going forward.
The article How to Pick the Best Dividend Stocks originally appeared on Fool.com.
Andrs Cardenal has no position in any stocks mentioned. The Motley Fool owns shares of and recommends PepsiCo and Starbucks. Try any of our Foolish newsletter services free for 30 days. We Fools may not all hold the same opinions, but we all believe that considering a diverse range of insights makes us better investors. The Motley Fool has a disclosure policy.
Copyright 1995 - 2016 The Motley Fool, LLC. All rights reserved. The Motley Fool has a disclosure policy.