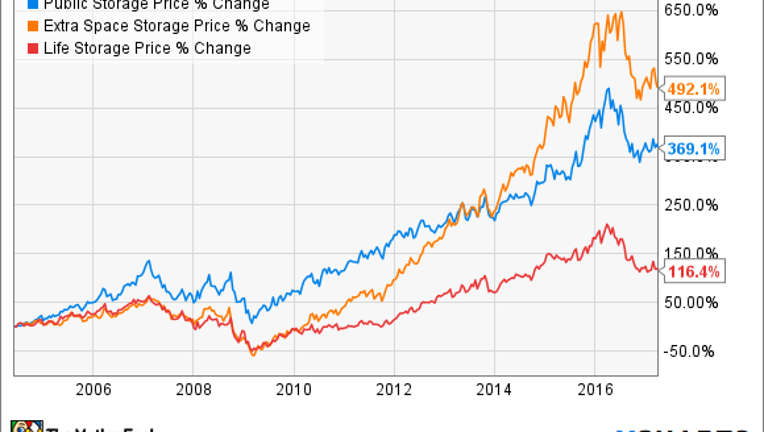 If you are an American, chances are you have extra stuff that you can't get rid of. For most, that means a garage, an attic, or a basement crammed full of things that you probably forgot you even owned. For a few families, though, that stockpile grows to the point of needing its own dedicated real estate.
According to the Self Storage Association, there are about 80 square miles of rentable storage space in America, three times the size of Manhattan Island. One in 10 Americans rent a storage unit, and that number has been steadily rising. In fact, according to one survey, one in four households say they can't even fit a car in their garage.
Image source: Getty Images.
The country loves stuff and needs the space to store it. For investors, there's also a way to make money off the situation.
How to exploit the love of stuff
To cash in on American's lack of ability to keep it simple, real estate investment trusts (REITs) that specialize in storage facilities are the place to look. These companies generate rent from storage complexes and have to distribute at least 90% of their taxable income to shareholders via a dividend. Here are three REITs in the storage space industry:
Chart by author. Data source: Public Storage, Extra Space Storage, and Life Storage quarterly earnings reports.
All three companies pay out high-yielding dividends to owners of their stock, and all three gave a raise on their quarterly dividend in 2016: Public Storage 18%, Extra Space 32%, and Life Storage 12%. Those dividends are supported by funds from operations (FFO), which serves as a proxy for the company's actual earnings.
Public Storage and Extra Space both had a strong year and saw double-digit FFO per sharegrowth, especially Extra Space. Extra Space acquired 99 new stores for $1.1 billion in 2016, resulting in that 43%rise in FFO.
It is worth noting that Life Storage had a decline in FFO, but when accounting for its recent rebranding from Sovran Storage and Uncle Bob's to its current name and other structural changes, FFO actually increased 5.1%.At any rate, the company is still supporting its 4.5% payout in spite of the restructure.
But it's not just about investment income...
Besides stellar gains in FFO that are fueling dividends, the companies' stocks have also done well the last decade. Even through the financial crisis when many real estate assets went under water, Public Storage, Extra Space Storage, and Life Storage quickly recovered and have all more than doubled off their 2009 lows. And, in spite of economic uncertainty over the last decade, occupancy rates are pushing or exceeding 90% at most properties.
Data by YCharts.
Storage companies have experienced some headwinds recently, however. The Fed has signaled that they will continue slowly raising rates, and rising interest rates make borrowing money more expensive. Since REITs distribute most of their income to shareholders, new debt issuance is the primary means of growing. Higher rates, therefore, could make expanding less profitable and more difficult.
As a result of the storage industry's raging success, a flood of new rentable space has been hitting the market as of late. All three companies saw a slight decrease in occupancy in the last year as a result, but nothing worth sweating over since the breakeven point for storage REITs hovers around 30-40% occupancy. It has, however, made raising rental rates a trickier proposition, another important way these REITs grow.
The good news is that all three companies still see strong demand for their properties. While development and property acquisition has slowed in the last year, strong demand hasn't brought development and acquisitions to a total standstill. Over time, the storage REITs seerents rising, real estate values increasing, and American's "stuff" problem not letting up. Self-storage REITs look like a solid investment worth considering.
10 stocks we like better than Public StorageWhen investing geniuses David and Tom Gardner have a stock tip, it can pay to listen. After all, the newsletter they have run for over a decade, Motley Fool Stock Advisor, has tripled the market.*
David and Tom just revealed what they believe are the 10 best stocks for investors to buy right now... and Public Storage wasn't one of them! That's right -- they think these 10 stocks are even better buys.
Click here to learn about these picks!
*Stock Advisor returns as of February 6, 2017
Nicholas Rossolillo has no position in any stocks mentioned. The Motley Fool has no position in any of the stocks mentioned. The Motley Fool has a disclosure policy.