How to Buy Apple for Nowhere Near $600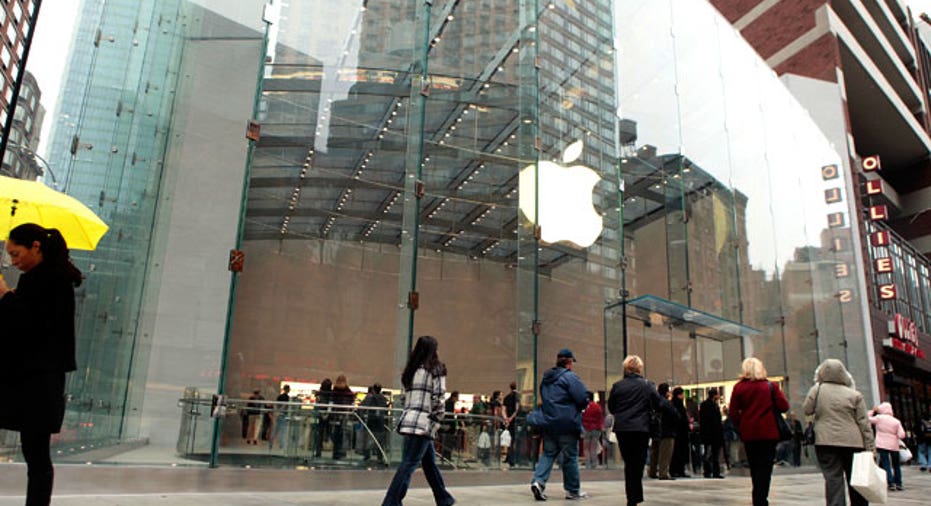 Want to get into Apple (NASDAQ:AAPL)? Get ready to fork over 600 clams.
Good grief.
At this point, the Cupertino, Calif., behemoth's growth is all but unstoppable, especially with the new iPad now available at Apple stores, and the appeal of the recently announced Apple dividend.
This content was originally published on InvestorPlace.
But at this point, it's getting almost ridiculous for the everyday retail investor to bite into the AAPL. $600 a share? Throw in another 50 bucks, and you can buy a new iPad and download the full Beatles box set from iTunes. True, they won't make you rich down the road, but you'll at least feel like you're getting your money's worth.
But the lighter-of-wallet don't have to be left out of Apple. Just look toward exchange-traded funds. Almost 4% of all AAPL shares outstanding are held in ETFs, according to XTF.com, and Apple stock makes up almost 20% of some funds. So if $600 is a bit out of your price range, here are five funds you can use to play AAPL — without going broke:
Select Sector Technology SPDR (NYSE:XLK): Just what it sounds like, the Technology SPDR fund holds S&P 500 technology companies in a number of fields, such as information technology, telecom and semiconductors.  AAPL shares make up a hefty 18.4% of the fund, and you also get exposure to other tech giants such as Microsoft (NASDAQ:MSFT), IBM (NYSE:IBM) and Google (NASDAQ:GOOG) — for $30, a mere fraction of AAPL's share price! And even its expenses are bargain-basement at a mere 0.18%.
iShares Dow Jones U.S. Technology (NYSE:IYW): The IYW is a heavy Apple hitter, weighting the stock at more than 21%. Unlike XLK, it tracks the Dow Jones U.S. Technology Index, but the premise is the same: broader technology companies. Intel (NASDAQ:INTC) joins Google, IBM, Microsoft and Apple in the iShares fund's top five holdings. IYW can be bought for around $77 per share, and its 0.47% expense ratio is about average for its category.
PowerShares QQQ (NASDAQ:QQQ): The QQQ tracks the Nasdaq 100, so while it's heavily weighted with technology companies, it also holds media titan News Corp. (NASDAQ:NWS) and java master Starbucks (NASDAQ:SBUX). Still, Apple is the big kahuna, making up 18.3% of the fund, and you can buy QQQ shares for around $67, along with a scant 0.2% expense ratio.
Vanguard Information Technology ETF (NYSE:VGT): Another tech ETF, this time tracking the U.S. Investable Market Information Technology 25/50 Index, which includes tech stocks of all sizes. Apple holds a 17%-plus weighting in the VGT, with the usual list of big names following suit. VGT trades around $74 per share and charges just 0.19% in expenses.
iShares Morningstar Large Growth (NYSE:JKE): Large Growth is the least tech-heavy of these options, though Apple still carries about 16% weight with the group. JKE tracks the Morningstar Large Growth Index, which focuses on large-cap stocks that are determined to have above-average growth potential. While techs still dominate, the top holdings also include beverage giant Coca-Cola (NYSE:KO), oilfield services company Schlumberger (NYSE:SLB) and energy stock Occidental Petroleum (NYSE:OXY). Shares trade for around $76, and JKE has a light 0.25% expense ratio.
Kyle Woodley is the assistant editor of InvestorPlace.com. As of this writing, he did not hold a position in any of the aforementioned securities. Follow him on Twitter at @KyleWoodley.