How This Company Is Taking on Amgen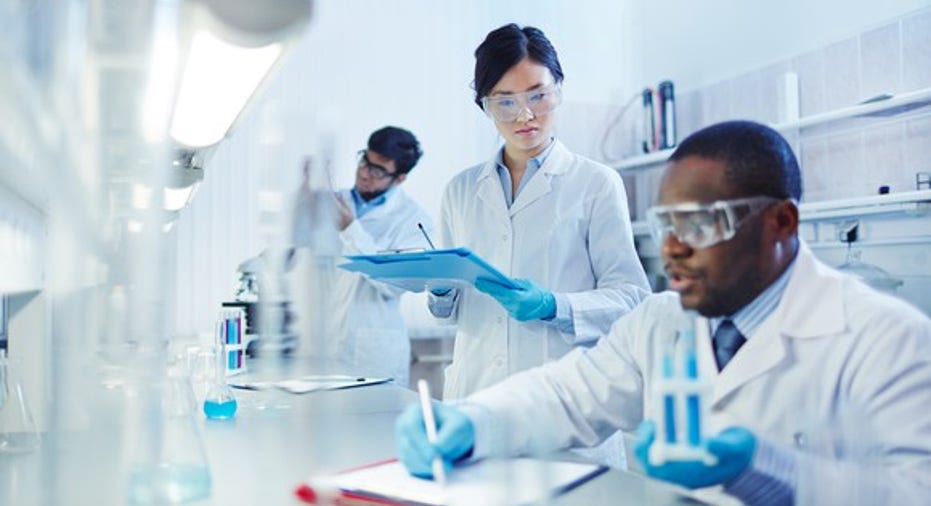 The Medicines Company (NASDAQ: MDCO) recently announced positive phase 2 trial data for its cholesterol lowering drug, inclisiran, and if inclisiran can duplicate those results in a larger phase 3 study, then it could end up challenging Amgen (NASDAQ: AMGN) for market share in treating patients with stubbornly high levels of bad cholesterol.
Improving upon care
Amgen has made big waves in the cardiovascular community by developing an entirely new way of battling bad cholesterol.
Image source: Getty Images.
Doctors usually prescribe changes to diet and statin therapy to rein in bad cholesterol levels, however, statins don't work for everyone, and they come up particularly short in severe hypercholesterolemia patients with genetic mutations that cause their high cholesterol.
In those patients, doctors are turning to Amgen's Repatha to help patients reach their cholesterol targets.Unlike statins, which target statin production in the liver, Repatha targets PCSK9 proteins that break-down bad cholesterol receptors in the liver. By inhibiting the ability of those proteins to bind to receptors, Repatha lets patients clear more bad cholesterol from their blood.
After trials showed that adding Repatha to statins can reduce bad cholesterol levels by about 63%, Amgen won an FDA green light to begin marketing the drug in 2015.
So far, Repatha's $14,000 annual price tag has crimped its use, but Amgen recently reported results from a large cardiovascular outcome study that shows Repatha reduces the risk of heart attack and stroke by 15% or more. Pricing remains a hurdle, but the new data may compel more doctors to prescribe it, and if so, then Repatha's sales could climb meaningfully higher than their annualized $232 million run rate exiting December.
A better drug?
The Medicines Company's inclisiran may someday give doctors and patients an even better PCSK9 targeting option.
While Repatha targets the PCSK9 protein in the bloodstream to prevent it from binding to and breaking down receptors in the liver, inclisiran uses RNA technology from its collaboration partner Alnylam (NASDAQ: ALNY) to interrupt PCSK9 synthesis. Because inclisiran targets PCSK9 at the source, it may provide similar efficacy to Repatha with fewer annual doses.
In phase 2 trials, patients receiving two doses of inclisiran saw a mean reduction in bad cholesterol of 52.6% at 180 days, and importantly, that reduction was essentially maintained over 270 days.
That's pretty impressive considering the reduction came from only a starter dose and a booster dose at day 90. For comparison, Repatha is dosed either every other week, or monthly, depending on the patient.
Since PCSK9 is a valid target, and inclisiran is delivering strong efficacy, with fewer doses, it poses a meaningful threat to Repatha, especially if fewer doses provides insurers with cost-savings.
Uncertainty remains
In addition to Repatha, Regeneron (NASDAQ: REGN) and Sanofi (NYSE: SNY) market Praluent, another PCSK9 inhibitor. Praluent works similarly to Repatha, so it could also lose out if inclisiran's phase 3 trial is a success.
Regeneron and Sanofi, however, are locked in a patent battle with Amgen, and so far, they're on the losing side. If appeals don't go their way, then they may have to yank Praluent off the market, or cut a profit-sharing agreement with Amgen.
In any event, it's going to be a while before we know for sure that inclisiran is a winner, and because itworks differently than Repatha and Praluent, there's no lock on its phase 3 trials panning out. Trials should begin soon though, so investors should keep tabs on The Medicines Company's progress.
10 stocks we like better than The Medicines CompanyWhen investing geniuses David and Tom Gardner have a stock tip, it can pay to listen. After all, the newsletter they have run for over a decade, Motley Fool Stock Advisor, has tripled the market.*
David and Tom just revealed what they believe are the 10 best stocks for investors to buy right now... and The Medicines Company wasn't one of them! That's right -- they think these 10 stocks are even better buys.
Click here to learn about these picks!
*Stock Advisor returns as of February 6, 2017
Todd Campbell has no position in any stocks mentioned.His clients may have positions in the companies mentioned.The Motley Fool owns shares of and recommends Alnylam Pharmaceuticals. The Motley Fool has a disclosure policy.