How the FDA Helped Philip Morris Crush the E-Cig Competition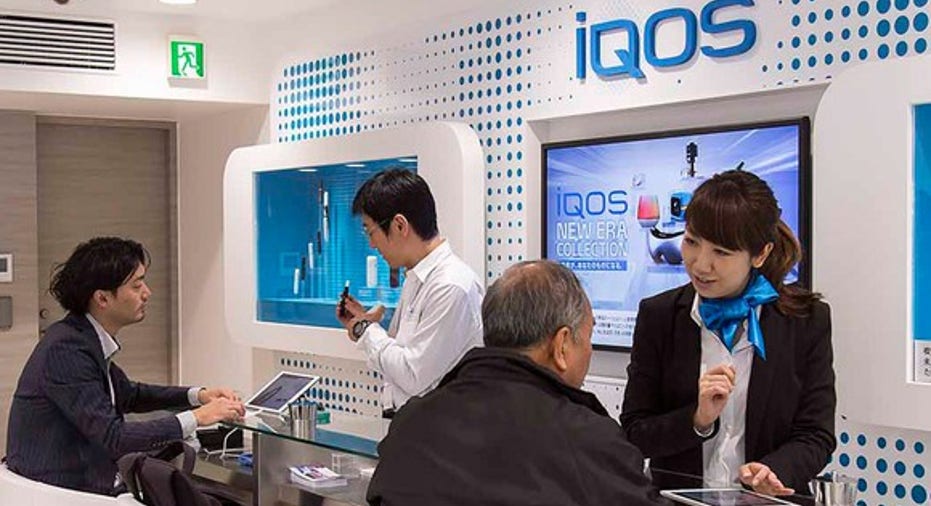 The future of electronic cigarettes is jeopardized by FDA regulations that favor the tobacco giants. Image source: Vaping360.
Philip Morris International's (NYSE: PM) smoke-free future is coming to America. The global cigarette giant plans on marketing its next-generation electronic cigarette in the U.S. next year once it gains FDA approval, but its applications indicate just how much the regulatory agency is helping to protect the interests of the big tobacco companies by crushing the competition.
The future of smoking
One of the biggest complaints e-cig users have with the devices currently on the market is taste. Because the typical e-cig heats a nicotine-infused liquid to create a vapor that is inhaled, users say it leaves something of a chemical aftertaste. E-cig usage that had rocketed to annual triple-digit gains after being introduced have suddenly cooled off, and estimates that they would overtake combustible cigarette sales are no longer bandied about.
The iQOS from Philip Morris, though, is an innovative advance for electronic cigarettes. Rather than heat a liquid, the iQOS consists of a rechargeable, pen-like device into which a short, cigarette-looking product is inserted. It is heated just enough to create a tobacco-flavored, nicotine-infused vapor, making it much closer to smoking a regular cigarette, but without the smoke, smell, and toxic chemicals.
Under a framework signed with Altria (NYSE: MO) in 2013 for commercializing e-cigs and other reduced-risk products, the iQOS's rechargeable devices will be marketed as Marlboro HeatSticks. Since they were introduced in Japan earlier this year, the iQOS has jumped to the forefront of the market there, and Philip Morris now wants to take the e-cig global.
Rival British American Tobacco (NYSEMKT: BTI) is developing a similar heat-not-burn device, which it calls "glo," that also heats tobacco in a cigarette-like device called a Neostik that will be marketed under BAT's Kent brand. It has also developed the iFuse, a slightly different type of device that heats an e-liquid just as regular e-cigs do, but then draws the vapor created through real tobacco to give it the tobacco flavor users seek.
Image source: Philip Morris.
A heavy regulatory burden
However, these devices can only be readily introduced in international markets since the FDA virtually shut off new product introduction in the U.S. with implementation of its so-called deeming rules, which "deemed" electronic cigarettes to be the same as combustible ones even though they don't contain tobacco. Until the iQOS, that is.
It was clear from the start that the new regulations would be a disaster for the e-cig industry. Only devices on the market from before 2007 were to be grandfathered in, with everyone else having to go through the costly and labyrinthine FDA approval process. So onerous were the rules that they were dubbed the "Big Tobacco Protection Act," and Philip Morris' applications to win FDA approval show how prescient the name was.
The iQOS is going through a two-phase approval process. The first step is getting the e-cig device approved for sale in the U.S., while the second part will be to earn the iQOS a reduced-risk product label. It's that portion of the process that will let Philip Morris own the U.S. e-cig market and virtually stub out the competition.
Stealth health benefits
Despite the obvious benefits to the user from not inhaling the toxic chemicals associated with a cigarette's smoke, e-cig manufacturers aren't allowed to tout them as a healthier alternative without getting prior approval from the FDA. Philip Morris is seeking that designation by submitting a reduced-risk application to the agency -- but the application is expected to run some 2 million to 3 million pages long!
Image source: Getty Images.
It's clear that only the biggest, most financially secure tobacco companies can afford to comply with the new regulations, giving the industry giants the competitive advantage of being able to say their e-cigs are safer than cigarettes. By virtually precluding any small e-cig companies from the field, eventually, only the biggest will survive.
Philip Morris is planning for the day when it can kick the smoking habit. Third-quarter cigarette shipment volumes fell 5% to 207 billion units, and they're down almost 4% so far this year. Volumes were down sharply in its Asia market, falling 9% for the period, and they were also off 8% in its Eastern Europe, Middle East, and Africa segment.
Although it's generated $26 billion in revenues from cigarette sales over the last 12 months, the company is planning to invest $100 million in smoking alternatives and expects them to add as much as $1.2 billion to its earnings within the next four years.
When it's able to bill the iQOS as the only reduced-risk product on the U.S. market, Philip Morris International might be able to expect those returns to accrue to its bottom line in a much quicker fashion than it forecast.
10 stocks we like better than Philip Morris International When investing geniuses David and Tom Gardner have a stock tip, it can pay to listen. After all, the newsletter they have run for over a decade, Motley Fool Stock Advisor, has tripled the market.*
David and Tom just revealed what they believe are the 10 best stocks for investors to buy right now...and Philip Morris International wasn't one of them! That's right -- they think these 10 stocks are even better buys.
Click here to learn about these picks!
*Stock Advisor returns as of Nov. 7, 2016.
Rich Duprey has no position in any stocks mentioned. The Motley Fool has no position in any of the stocks mentioned. Try any of our Foolish newsletter services free for 30 days. We Fools may not all hold the same opinions, but we all believe that considering a diverse range of insights makes us better investors. The Motley Fool has a disclosure policy.