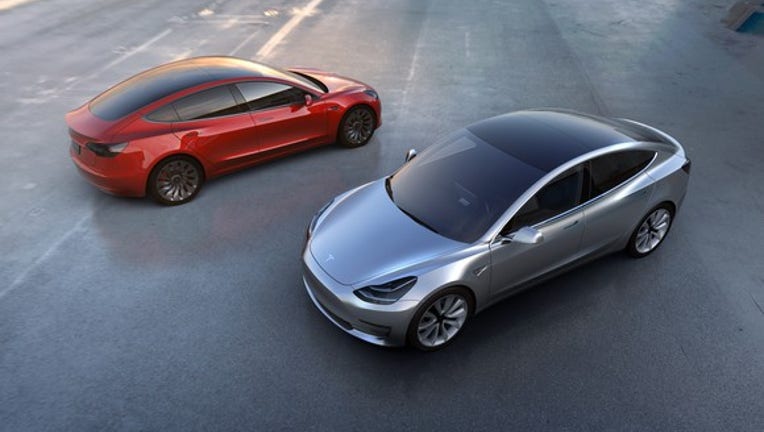 Tesla's (NASDAQ: TSLA) Model S and Model X were the first two models built entirely by the super-innovative Silicon Valley auto start-up. Critics acclaimed both, but they weren't without their flaws in the months after they were launched.
Both cars had glitches (the S's door handles; the X's falcon-wing doors) and while both had terrific technology, they both fell down in some more mundane respects (seats, road noise) when compared with similarly priced models from established luxury-car makers.
That hasn't really hurt. Tesla's early-adopter owner base, many of whom are well-heeled, mostly hasn't minded. They've been willing to trade some rough edges for the privilege of being on what they see as the cutting edge of automotive technology.
But now, Tesla is aiming at a broader market with its upcoming Model 3. To generate the sustainably high sales the company is targeting, the Model 3 has to be able to compare well on quality and refinement with, yes, mass-market internal-combustion alternatives. It also has to be much easier to manufacture, because its pricing will leave less margin for error.
Happily, CEO Elon Musk and the Tesla management team know all of that. They've taken some big steps to ensure that the Model 3 is ready to carry Tesla's brand to a much wider audience.
Tesla expects to begin production of the Model 3 in July. Image source: Tesla.
The Model 3 incorporates big lessons learned from earlier Teslas
"The Model 3 is designed with it's really designed for manufacturing," Musk said during Tesla's earnings call last week. "It's considerably a simpler car than the Model S or the Model X."
Not only does it have fewer "bells and whistles" than Tesla's upscale models, he said, but it also reflects lessons learned from the complicated and problem-plagued launches of the Model S and (especially) the Model X SUV.
In designing the Model 3, Tesla skipped whiz-bang features like the self-presenting door handles and falcon-wing doors of its earlier models in favor of mechanical simplicity that would be easier to assemble at a high level of quality. It has less wiring, fewer computers, and other simplifications intended to make it easier to build at scale.
CTO J.B. Straubel acknowledged that the experience of the Model X ramp-up imparted some painful lessons:
The hard lessons of the Model X led to three big hires
Tesla had the benefit of some new and very experienced perspectives as it engineered the Model 3 and prepared its production line. The company made several promising moves to address its production quality in the wake of the Model X's launch, and three key hires stand out.
Last May, Tesla hired production expert Peter Hochholdinger, a veteran of Volkswagen AG's Audi subsidiary. He has apparently has had a major influence on Tesla's approach to designing and engineering the Model 3, as well as on Musk's (and Tesla's) thinking about the manufacturing of electric vehicles more generally.
Tesla's upcoming Model 3 will incorporate the hard lessons learned from early production of its Model X SUV. Image source: Daniel Sparks/The Motley Fool
Hochholdinger was joined in August by David Erhart, an Apple veteran who became Tesla's senior director of reliability engineering. Erhart is also thought to have had a significant impact on the Model 3's engineering.
Last but not least, Tesla was able to hire interior-engineering expert Anders Bell from Volvo Cars. Bell was Volvo's head of interior engineering, and he led the teams that created the interiors of Volvo's XC90, X90, and V90 models.
These were all strong hires, and taken together they suggest that Tesla put much more effort into some key fundamentals with the Model 3.
The upshot: The Model 3 should be a better-built Tesla
Make no mistake: The Model S and Model X are extremely impressive vehicles, especially given Tesla's size and resources at the times they were launched. But that said, it has been clear that manufacturing, reliability, and interior quality are all areas where Tesla needed to make improvements before entering the mass market with the Model 3.
Clearly, Tesla came to the same conclusions and took action. We'll know in a few months how well those actions are working out.
10 stocks we like better than TeslaWhen investing geniuses David and Tom Gardner have a stock tip, it can pay to listen. After all, the newsletter they have run for over a decade, Motley Fool Stock Advisor, has tripled the market.*
David and Tom just revealed what they believe are the 10 best stocks for investors to buy right now... and Tesla wasn't one of them! That's right -- they think these 10 stocks are even better buys.
Click here to learn about these picks!
*Stock Advisor returns as of February 6, 2017
John Rosevear owns shares of Apple. The Motley Fool owns shares of and recommends Apple and Tesla. The Motley Fool has the following options: long January 2018 $90 calls on Apple and short January 2018 $95 calls on Apple. The Motley Fool has a disclosure policy.