How Sprint Corp. Shares Gained 23% in November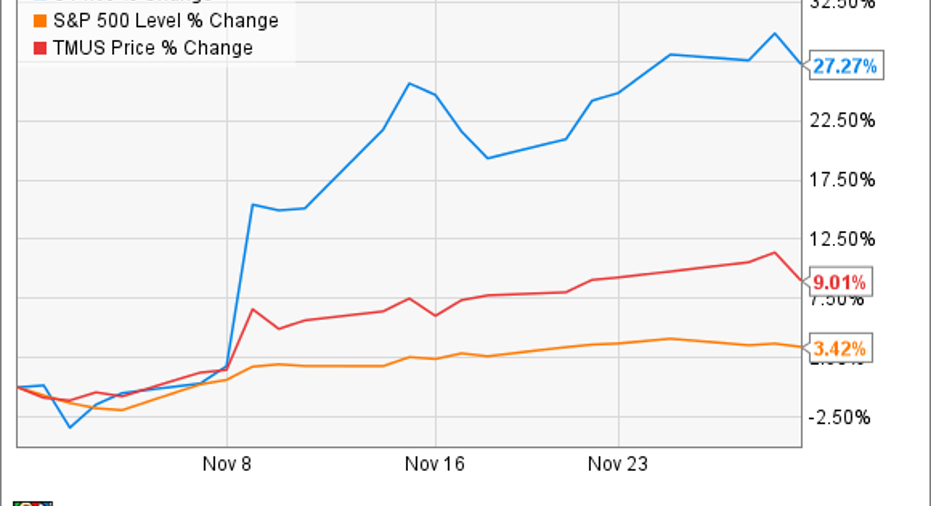 Image source: Getty Images and Sprint.
What happened
Shares of Sprint (NYSE: S) rose 22.7% in November, according to data from S&P Global Market Intelligence. When Donald Trump won the presidential election, Sprint investors saw dollar signs as that result seemed to open the door for a merger with T-Mobile US (NASDAQ: TMUS). The Un-carrier also gained from the same speculation, rising 9% higher in November.
So what
The positive merger vibes were strong enough that two wireless tower operators sent out evaluations of the impact this merger might have on their businesses. For its part, T-Mobile's German mothership said that it is way too early to start planning mergers based on the new resident of the Oval Office. After all, he hasn't finished building his supporting cast of characters in the executive branch yet, and those choices can made a huge difference.
But the prospect of Sprint picking up fellow mini-major network T-Mobile remains tempting, and share prices have stayed high.
Now what
Now, Trump has been sending mixed messages about the whole megamerger trend. On the one hand, his advisors are suggesting that the Federal Communications Commission is useless and should be dismantled, and consumer-friendly commissioner Tom Wheeler is certainly on his way out. On the other hand, his campaign promises included several calls to block some of the largest mergers currently on the table.
So the prospects for a T-Mobile buyout are about as cloudy as ever. That's not stopping Sprint investors from betting big on a future with three roughly equal wireless giants. But Sprint investors must know that they're playing with fire here.
It's a long way down if the T-Mobile idea goes south.
10 stocks we like better than Sprint When investing geniuses David and Tom Gardner have a stock tip, it can pay to listen. After all, the newsletter they have run for over a decade, Motley Fool Stock Advisor, has tripled the market.*
David and Tom just revealed what they believe are the 10 best stocks for investors to buy right now... and Sprint wasn't one of them! That's right -- they think these 10 stocks are even better buys.
Click here to learn about these picks!
*Stock Advisor returns as of Nov. 7, 2016
Anders Bylund owns shares of T-Mobile US. The Motley Fool recommends T-Mobile US. Try any of our Foolish newsletter services free for 30 days.
We Fools may not all hold the same opinions, but we all believe that considering a diverse range of insights makes us better investors. The Motley Fool has a disclosure policy.