How Seasonality Could Affect Oil ETFs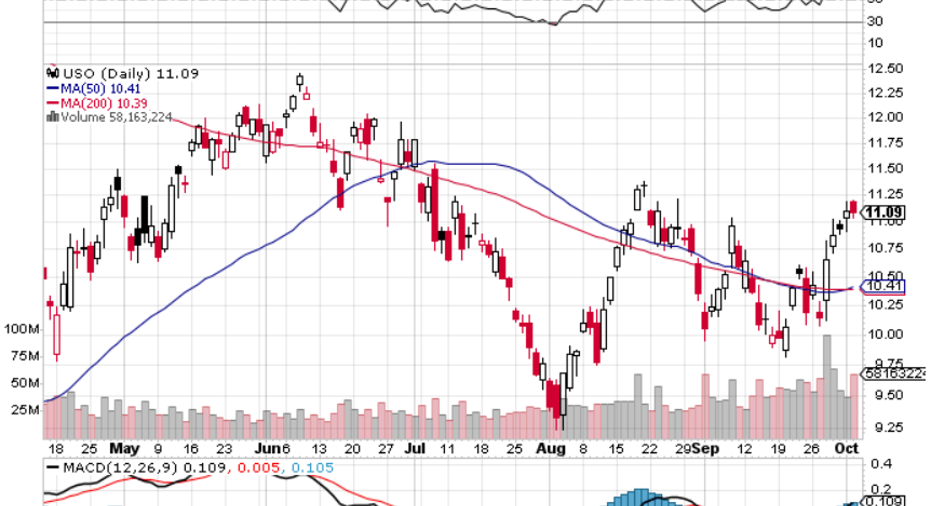 Like many commodities exchange traded products, the United States Oil Fund (NYSEArca: USO), which tracks West Texas Intermediate crude oil futures, can be subject to some seasonal factors and that is worth remembering as the fourth quarter gets underway.
Oil is also likely to get some help from now dwindling bets that the Federal Reserve will raise interest rates in the coming months. Raising interest rates would likely boost the dollar, in turn pressuring dollar-denominated commodities such as oil.
SEE MORE: It's Game Time For Oil ETFs
"Meanwhile, it is significant to add that a feature of Q4 in past years has been a slide in oil prices. With that in mind, and the falls we've seen since the OPEC deal was announced, we could be set for the seasonal slump," according to OilPrice.com.
That could also figure into the performance of equity-based energy strategies, which some investors are betting will finally deliver increased earnings.
The growth is not surprising as the energy sector has been one of the worst areas in earnings growth. For Q3 2016, the sector is expected to reveal its largest year-over-year earnings decline of 66%, the worst performance of all 11 S&P 500 sectors.
ETF investors interested in gaining exposure to the improving energy sector have a number of broad plays to choose from. For example, the Energy Select Sector SPDR (NYSEArca: XLE), the largest equity-based energy ETF, increased 14.4% year-to-date.
SEE MORE: Energy Stocks, ETFs can Keep Surging
Last week, oil and energy exchange traded funds rallied Thursday after the Organization of Petroleum Exporting Countries agreed to the first output cut since 2008, with Saudi Arabia relaxing its position on Iran amid stubbornly low oil prices.
"But Q4 aside, the OPEC deal has been significant in other ways. It has been the first time that the cartel has shown signs of solidarity since as far back as 2008. With OPEC now committed to working in the best interests of the organization we can see this as both a baby step toward a further limit, and as a sign of continued market domination," reports OilPrice.com.
For more information on the crude oil market, visit our oil category.
United States Oil Fund
The opinions and forecasts expressed herein are solely those of Tom Lydon, and may not actually come to pass. Information on this site should not be used or construed as an offer to sell, a solicitation of an offer to buy, or a recommendation for any product.
This article was provided by our partners at ETFTrends.