How Safe Is Textainer Group Holdings Limited Stock?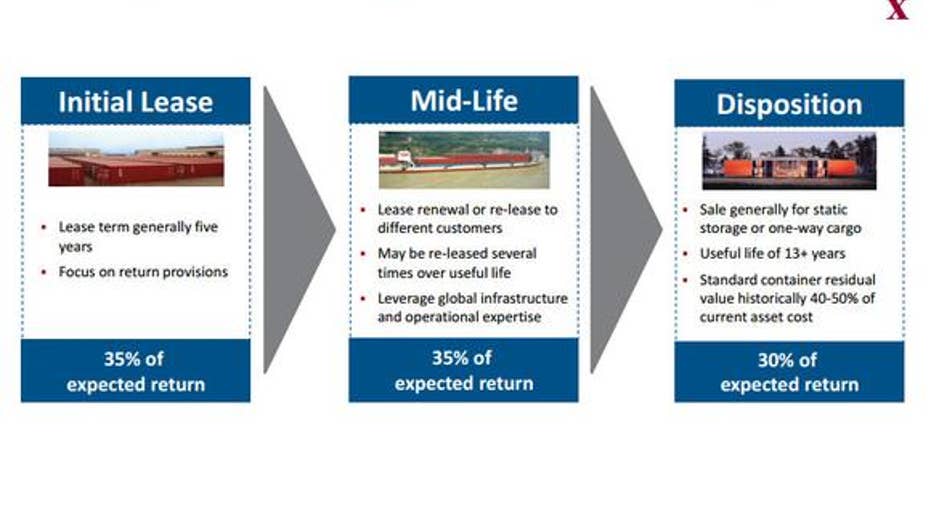 To many investors,Textainer Group Holding would appear to have an ultra-safe business model that can weather almost any economic storm. Its model is simple, with the company leasing shipping containers under long-term contracts to many of the world's largest shipping lines.
Those long-term contracts should help insulate the company during times of economic turbulence like the one the globe is currently experiencing. Unfortunately, that hasn't been the case, which is evident by the beating that the company's stock has experienced during the past year:
Suffice it to say, with the stock price down nearly 60%, Textainer can't exactly be considered a safe stock. That's doubly truewhen factoring in the dividend, which was basically cut in half earlier this year.
What went wrongTextainer's recent troubles were laid out by CEO Phillip Brewer last quarter when he noted that:
Brewer notes that falling steel prices and lower interest rates have kept a lid on container prices, which causes two problems for the company. First, it reduces the lease rates on both contract renewals and contracts on new containers, while also lowering the price of containers it sells to the resale market. In addition to that, the company is seeing weaker demand for containers due to lower trade growth, which is keeping a lid on utilization, as well as lease rental income. That was evident last quarter when lease-rental income slumped 3.7% over the prior year.
While the lower lease-rental income has hurt, an even greater issue for the company has been the impact from lower container prices. As the chart below shows, the income the company receives from sales and trades has fallen substantially during the past year:
| Sources of revenue | Q4 2015 Actuals | Q4 2014 Actuals | Growth (YOY) |
| --- | --- | --- | --- |
| Lease rental income | $124.6 million | $129.5 million | -3.7% |
| Management fees | $3.6 million | $4.2 million | -12.5% |
| Trading container sales proceeds | $1.3 million | $7.3 million | -81.8% |
| Gains on sale of containers, net | ($0.3 million) | $2.6 million | -110.8% |
Data Source: Textainer Group Holding Limited.
That's having a big impact on the company's earnings and cash flow because, as the slide below shows, 30% of the expected return is typically earned when it trades or sells a container:
Source: Textainer Group Holding Limited Investor Presentation.
With container prices down 25% during the past year, it has eaten into this expected return, leaving the company with less cash to buy new containers or return to shareholders via dividends.
It's no longer top dogThe company's exposure to container prices isn't the only thing that impacts the safety of the company's financials. It operates in a capital-intensive business, and has invested more than $4.1 billion in capex to build what had been the largest container fleet in the industry. That spending was largely funded with debt as evidenced by the company's total long-term debt standing at just more than $3 billion as of the end of last year, which is double where it stood at the end of 2011. That said, its leverage is still fairly low at 2.4 times debt to equity, which is lower than most of its peers.
The company will soon lose its spot at the top as the world's largest container-leasing company after TAL International Group completes its merger with Triton. Pro forma TAL International/Triton will control 4.8 million TEU of containers compared to 3.15 million TEU for Textainer.
In creating a new container-leasing powerhouse, TAL International and Triton will pose a challenge to Textainer because they have the added scale that will lower their costs, enabling them to potentially offer more competitive leases, and steal market share from Textainer. Given the wide gap, and its already large debt load, Textainer won't be able to rival their scale unless it, too, merges with a rival, though it would need to be careful not to overpay, or else it could really sink its financial situation.
Investor takeawayFor a company that leases shipping containers under long-term contracts, Textainer has proven to be a bit more volatile than investors would like to see. Add to that the fact that its dividend was cut in half, and it's impossible to call this a safe stock. This is something to keep in mind if safety, as measured by minimal volatility of both the stock price and dividend, is what's being sought because Textainer hasn't offered either during the past year.
The article How Safe Is Textainer Group Holdings Limited Stock? originally appeared on Fool.com.
Matt DiLallo owns shares of Textainer Group. The Motley Fool owns shares of and recommends Textainer Group. Try any of our Foolish newsletter services free for 30 days. We Fools may not all hold the same opinions, but we all believe that considering a diverse range of insights makes us better investors. The Motley Fool has a disclosure policy.
Copyright 1995 - 2016 The Motley Fool, LLC. All rights reserved. The Motley Fool has a disclosure policy.