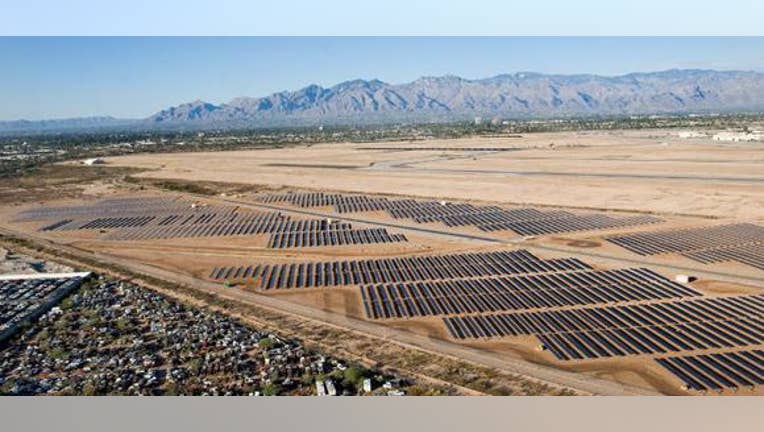 Image source: SunEdison.
Shares of SunEdison Inc have fallen over 95% from their peak in 2015 as the seemingly safe business of building renewable energy projects started to unravel. A flurry of acquisitions went from a driver of growth to an expansion of risk, and when the company's yieldcos started to drop, it had to make a quick strategic shift that's yet to pan out.
On the surface, this should be a fairly safe company for investors, but that's been anything but the case of late. So, is this a stock worth jumping into because of its high potential, or a danger to be avoided?
Debt is out of control If there's one chart that shows the problem with SunEdison, it's the one below. The company has taken on billions of dollars in debt to expand, and now that debt is coming back to haunt it.
SUNE Net Total Long Term Debt (Quarterly) data by YCharts.
To be fair, a lot of this debt is in its yieldcos, TerraForm Power and TerraForm Global , but the overall leverage on SunEdison's balance sheet is getting out of hand.
To make matters worse, lenders are starting to back away from the company. A recent conversion of convertible debt to regular debt came with a variable interest rate with a floor of 11%. That's incredibly high for a renewable energy company. And investors balked at providing more loans to fund acquisitions like Vivint Solar and Globeleq Mesoamerica Energy.
Debt is necessary to fund both construction and long-term ownership of renewable energy projects. But debt loads that are too high can hamper a company's ability to operate efficiently. And that's exactly what's happening at SunEdison.
Where's the money? A large debt load wouldn't be a problem if SunEdison could justify it with high levels of profit and/or free cash flow. But you can see that both are dropping as the company reports billions in losses.
SUNE Net Income (TTM) data by YCharts.
If there's one thing that makes SunEdison unsafe, it's that management hasn't shown the ability to make money building renewable energy projects. If you can't do that, the entire model falls apart.
Safer bets in the SunEdison family Even within the family of SunEdison companies, which includes yieldcos TerraForm Power and TerraForm Global, there are safer bets than SunEdison itself. The two yieldcos at least own projects with long-term contracted cash flows and don't have to acquire growth to continue paying their dividends.
SunEdison, on the other hand, is teetering toward bankruptcy. Lenders are no longer interested in funding renewable energy acquisitions, and the number of buyers for projects is dwindling.
This doesn't mean the yieldcos are without risk. Moody's highlighted the fact that it could be dragged into bankruptcy if SunEdison is. But from a safety perspective, they're much better than SunEdison. As a longtime renewable energy investor, SunEdison simply isn't a stock I would buy into because the future looks dimmer by the day.
The article How Safe Is SunEdison Inc's Stock? originally appeared on Fool.com.
Travis Hoium has no position in any stocks mentioned. The Motley Fool has no position in any of the stocks mentioned. Try any of our Foolish newsletter services free for 30 days. We Fools may not all hold the same opinions, but we all believe that considering a diverse range of insights makes us better investors. The Motley Fool has a disclosure policy.
Copyright 1995 - 2016 The Motley Fool, LLC. All rights reserved. The Motley Fool has a disclosure policy.