How Safe Is Phillip Morris International's Dividend?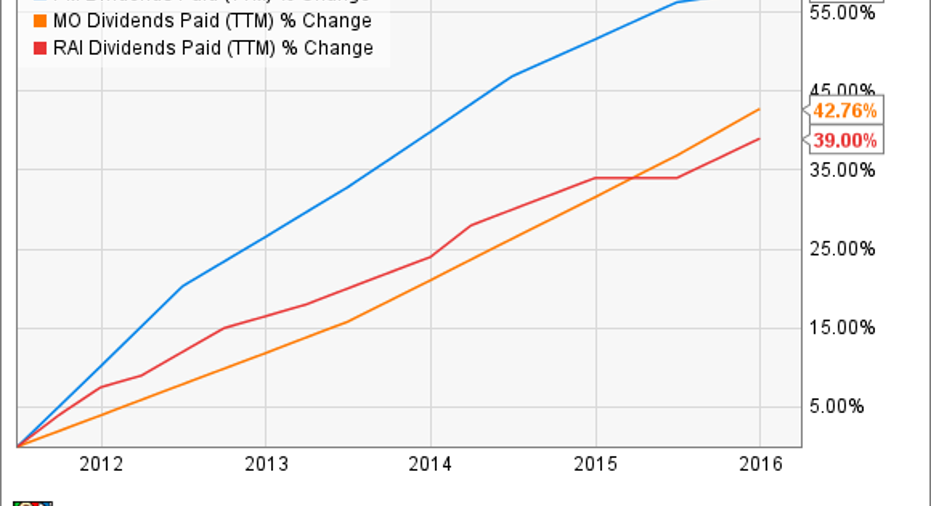 Source:PhilipMorris.
Philip Morris International stock looks like a tempting proposition for dividend investors right now. Shares of the tobacco giant are paying a smoking-hot dividend yield of 4.2%, considerably above the yields offered by competitors such as Altria and Reynolds American . However, the dividend payout ratio is quite high, and tobacco is a particularly risky industry. This raises an important question for investors: Should you bet on Philip Morris and that compelling dividend yield?
A top dividend play in tobaccoPhilip Morris International, which doesn't operate in the United States, owns the rights to the massively popular Marlboro brand outside of the U.S. and China. When including its three main brands: Marlboro, L&M, and Chesterfield, management estimates that Philip Morris owns a leading market share of 38.7% across its key markets. Tobacco consumers are remarkably loyal to their favorite brands, and this is a crucial source of competitive strength for Philip Morris.
Companies in the industry face serious regulatory limitations when it comes to marketing and advertising, and this can be a major plus for an established market leader. Bans on advertising keep market share levels relatively stable, and Philip Morris doesn't need to spend too much money on marketing to hold the line against the competition. The business produces big operating margins in the neighborhood of 40% of revenue, and low capital requirements allow Philip Morris to reward investors with generous cash distributions.
Philip Morris has been independently traded and operated since 2008, when the company was separated from Altria through a spinoff. Back then, Philip Morris was paying a quarterly dividend of $0.46 per share, and distributions have increased consistently every year, rising to $1.02 quarterly per share nowadays.
Compared to other tobacco players, the company offers an above-average dividend yield of 4.2%, versus 3.7% for Altria and 3.5% for Reynolds American. In addition,Philip Morris is considerably above its peers in terms of dividend growth over the last five years.
PM Dividends Paid (TTM) data by YCharts
However, its dividend payout ratio is also quite high. Phillip Morris is expected to make $4.44 in earnings per share during 2016, meaning that at current levels, dividends would absorb nearly 92% of earnings over the year. Altria has a safer payout ratio of 74% versus earnings forecasts for the coming year, while Reynolds American is expected to distribute a much more comfortable 54% of earnings as dividends.
Is the dividend safe?Governments and nonprofit organizations are implementing all kinds of initiatives to combat smoking and its negative impact on public health, and consumers are increasingly conscious about the massive health damage that cigarettes can produce. Tobacco consumption around the world is on a long-term decline, and Philip Morris International is not immune to this trend.
Philip Morris' total cigarette sales volume declined from 927 billion units in 2012 to 880 billion in 2013, then to 856 billion cigarettes in 2014, and then again to 847.3 billion in 2015. This represents a year-over-year decline of 5% in 2013, 3% in 2014, and 1% in 2015.
There is no sign that this trend is likely to reverse. During the first quarter of 2016, Philip Morris reported a 1.4% decline in sales volume excluding acquisitions, and management is expecting industrywide volume to fall by 2% to 2.5% during the full year 2016. Philip Morris is outperforming the industry due to strong brand power and market share gains, so the company is doing better than the competition in terms of sales volume. Besides, pricing power allows Philip Morris to partially compensate for the volume decline by increasing prices. On the other hand, foreign currency headwinds are hampering its financial performance when its sales are translated into U.S. dollars.
The company announced a worrisome decline of 8.1% in revenue during Q1 2016, while sales in constant currency increased 2.4% versus the same quarter in the prior year. Earnings per share fell 15.5% in U.S. dollars during the period, increasing by a modest 0.9% when expressed in constant currency terms.
Since the dividend payout ratio is already quite high, dividend growth should at best be in line with earnings growth in the future, meaning that increases will most probably be quite modest in the coming years. Philip Morris announced a lackluster increase of only 2% for 2015.
The business is financially solid, so there is no reason to expect a dividend cut anytime soon. However, it's hard to estimate how long Philip Morris will be able to continue buffering the decline in cigarettes sales volume with price increases. Sooner or later, falling sales should cut into revenue and earnings, which could jeopardize dividend payments in the long term.
The article How Safe Is Phillip Morris International's Dividend? originally appeared on Fool.com.
Andrs Cardenal has no position in any stocks mentioned. The Motley Fool has no position in any of the stocks mentioned. Try any of our Foolish newsletter services free for 30 days. We Fools may not all hold the same opinions, but we all believe that considering a diverse range of insights makes us better investors. The Motley Fool has a disclosure policy.
Copyright 1995 - 2016 The Motley Fool, LLC. All rights reserved. The Motley Fool has a disclosure policy.