How Safe Is Domino's Pizza, Inc. Stock?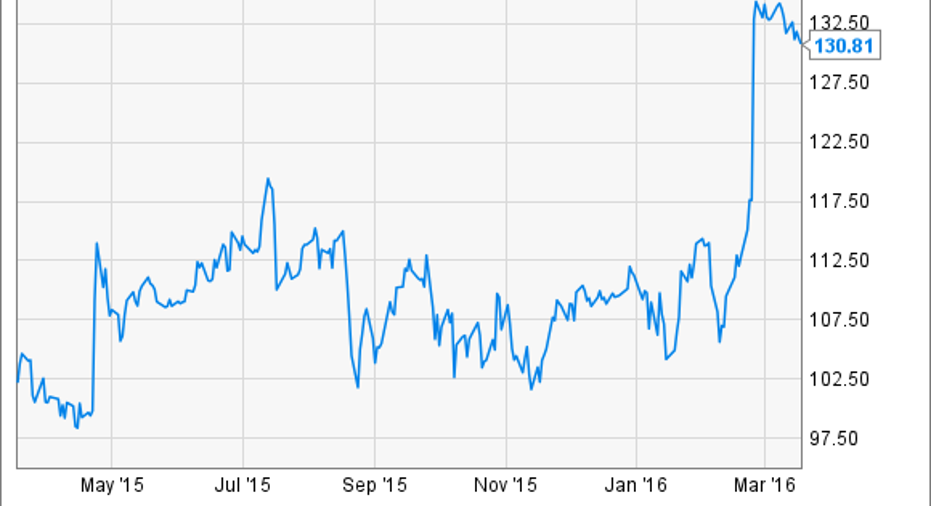 Americans love mediocre pizza.
Despite the fact that pretty much any community has a local pizza place which arguably makes a better pie than Domino's the chain has continued to rack up sales. Business has been so good, in fact, that the chain closed out 2015 with an excellent Q4 which capped off a great year.
In the final quarter of the yeardomestic same-store sales grew 10.7% compared to the same period a year-ago and 12.% for the full year. And, while the United States gave the company its start, global audiences have proven just as willing to eat poor pizza since international same store-sales were up 8.6% in Q4 and 7.8% for the full year marking the 88th consecutive quarter and 22nd full year of positive international same store sales growth.
Investors liked those numbers which caused Domino's stock to make a run after the numbers were reported. After closing at $117.61 on Feb. 24 shares spiked to $132.90 on Feb. 25, after the chain reported results, a 13% jump, Shares have traded in that range in the weeks since suggesting that the bump may not be a short-term spike due to good numbers, but more of a validation of what investors expected.
"Our network of strong franchisees has become even more profitable during these years of continued positive same store sales growth," said CEO J. Patrick Doyle in the earnings release. "Great store economics around the world have led to accelerated unit growth. It's a positive cycle and the momentum continued through 2015."
That's true, but the company, which has weathered numerous storms, does not move forward without risk. In fact, despite its long history and its ability to ward off both local and national competition, the company might be at its most vulnerable point.
Source: YCharts.com
Everyone wants to do thisWhile Domino's has long succeed by being low-cost, convenient, and especially good at delivery, the company remains vulnerable to a competitor which executes well but delivers a higher-quality product. Call it the Chipotle , effect, but it seems logical that someone could disrupt the pizza business with a fast casual concept.
There are a number of players trying to prove that on a regional or local level, but it's a long way from opening a few successful shops to actually challenging Domino's. Still, Chipotle changed the quick-serve business by proving that consumers would pay more for what they perceive as a better product. By using ingredients that are locally sourced and close to their original form, the Mexican chain routinely gets away with charging much more than the previous fast-food leaders.
It's possible that creates risk for Domino's shareholders, but it's also worth noting that the idea of becoming the Chipotle of pizza has been around for years and no major player has emerged.
How big is the risk?A risk exists, but Domino's has always thrived despite the fact that in many, if not most markets where it operates, better pizza is readily available. To truly steal market share from the leader in the pizza space, a company would have to not just deliver better quality, but also deliver.
Domino's has a well-earned reputation for getting food to people quickly. It also has an impressive app which makes it easy to not only order a pizza, but also to track its progress on its way to your door. Those are difficult barriers to entry to any competitor looking to take a local or regional fast casual pizza concept and roll it out nationally.
Shareholders of Domino's stock should keep an eye on this because food quality does make the company vulnerable, but it seems unlikely a rival will be able to exploit that in the near future. A Chipotle of pizza could hurt the chain's share price. Creating one however remains an elusive goal that no rival has yet attained meaning that Domino's stock should fly high until somebody cracks the code, which may not ever happen.
The article How Safe Is Domino's Pizza, Inc. Stock? originally appeared on Fool.com.
Daniel Kline has no position in any stocks mentioned. He used to order Domino's only when it was the only place that delivered. The Motley Fool owns shares of and recommends Chipotle Mexican Grill. Try any of our Foolish newsletter services free for 30 days. We Fools may not all hold the same opinions, but we all believe that considering a diverse range of insights makes us better investors. The Motley Fool has a disclosure policy.
Copyright 1995 - 2016 The Motley Fool, LLC. All rights reserved. The Motley Fool has a disclosure policy.