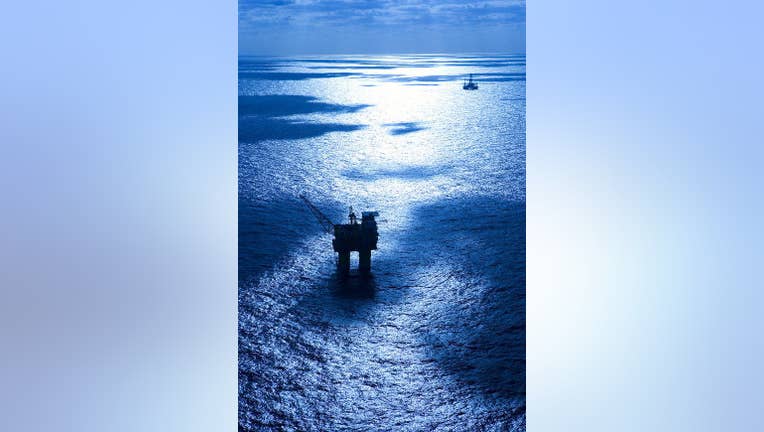 Image Source: Cobalt International Energy.
Cobalt International Energy bills itself as a "new kind of oil exploration and production company." That's because unlike most oil start-ups, it didn't take its initial cash resources and plow it into acquiring oil and gas assets with existing production. Instead, it has invested from the ground up, by first exploring for new sources of oil and gas and then investing the capital needed to bring these discoveries online. That business model makes the company inherently riskier than the average oil stock, putting it at the lower end of the safe spectrum for investors.
A decade without a drop of oilCobalt International Energy was initially founded in 2005. However, it wasn't until January of this year that the company actually produced a drop of oil after the Anadarko Petroleum led Heidelberg project came online, where Cobalt owns a minority stake. The reason the company went so long without actually producing any oil is due to the fact that it focuses on offshore oil development, which takes a long time to go from discovery to first oil. To use Anadarko Petroleum's Heidelberg project as an example, while the initial field was discovered in 2009, the development project wasn't sanctioned until 2013 and first oil didn't occur until 2016.
That seven-year time-frame, along with the project's multi-billion-dollar price tag, adds a lot of risk for a company like Cobalt. Consider the fact that the company would have had to make its initial investment decision on this project when oil was still in the triple digits only to finally realize first oil after it's price had plummeted to a mere $30 a barrel. This really has a big impact on the economics of the company's projects, which could significantly impact its ability to create value from these investments.
Image Source: Anadarko Petroleum.
A concentrated positionUp until recently Cobalt International Energy had focused its exploration efforts on two core areas: The Gulf of Mexico and West Africa. However, because it doesn't produce any oil and therefore can't fund its oil projects with internally generated cash flow it needs outside capital to fund these projects, which is much harder to acquire when oil is below $40 a barrel. That need for capital was the driving factor behind the company's recent decision to sell its entire position in Angola to raise the cash it needed to develop its assets in the Gulf of Mexico. However, while that sale minimized its funding risk for the next few years, it increases the company's execution risk because it's now concentrated in just one region.
That concentration is a potential big problem given the recent history of oil exploration in the Gulf, with BP's Macando disaster wreaking havoc on the region and producers a few years back. That disaster cost not only BP billions of dollars, but its partner in the project, Anadarko Petroleum, had to pay $4 billion to settle its liabilities for the spill. That's worth noting because it suggests that if a disaster were to occur at one of Cobalt's projects it too could be on the hook for a major payout, which could actually put it out of business given its smaller size. In fact, a spill wouldn't even have to occur at one of its projects to significantly impact its ability to operate. That because after the BP disaster happened the ensuing moratorium on deepwater drilling the Gulf of Mexico caused a couple of companies to go bankrupt, even though they had nothing to do with that incident.
More from The Motley Fool
Investor takeawayCobalt International Energy is not a safe oil stock, as if there were such a thing. Its risk profile is heightened by the fact that it has a singular focus on developing oil resources in the Gulf of Mexico from the ground up. While that exploration and development focus has the potential to create tremendous value, it could easily go bust if oil prices keep crashing or another big oil spill were to hit the Gulf. In other words, investors looking for some safety are better off investing elsewhere.
The article How Safe Is Cobalt International Energy, Inc. Stock? originally appeared on Fool.com.
Matt DiLallo has no position in any stocks mentioned. The Motley Fool has no position in any of the stocks mentioned. Try any of our Foolish newsletter services free for 30 days. We Fools may not all hold the same opinions, but we all believe that considering a diverse range of insights makes us better investors. The Motley Fool has a disclosure policy.
Copyright 1995 - 2016 The Motley Fool, LLC. All rights reserved. The Motley Fool has a disclosure policy.