How Risky Is SUPERVALU Stock?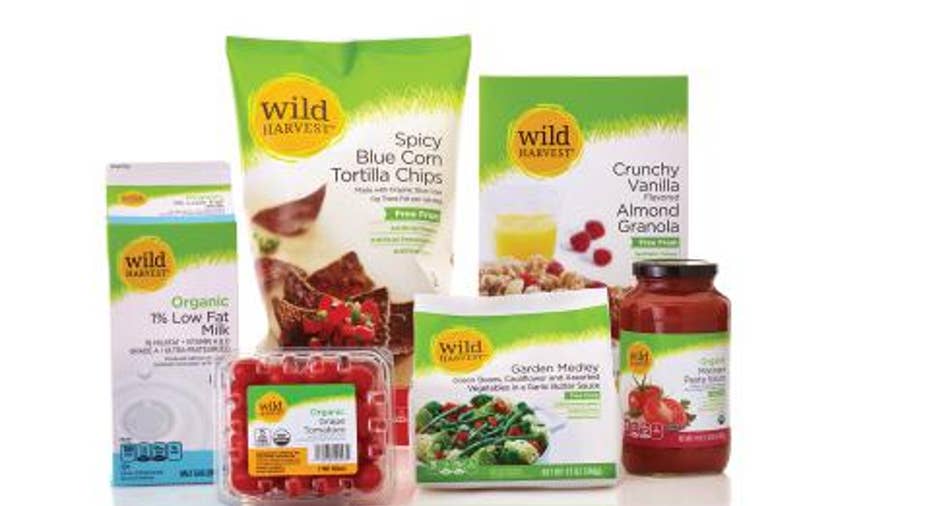 Supervalu's Wild Harvest store brand. Image: SUPERVALU.
Grocery chain SUPERVALU has gone through a lot of changes in recent years, having sold off many of its former grocery chains to focus more on what it saw as its core brands. Yet coming into Tuesday's fiscal fourth-quarter financial report, Supervalu investors see a lot of risk that the company could continue to see revenue and earnings stagnate. In an industry in which even innovative companies are facing challenges, Supervalu doesn't have the luxury to be able to stand still. Let's look at some of the risk factors that Supervalu faces right now and what it can do to address them.
The biggest risk: a growth standstillSupervalu faces a challenging period right now. Most of those who are following the stock expect the grocery chain to report a 20% drop in adjusted earnings for the fiscal fourth quarter, with revenue falling more than 8%. That would follow on the heels of a 3% sales decline in the fiscal third quarter, which sent adjusted earnings down more than 10% from the year-ago quarter.
Looking more closely at Supervalu's individual units, there's a lot of strain on top-line growth. During its most recent quarter, Supervalu's Save-A-Lot discount concept saw a 3.4% drop in comparable-store sales. The company's retail food unit posted a 2.6% drop, and the independent business segment reported a 3.5% decline in comps.
Company executives have been quick to point out that a tough environment is partially to blame for the declines. For instance, because food prices have declined, Supervalu has had to watch as its overall revenue fell, even if its profit margins aren't necessarily affected measurably. If food price inflation returns to the market, then Supervalu will see its dollar-based revenue climb even if actual volumes of sales remain flat.
Yet competitive threats are also apt to affect Supervalu's prospects. Grocery giant Kroger has made big moves to challenge not only traditional grocers but also some of the more specialized natural and organic foods providers. Kroger's efforts to sell its own lines of organic and natural products have drawn customers away from other niche groceries while enhancing Kroger's image compared to Supervalu's stores.
Still, Supervalu isn't giving up. Its Wild Harvest store brands are designed to counteract similar moves from Kroger and other grocers, and Supervalu has seen considerable success from Wild Harvest, having released more than 200 products under the brand during the current fiscal year and having seen organic-food sales jump higher as a result. Such initiatives pose a risk to Supervalu if they fail, but they could be important drivers of growth if they succeed in the long run.
A new executive teamIn addition, Supervalu is working with executives who are recent additions to the grocery chain's team. CEO Mark Gross joined Supervalu in February, and COO Bruce Besanko recently took on responsibility as the chief financial officer as well. The newly created position of chief innovation officer went to Jim Weidenheimer.
All of the executives have long tenures in the retail industry. Gross claims 20 years of grocery and wholesale leadership experience, including a decade at C&S Wholesale Grocers, where Weidenheimer worked for 16 years in senior leadership. Besanko has been at Supervalu since 2013, having come most recently from OfficeMax and also counting Circuit City and Sears among his past jobs.
Smart management will be important as Supervalu assesses major strategic moves. In particular, the current plan to spin off the Save-A-Lot discount chain from traditional grocery chains like Cub Foods could have dramatic implications going forward, especially if Gross and his team believe that investors will better understand Save-A-Lot's competitive advantages if it were to trade as a separate entity. More importantly, because Save-A-Lot has been a success story for Supervalu, the challenge will be making sure that the remaining grocery business will be able to turn itself around as well.
Supervalu is dealing with a lot of moving parts in the grocery industry right now, and it will have to work hard in order to resolve its issues to the liking of its investors. If the company's new leadership team can find ways to overcome the obstacles in its path, then Supervalu has plenty of room to rebound from long-term share-price declines and find a new direction toward long-term growth.
The article How Risky Is SUPERVALU Stock? originally appeared on Fool.com.
Dan Caplinger has no position in any stocks mentioned. The Motley Fool recommends Supervalu. Try any of our Foolish newsletter services free for 30 days. We Fools may not all hold the same opinions, but we all believe that considering a diverse range of insights makes us better investors. The Motley Fool has a disclosure policy.
Copyright 1995 - 2016 The Motley Fool, LLC. All rights reserved. The Motley Fool has a disclosure policy.