How Risky Is Philip Morris International, Inc.?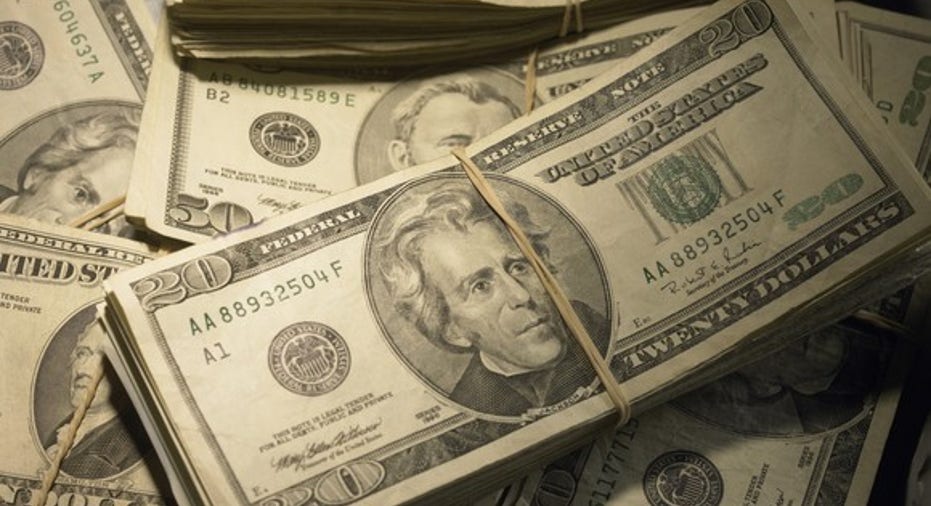 The value of the U.S. dollar is one of Philip Morris' biggest risks. Image source: Getty Images.
Among consumer-oriented stocks, Philip Morris International (NYSE: PM) has done an exceptional job of making the most of its opportunities to capture a substantial share of the global tobacco market. Yet as those who follow domestic cigarette makers know all too well, the risks involved with tobacco investing are numerous, and Philip Morris has had to navigate a tough course in order to try to sustain its impressive financial performance. Below, we'll take a look at three of the major risks that Philip Morris faces and how concerned investors should be.
Dividend risk
One of Philip Morris International's hallmarks as a stock is its dividend. The company currently pays shareholders $1.02 per share every quarter, and that works out to a 4.1% dividend yield based on current market prices.
Historically, Philip Morris has done a good job of boosting its dividend payments regularly, having made increases each and every year since becoming an independent company in 2008. However, more recently, the pace of the tobacco giant's dividend growth has slowed, with the most recent dividend increase amounting to just 2%. The company has cited foreign currency pressures as motivating the slowdown in dividend growth, and investors hope that once the strong dollar starts to weaken, Philip Morris will be able to return to a healthier trajectory with its dividends. For now, a payout ratio of 97% suggests that Philip Morris is stretched as far as it would like to go with its quarterly payments, but with the dollar starting to weaken, most investors still expect a modest dividend increase later this year.
Market risk
Very few stocks are impervious to pressure from the broader stock market. When major market benchmarks move lower, most stocks follow suit, but some stocks move with more volatility than others. Many investors use a metric called beta to measure a stock's sensitivity to market movements, and the greater the beta, the more sharply a stock will respond when the market climbs or falls abruptly.
Philip Morris currently has a beta of 0.98, which indicates that its movements are almost equal in magnitude to those of the overall market. The measure doesn't mean that Philip Morris' stock movements are perfectly correlated to the broader market, but with the beta so close to the market-matching figure of 1, Philip Morris shareholders can expect the stock's percentage movements to closely mimic percentage changes in the S&P 500 and other broad-based stock market benchmarks.
Currency risk
Philip Morris is one of the most highly exposed companies in the U.S. stock market to currency risk. That's because the company does business entirely outside the U.S., and very few of the markets in which it does business use the U.S. dollar as their currency or have their own local currency tied directly to the value of the U.S. dollar.
In particular, Philip Morris has its greatest exposure to foreign currencies in Europe. The company gets almost a third of its net revenue from countries in the European Union, and when you add in the Eastern Europe, Middle East, and Africa segment, the share from the combined region climbs to more than three-fifths. Asia makes up about a quarter of the company's global exposure, with Canada and Latin America making up the difference.
Currency risk has had a dramatic impact on Philip Morris' results lately. In its 2015 annual report, Philip Morris reported that currency impacts caused the company to earn $1.20 per share less than it had in the previous year, wiping out gains of $0.53 per share stemming from its operational results. Without the currency impact, Philip Morris' earnings would have been more than 25% higher, and what was reported as a bottom-line decline would have been a healthy advance instead. More recently, the dollar's rise has slowed, but investors will need to keep an eye on currency movements to assess the likelihood of Philip Morris continuing to grow.
These three risks aren't the only ones that Philip Morris International faces, especially when you consider some of the regulatory and operational challenges that the tobacco giant has to overcome in order to keep up its growth pace. However, even for those who are convinced that the strength of the fundamental business is solid, these three risks still pose threats to the future performance of Philip Morris stock going forward.
A secret billion-dollar stock opportunity The world's biggest tech company forgot to show you something, but a few Wall Street analysts and the Fool didn't miss a beat: There's a small company that's powering their brand-new gadgets and the coming revolution in technology. And we think its stock price has nearly unlimited room to run for early in-the-know investors! To be one of them, just click here.
Dan Caplinger has no position in any stocks mentioned. The Motley Fool has no position in any of the stocks mentioned. Try any of our Foolish newsletter services free for 30 days. We Fools may not all hold the same opinions, but we all believe that considering a diverse range of insights makes us better investors. The Motley Fool has a disclosure policy.