How Risky Is Micron Technology, Inc.?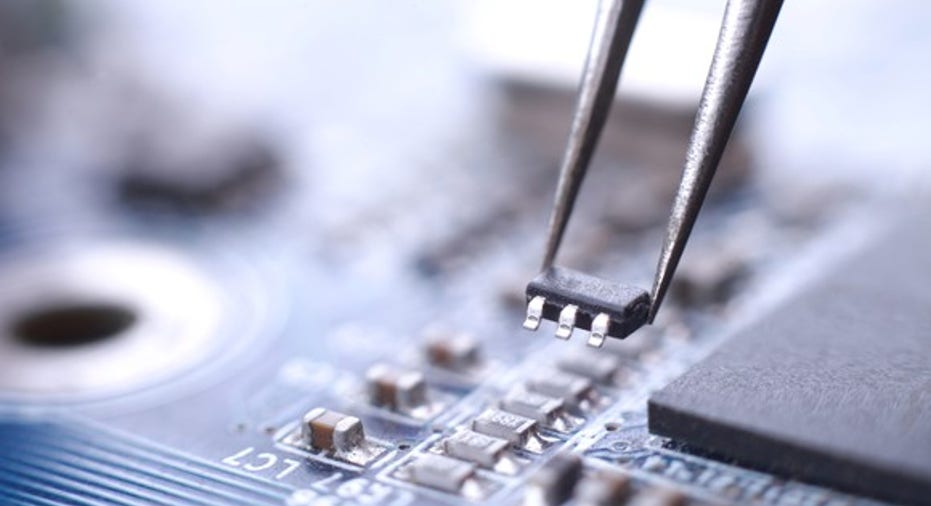 Image source: Getty Images.
There's no such thing as a risk-free investment. Shareholders always need to keep an eye on the risks that come with owning each of their stocks, in case those potential demons turn up in the real market.
As a longtime owner of Micron Technology (NASDAQ: MU) shares, I'm about to take a fresh look at that stock's risk factors.
You're welcome to come along and look over my shoulder.
Price wars
Micron's chosen specialty is in designing and manufacturing of computer memory chips, both of the DRAM temporary-storage variety and the stable NAND Flash memory type. It's simultaneously a very mature commodity market and a cutting-edge innovation platform, and that mixture leads to an extremely cyclical market.
The supply-and-demand equation for memory chips is prone to wild swings.
Sometimes the factories can barely keep up with global demand, and chip prices hold steady for a while. Ideally, tight supply would result in higher street prices, but rising chip prices are as rare as hen's teeth. So stability is about the most favorable pricing environment Micron and its rivals can hope for.
Then, two different phenomena take turns to drive chip prices lower.
Manufacturing methods and the fundamental chip technologies are always driving down manufacturing costs while boosting production volumes. When these trends overshoot the end-market chip demand curve, prices come crashing down due to a production glut.
Sometimes market leader Samsung (NASDAQOTH: SSNLF) decides to push its memory-production pedal to the proverbial metal, causing a glut all by itself. Samsung can afford to do this because its core business is not in selling the actual memory chips -- it's more about building smartphones, home appliances, and consumer electronics gadgets using those chips, and selling those finished products with a much higher profit margin.
In either case, these price wars send memory specialists like Micron scrambling for pricing controls. As the third-largest player in this industry, Micron now has a foot on the sectorwide accelerator -- and on the brake pedal. So when the market is flooded with cheap chips, Micron and SK Hynix can pull back on their production schedules to restore some normalcy a little bit faster.
The reason I'm diving into Micron's price control powers is simple. The presence of that safety net reduces the level of business risk involved in owning the stock. And of course, knowing more about how the market operates puts you in a better position to take action when something unusual is going on.
Image source: Micron.
The current state of affairs
2015 was a terrible year for Micron, as Samsung put its back into memory production and chip prices fell through the floor. Micron shares plunged 60% lower amid falling revenues and negative cash flows. Even now, Micron's trailing free cash flows stand at a negative $2.7 billion.
But things changed dramatically in 2016. Samsung has reportedly shifted its DRAM capital budget over to the newer 3D NAND market, leaving room for one of those exceedingly rare chip-price increases in the DRAM field.
Meanwhile, the NAND market is seeing exceptional growth on the demand side of things. Pick a technology buzzword -- Internet of Things, automotive computing, solid-state storage, and more -- and you'll find NAND memory playing an important role in all of these macro trends. So demand growth is outstripping the supply side's gains for once, and revenues are rising rapidly across the NAND market.
Analysts expect both DRAM and NAND prices to stay high over the next couple of quarters. That's good news for Micron and its shareholders, and share prices have bounced back to a market-beating 46% gain year to date.
What's next?
Micron just closed the $4 billion buyout of DRAM technology researcher Inotera. This deal should expand Micron's DRAM profit margins and add new revenue streams as sector rivals pay good money to license Inotera's groundbreaking chip-design technologies.
For a fresh update on Inotera's business impact, current pricing trends, and much more, tune in to Micron's earnings report on Wednesday evening. Management expects to deliver roughly $3.7 billion in top-line revenue and about $0.17 per share in adjusted earnings per share. Analysts have set their targets significantly higher on both counts, aiming for earnings of $0.28 per share on sales near $4 billion.
Even at these elevated earnings expectations, Micron shares are trading at just 9.9 times forward earnings today. Both the company and the stock have plenty of room for further growth. The downside risk is also significant, but is limited by Micron's pricing power and solid balance sheet.
Long story short, I'm perfectly comfortable holding on to my Micron shares in this market environment. The likely rewards over the next couple of years easily outweigh the risks of ownership here.
10 stocks we like better than Micron Technology When investing geniuses David and Tom Gardner have a stock tip, it can pay to listen. After all, the newsletter they have run for over a decade, Motley Fool Stock Advisor, has tripled the market.*
David and Tom just revealed what they believe are the 10 best stocks for investors to buy right now... and Micron Technology wasn't one of them! That's right -- they think these 10 stocks are even better buys.
Click here to learn about these picks!
*Stock Advisor returns as of Nov. 7, 2016
Anders Bylund owns shares of Micron Technology. The Motley Fool has no position in any of the stocks mentioned. Try any of our Foolish newsletter services free for 30 days.
We Fools may not all hold the same opinions, but we all believe that considering a diverse range of insights makes us better investors. The Motley Fool has a disclosure policy.