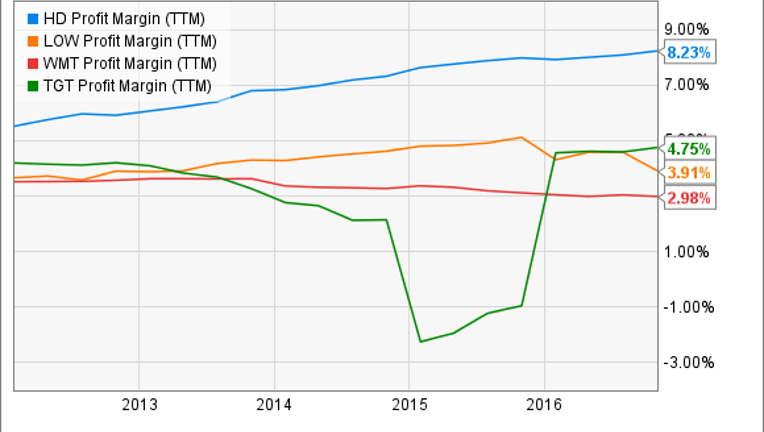 Image source: Getty Images.
There aren't many retailers that are bigger or more profitable than Home Depot (NYSE: HD). Thanks to its dominance over the home improvement market, the company books nearly $100 billion of annual revenue and is on track to generate $8 billion of net income for fiscal 2016.
The comparable figures for Lowe's (NYSE: LOW), its biggest rival, aren't even in the same ballpark. Lowe's is looking to produce about $2.5 billion from its $63 billion of annual sales, for a 4% profit margin.
While its impressive scale and industry leadership position help protect Home Depot from big declines, investors don't have to reach very far back to find periods of intense stress on the stock. Shares slumped during the housing market crisis as sales declined and earnings plummeted. So how risky is Home Depot stock now?
The next market slump
A downturn in the housing market is the single biggest risk to Home Depot's business, at least according to management. As executives explain in the latest annual report, "Our financial performance depends significantly on the stability of the housing, residential, construction, and home improvement markets."
Image source: Getty Images.
The period from 2006 through 2009 certainly counts as an unstable time for each of those markets. Home Depot's earnings were sliced in half as revenue fell from a $79 billion annual pace to $71 billion. Operating margin and return on invested capital pummeted by 44% and 64%, respectively.
Things got so bad that management had to suspend increases to the dividend for three straight years. As a result, Lowe's is the only home improvement retailer that can claim an unbroken streak of dividend hikes that's at least 25 years long.
No one knows when the next industry downturn might hit. Based on current trends, Home Depot is optimistic that even improvement in the housing market on par with the sluggish growth pace of the last few years will be enough to produce record profitability and revenue. Yet if another crisis hits, investors at least have a rough guide as to what they might expect in terms of operating and financial stress on the business.
Profits and cash
Home Depot's unusually high profitability makes it a less risky investment than many other retailers. Its 8% net income margin not only trounces Lowe's 4%, but is also far ahead of Wal-Mart's (NYSE: WMT) 3% and Target's (NYSE: TGT) 5%.
HD Profit Margin (TTM) data by YCharts.
Home Depot competes more on the basis of differentiated product and service offerings rather than price. It aims to be the "product authority," in its market niches and its success on that score helps it earn premium markups.
In part because of that market-thumping profit position, it's in strong financial shape. Operating cash flow was $8 billion over the past nine months, which easily covered the $1 billion the company spent on capital improvements to the business. And, since it isn't aggressively expanding its store base, Home Depot can afford to deliver more of that cash back to shareholders through stock repurchases and dividend payments. While Lowe's promises just 35% of earnings as dividends, Home Depot shoots for 50%. Meanwhile, significant annual spending on stock buybacks provides additional cushion for income investors should another shock to the business come along.
Debt and valuation
The company's debt load is climbing, but it doesn't represent a significant burden on earnings. In fact, its most recent dip into the bond market was priced at a record-low interest rate. Home Depot's management sees debt as a useful efficiency tool, one that has helped the retailer achieve one of the highest returns on invested capital on the market.
Investors looking to buy shares of a high-performing business like Home Depot's will want to make sure they are not paying too high of a price. That risk appears low, given that the stock's price-to-earnings ratio declined in 2016 from 25 to 22 and is currently below Lowe's 27 P/E ratio. Wall Street may fear slower growth for Home Depot over the short term, but the company has demonstrated resilience over the last decade through some of the best -- and worst -- industry conditions.
10 stocks we like better than Home Depot When investing geniuses David and Tom Gardner have a stock tip, it can pay to listen. After all, the newsletter they have run for over a decade, Motley Fool Stock Advisor, has tripled the market.*
David and Tom just revealed what they believe are the 10 best stocks for investors to buy right now... and Home Depot wasn't one of them! That's right -- they think these 10 stocks are even better buys.
Click here to learn about these picks!
*Stock Advisor returns as of Nov. 7, 2016
Demitrios Kalogeropoulos owns shares of Home Depot. The Motley Fool recommends Home Depot. Try any of our Foolish newsletter services free for 30 days. We Fools may not all hold the same opinions, but we all believe that considering a diverse range of insights makes us better investors. The Motley Fool has a disclosure policy.