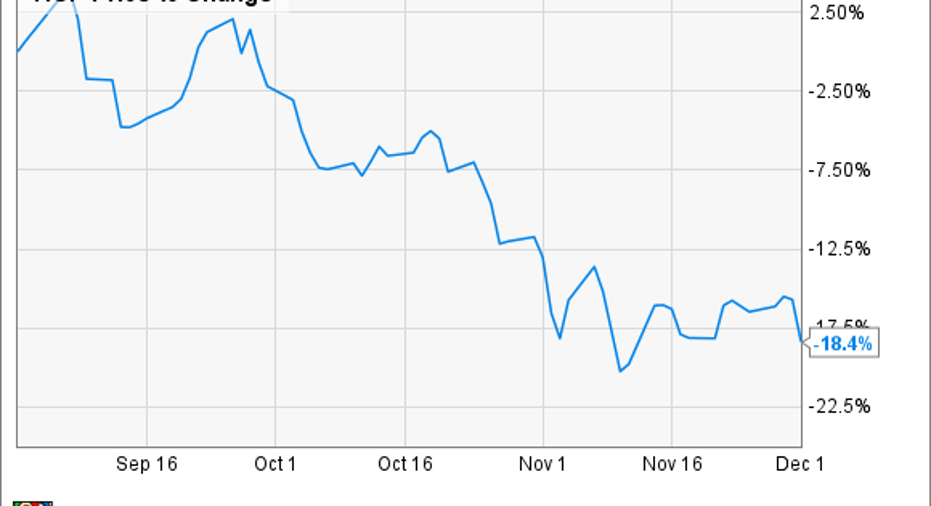 Image source: Getty Images.
Healthcare REIT HCP, Inc. (NYSE: HCP) has dropped by more than 18% in the past three months, even when accounting for its recent spin-off, so the stock is clearly not risk free. Here's a look at the risks HCP faces, and what makes the company a safe play over the long run despite the short-term risks.
Interest-rate risk
One of the biggest risk factors that equity real estate investment trust (REIT) investors need to be aware of is rising interest rates, which are generally bad for REIT stock prices for a couple of reasons. In fact, although interest rates haven't been raised in some time, the expectation of upcoming interest-rate hikes is a major reason why REITs like HCP have performed so poorly lately.
First, and most obviously, higher interest rates make it more expensive to borrow money, and virtually all REITs rely on borrowed money to some degree when acquiring or developing properties. Higher rates typically translate to lower profit margins on investment properties.
Second, higher interest rates create selling pressure on high-dividend stocks like REITs, as they make lower-risk income investments look more attractive. As a simplified example, if a REIT pays a 4% dividend and a Treasury bond pays 2%, the REIT may seem worth the extra risk to an income investor. On the other hand, if they both pay 4%, taking the extra risk may seem less appealing.
The good news
The good news is that HCP has done an excellent job of setting its shareholders up for long-term stability. The recent spin-off of Quality Care Properties (NYSE: QCP) removed the less stable skilled nursing/post-acute properties from the company's portfolio, and HCP is now made up of mostly private-pay (stable) assets -- mainly, senior housing, life science, and medical office properties.
Source: HCP investor presentation.
The company has a strong balance sheet that continues to improve, and the company is optimistic that it can regain its investment-grade credit rating.
Finally, perhaps the best news for HCP shareholders is the favorable demographic trends that should translate into growing demand and opportunities for growth. Specifically, the population of senior citizens in the U.S. is expected to roughly double by 2050, and healthcare spending is expected to rise, which should especially benefit senior housing-focused companies like HCP.
Source: HCP investor presentation.
Additionally, the healthcare real estate industry is a highly fragmented one. No REIT has a market share of more than 3%, and less than 15% of healthcare properties are owned by REITs -- one of the lowest percentages of any type of real estate. This should create opportunities for consolidation among the existing market, in addition to the growth opportunities I already mentioned.
Industry-specific risks
While the healthcare real estate industry looks promising, there are some industry-specific and company-specific risks that shareholders need to be aware of.
For one thing, HCP's profile is heavily concentrated among a few major tenants. Sixty-four percent of the senior housing portfolio is either leased to, or operated in, a partnership with Brookdale Senior Living (NYSE: BKD). So if that company started having financial difficulties or other negative issues, it could trickle down to HCP. It's worth mentioning that one of HCP's strategic priorities right now is to reduce its Brookdale concentration, but for now it remains a risk factor.
There's also the risk that healthcare spending won't grow as quickly as expected, or that the U.S. senior citizen population won't grow quite as fast as experts are projecting, which could lead to an oversupply of senior housing facilities.
These are just a couple of examples, and there are other things that could go wrong along the way for HCP that could adversely affect the stock's price.
The bottom line
No stock capable of market-beating returns is without risk, and as I've discussed, HCP is no exception. However, notice that the risks mentioned here would all be temporary setbacks, and not changes to the long-term investment thesis. The "new" HCP has a portfolio of low-risk assets, the balance sheet is strong and improving, and the demographic trends point toward lots of room for growth.
In fact, if HCP does fall significantly because of rising rates, or because of any other temporary weakness, I would view it as an excellent buying opportunity for investors with a long time frame to ride out the ups and downs.
10 stocks we like better than HCP When investing geniuses David and Tom Gardner have a stock tip, it can pay to listen. After all, the newsletter they have run for over a decade, Motley Fool Stock Advisor, has tripled the market.*
David and Tom just revealed what they believe are the 10 best stocks for investors to buy right now... and HCP wasn't one of them! That's right -- they think these 10 stocks are even better buys.
Click here to learn about these picks!
*Stock Advisor returns as of Nov. 7, 2016
Matthew Frankel owns shares of HCP. The Motley Fool has no position in any of the stocks mentioned. Try any of our Foolish newsletter services free for 30 days. We Fools may not all hold the same opinions, but we all believe that considering a diverse range of insights makes us better investors. The Motley Fool has a disclosure policy.