How Rich Is the Rockefeller Family Today?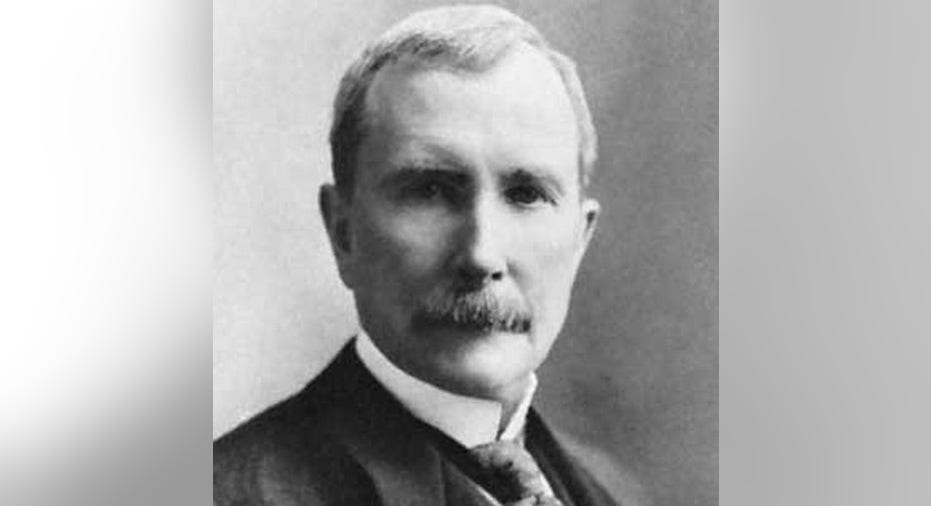 John D. Rockefeller. Image source: Wikimedia Commons.
The name John D. Rockefeller has long been associated with immense wealth. In his book Outliers, author Malcolm Gladwell estimated the value of Rockefeller's fortune at its peak, in today's dollars, at $318.3 billion. You read that right: John D. Rockefeller, the founder of Standard Oil, was over three times richer than Bill Gates is today.
The sheer size of his estate has also meant that the Rockefeller family, too, has long been associated with the upper echelons of American society and influence. For over 100 years, perhaps the largest private fortune in world history was passed on from one generation to the next. Which of course raises the question: What is the net worth of the Rockefeller family today?
Beginnings
To get a grasp on the wealth of one of America's wealthiest families, one needs to know where it all began. The Rockefellers' story, as with so many major business successes, has a humble beginning.
It starts in Cleveland, Ohio,in the 1850s, where young John D. Rockefeller's family settled after moving from upstate New York, due to the wanderings of John D.'s traveling-salesman father. Young John had little professional schooling, but he did learn accounting, and eventually went into business as a commodities broker (focusing mostly on grains and other crops). He and his partners did quite well, thanks (in part) to the Civil War, which broke out just as Rockefeller was beginning his business career. Eventually, the profits from this venture were used to purchase -- you guessed it -- an oil refinery.
Rockefeller eventually brought his brother, William, as well as chemist Samuel Andrews and businessman Andrew Flagler, into the business. He and his compatriots then proceeded to slowly but surely take over the oil refining business. He wanted to avoid the speculative notion of actually finding the oil -- true businessmen refined the black gold.
Due to Rockefeller's shrewd management, cost-cutting measures, and conservative financial management, he and his Standard Oil proceeded to dominate the oil industry, so much so that Standard Oilattracted the attention of the United Statesgovernment, which, in 1911, ordered that it be broken up.
This move did little to hurt Rockefeller's fortunes. Having actually retired from day-to-day operations in the late 1890s, he received an equal share in the 34 "Baby Standards" that were created.
So where are these "Baby Standards" today? Standard Oil of Ohio was bought out by BP (NYSE: BP); Standard Oil of California became Chevron (NYSE: CVX); Standard Oil of New York became Mobil; and, that's right, Standard Oil of New Jersey became Exxon.As you have no doubt concluded, the breakup did little to stop the Rockefeller family's influence on the American energy industry. The very idea that ExxonMobil (NYSE: XOM),which boasts a current market capitalization of over $360 billion, was just a piece of the Standard Oil empire is enough to tell the tale.
Ensuring a dynasty
You may know that upon his death, the majority of John D. Rockefeller's wealth went to his only son, John, Jr. But in reality, things are a bit more complicated. In fact, a trust was created, as well as several other entities designed to manage the family money, all to ensure that Rockefeller's descendants continue to live as only Rockefellers can.
The trusts are, to this day, controlled by the male heirs to the fortune, as well as other powerful trustees who dole out annual stipends to the many Rockefeller heirs. Today, much of this wealth is pooled and managed at Rockefeller & Co. (of which David Rockefeller, Jr. is the chairman). But don't be fooled into thinking this is where the buck stops: There are hundreds of trusts and corporations, many of which have JPMorgan Chase as a trustee (unsurprising, as David Rockefeller ran Chase Manhattan Bank for several decades).
Pegging the value of these holdings and trusts is tricky. Making matters even more difficult, it has been estimated that there are over 150 direct descendants of John D. Rockefeller and his brother William. In fact, when the Rockefeller family sought to petition ExxonMobil's current management to make some changes in how it operates beginning in 2004, 73 of 78 adult direct descendants of John D. Rockefeller led the charge.
These direct descendants are almost certainly wealthier than their cousins, as evidenced by the fact that David Rockefeller, the oldest living member of the family, and its founder's grandson, is the only Rockefeller still found on Forbes' list of the 400 richest Americans. Indeed, in his Wall Street Journal piece "Do the Rockefellers Still Matter?," Robert Frank writes, "With more than 150 living blood relatives of John D. Rockefeller Sr., many members of the latest generation of the family -- known as the 'fifth-sixth' generation -- aren't likely to be able to live off their dwindling family trusts, according to people close to the family."
If you know exactly how much you're worth, you're not rich
The sheer number of Rockefeller descendants clearly makes pegging the actual wealth of the family extremely difficult, if not impossible; with it mired in hundreds of trusts and real estate holdings (including, in the past, the World Trade Center and Rockefeller Center), we can merely guess. Forbes, the compiler with the longest record of wealth estimates for America's well-to-do, estimates patriarch David Rockefeller's net worth at $3.1 billion on the latest Forbes 400 list.
From there, for its "America's 25 Richest Families 2016" list, Forbes has to make some guesses about the value of those innumerable trusts that all the younger generations lay claim to.The result? The Rockefellers are worth $11 billion today. This may seem high, especially in light of the above Journalquote, but make no mistake: The Rockefeller family is still a force to be reckoned with.
A secret billion-dollar stock opportunity The world's biggest tech company forgot to show you something, but a few Wall Street analysts and the Fool didn't miss a beat: There's a small company that's powering their brand-new gadgets and the coming revolution in technology. And we think its stock price has nearly unlimited room to run for early in-the-know investors! To be one of them, just click here.
Sean O'Reilly has no position in any stocks mentioned. The Motley Fool owns shares of ExxonMobil. The Motley Fool recommends Chevron. Try any of our Foolish newsletter services free for 30 days. We Fools may not all hold the same opinions, but we all believe that considering a diverse range of insights makes us better investors. The Motley Fool has a disclosure policy.