How Rackspace Hosting, Inc. Fell 16.6% in June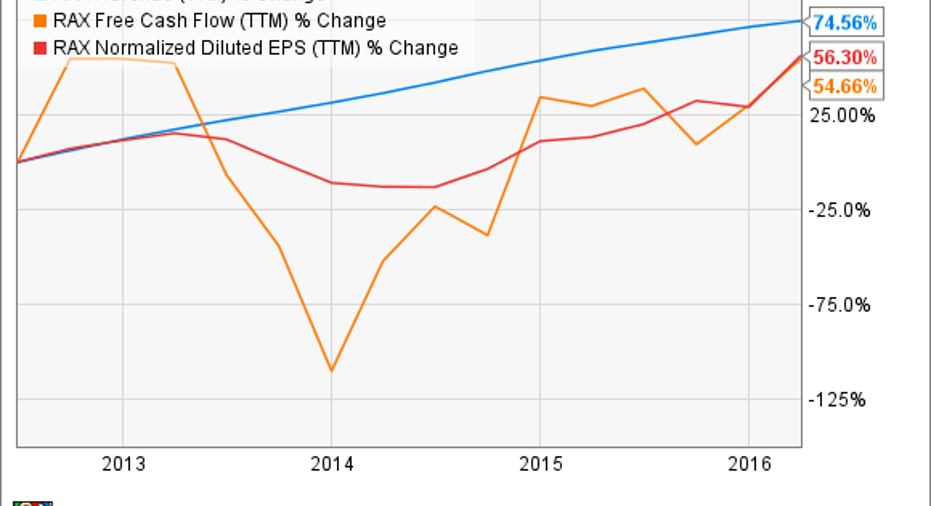 Image source: Getty Images.
What: Shares of Rackspace Hosting fell 16.6% in June 2016, according to data from S&P Global Market Intelligence. This plunge had no particular news behind it, nor any significant trading volume.
So what: The largest drop of the month fell on June 10, when Rackspace's share price took a 5.5% haircut. Some sources pinned this move on an analyst downgrade from "buy" all the way down to "sell," which sure sounds like a legitimate market-moving event. However, that downgrade actually came from a crowd-sourced market tracking service, not professional financial analysts. Moreover, the same service has since upgraded Rackspace all the way to a strong buy, and the markets never noticed.
Now what: Rackspace is going through rough waters, as the company changes its business model from a straight-up cloud computing service to more of a support scaffolding for other cloud services.
The new strategy has left many investors and analysts scratching their heads or just giving up on the company and its stock altogether. This is why Rackspace shares have fallen a hair-raising 45% over the last year.
Plunges like that are usually reserved for truly broken business models, but that doesn't apply to Rackspace. For one, that cloud support role is a perfect fit for a company that prides itself on the high quality of its "fanatical support." For another, the old systems hosting and cloud services are still bringing in plenty of bacon while the new strategy matures:
RAX Revenue (TTM) data by YCharts.
And yet, share prices keep falling. At some point, market makers will have to start paying attention to Rackspace's strong business fundamentals again. This is the weakest performer in my own real-world investment portfolio, but I see no reason to sell here and lock in those huge losses.
Patience is a virtue, right?
The article How Rackspace Hosting, Inc. Fell 16.6% in June originally appeared on Fool.com.
Anders Bylund owns shares of Rackspace Hosting and The Motley Fool recommends Rackspace Hosting. Try any of our Foolish newsletter services free for 30 days.We Fools may not all hold the same opinions, but we all believe that considering a diverse range of insights makes us better investors. The Motley Fool has a disclosure policy.
Copyright 1995 - 2016 The Motley Fool, LLC. All rights reserved. The Motley Fool has a disclosure policy.