How Oncology Could Move the Needle for Johnson & Johnson's Stock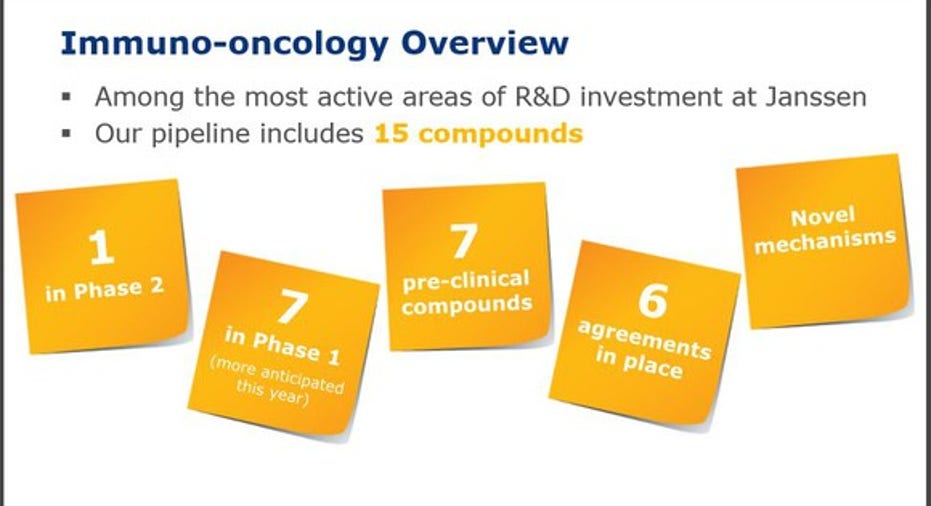 Image source:Getty Images.
Johnson & Johnson's (NYSE: JNJ) stock has nearly doubledin the past five years,withthe healthcare giant'spharmaceuticals division creating enough growth to keepinvestorshappily squirreling awaymore shares.Butwith pharma contributingalmost 45%of sales last year,thiscompany's future restsincreasingly ondrug development, which raises the big question of where it will get more fuel for growth.
It turns out there's an answer to that. Oncology treatment is revving upat J&J, and itlookslikelyto superchargepharma growth for several years andprovide some needle-moving stock catalysts over the next 12 months.
Not only didJ&J's oncology franchisefar outpace growth in any other category in the past two quarters, but it's accelerating.In Q1, J&J's oncology sales leapt 25.6% year over year. In Q2, growth accelerated to 28.8% -- an almost blistering pace for this usually slow-moving giant.By comparison, J&J's next best growth category, immunology,averaged 18.6% over those six fiscal months. Cardiovascular drugs achieved minuscule 2.7% growth over the same time period, and neuroscience drugs suffered a 4% drop.
Better yet, thegrowth spurt is far from over. J&J has some very exciting oncology drugs up its sleeve -- or a few inches down its pipeline, if you like. Success in upcoming pivotal trialscould addmorelift to this stock, especially withImbruvica champing at the bit to bethenextcancer megablockbuster, andnewcomerDazalextearing up the multiple myeloma market.
Let's look more closely at how oncology could move the needle for the healthcare titanand its investors.
Imbruvica: A budding megablockbuster
J&J co-owned superstar drug Imbruvica was originally approved to treat chronic lymphocytic leukemia (CLL),a type of blood cancer, in patients who had undergone at least one prior therapy. But the oral drug, with which J&J shares half of the rights with AbbVie Inc. (NYSE: ABBV), recently went through a paradigm-shifting clinical trial.
The results from its RESONATE-2 trial, published in The New England Journal of Medicine, were extremely compelling. Imbruvica reduced the risk of death by 84% in 269 patients. After 18 months of treatment, an amazing 90% of patients experienced progression-free survival, compared with 52% in the chemotherapy arm.
Based on the excellent trial results, the drug quickly achieved an important label expansion in March for front-line CLL use.
But that's just the start. Imbruvica has also been approved for two other indications, and it's up for 10 other label expansions. Those include phase 3 trials for diffuse large B-cell lymphoma, pancreatic cancer, and follicular lymphoma. Add up the opportunities, and Imbruvica could end up being a $12 billion-per-year drug, with J&J reaping half of that haul.
Darzalex dazzles, and Yondelis finally yields a win
Two other cancer drugs offer significant opportunities for big growth: Darzalex and Yondelis. Darzalex was approved last November in the U.S. and got the EU's O.K. in May for refractory multiple myeloma. The drug has already contributed "two points to the U.S. pharmaceutical growth rate," J&J's management pointed out in the last earnings call. I expect Darzalex to keep dazzling and bring some needle-moving surprises as the drug moves through no fewer than five ongoing phase 3line-extension or combo drug trials.
Although it was also recently approved, Yondelis didn't receive nearly as much attention in J&J's last earnings call. But don't blame J&J's management. The cancer drug has faced so many setbacks that its approval is something of a Pyrrhic victory.After three refusals, Yondelis finally won FDA approval for soft-tissue sarcomas and ovarian cancer. Because these are very challenging cancers with few effective therapeutic choices, Yondelis should be able to rack up peak sales of $1 billion-plus.
Zytiga's stalling out, but Aragon's drug is revving things up again
But what about J&J's blockbuster prostate cancer drug, Zytiga, whose composition-of-matter patent expires at the end of 2016? In addition to the likelihood of generic competition, investors have feared that Pfizer's (NYSE: PFE) competing drug, Xtandi, wouldstart eatingZytiga's lunch.
Actually,J&J's highly lucrative prostate cancer franchise should still havea great future.While Zytiga may be powering down, J&J's super-smart acquisition of Aragon Pharmaceuticalsshould power things right back up again. J&J bagged Aragon'sleading-edge androgen receptor antagonist program, which includes what could be thebest second-generational androgen receptor inhibitor in development.That would be Aragon's drug ARN-509, which is currently in phase 3 trials. ARN-509may well prove to be a superior drug to Xtandi -- although you can be sure that Pfizer will turn this into a battle royale.
Playing catch up in immuno-oncology
J&J has several promising late-stage candidates in its oncology pipeline, including imetelstat for myelofibrosis and erdafitinib for urothelial cancer. But the company is wellbehind Bristol-Myers Squibb and Merck and Co.,which already have immuno-oncology(IO) megablockbusters on the market.With thishot new arena in cancer treatmentforecast to reach $40 billion in sales in coming years, J&Jhas made IOa key area of development. Here what'sunder way.
Image source: J&J investor presentation.
While 15 compounds sounds impressive,investors should note that these projects are in early development. That's why I wouldn't be surprised to see managementmake some acquisitions in IOin the next 12 months.Thus far, J&J hasn't ruled anything out. In fact, when asked about acquisitions in the Q1 earnings call, VP Dominic Carusosaid, "We're patient [and] disciplined, and we'll look for the right opportunity at the right time with the right valuation."
Be that as it may, at close to 22 times earnings and with overall single-digit growth prospects, J&J looks fairly valued right now. But withthe global oncology market forecast tohit$100.5 billion by 2017, J&J's bright prospects in the field are just one more reason to hold on to those shares. After all,while this massive company with its global footprint will keep marching forward regardless, its great to know thatoncology couldadd a littlemore lift to its steps.
A secret billion-dollar stock opportunity The world's biggest tech company forgot to show you something, but a few Wall Street analysts and the Fool didn't miss a beat: There's a small company that's powering their brand-new gadgets and the coming revolution in technology. And we think its stock price has nearly unlimited room to run for early in-the-know investors! To be one of them, just click here.
Cheryl Swanson owns shares of Johnson and Johnson. The Motley Fool recommends Johnson and Johnson. Try any of our Foolish newsletter services free for 30 days. We Fools may not all hold the same opinions, but we all believe that considering a diverse range of insights makes us better investors. The Motley Fool has a disclosure policy.