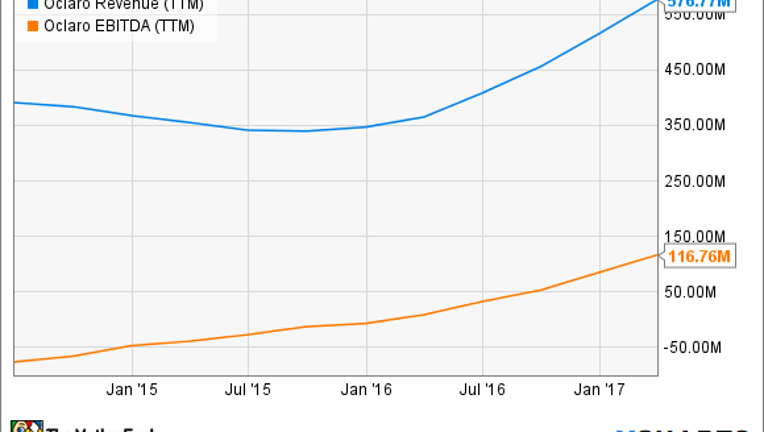 What happened
Shares of Oclaro (NASDAQ: OCLR) fell 18.4% in April 2017, according to data from S&P Global Market Intelligence.
So what
Chinese networking giant Huawei sat at the hub of Oclaro's April woes. First, analyst firms MKM Partners and Raymond James kept their bullish ratings on Oclaro but lowered their price targets due to signs of lower orders from Huawei.
Then, The New York Times caught wind of U.S. regulators digging into allegations that Huawei may have broken American trade sanctions in dealings with Iran, Syria, Sudan, and Cuba. Huawei is Oclaro's largest customer, and what's bad for the client also seems terrible for the component supplier. Oclaro shares plunged 11% lower on this report.
Image source: Getty Images.
Now what
When Oclaro got around to reporting its third-quarter earnings in early May, the company delivered strong results but set revenue targets for the upcoming period on the low side. Oclaro CEO Greg Dougherty pinned the soft sales on -- you guessed it -- slower orders from China.
The trade sanction scandal could continue to weigh on Huawei and Oclaro until it is resolved, but the rest is short-term noise. Don't let one weak quarter distract you from the fact that high-speed networking is a positive long-term story. Speed bumps notwithstanding, Oclaro is looking at a fantastic runway for sales and earnings growth right now -- alongside many of its sector peers.
OCLR Revenue (TTM) data by YCharts.
10 stocks we like better than OclaroWhen investing geniuses David and Tom Gardner have a stock tip, it can pay to listen. After all, the newsletter they have run for over a decade, Motley Fool Stock Advisor, has tripled the market.*
David and Tom just revealed what they believe are the 10 best stocks for investors to buy right now... and Oclaro wasn't one of them! That's right -- they think these 10 stocks are even better buys.
Click here to learn about these picks!
*Stock Advisor returns as of May 1, 2017
Anders Bylund has no position in any stocks mentioned. The Motley Fool has no position in any of the stocks mentioned. The Motley Fool has a disclosure policy.