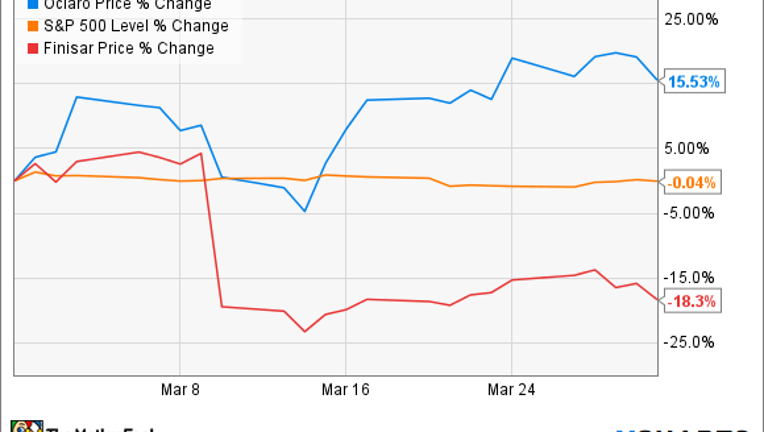 What happened
Shares of Oclaro (NASDAQ: OCLR) gained 15.5% in March 2017, according to data from S&P Global Market Intelligence.
So what
The maker of optical networking components was off to a good start in March, but it lost all momentum when rival Finisar (NASDAQ: FNSR) reported weak earnings with mellow management comments on the state of the optical market. Finisar shares plunged 23% lower the next day, dragging Oclaro down in a 13% three-day slide.
But Oclaro bounced hard off the bottom of that trough as analysts picked apart Finisar's earnings call to find evidence that the company might be considering a strategic acquisition. Finisar's purported buyout target? Oclaro, of course.
Now what
Specifically, Finisar CEO Jerry Rawls stated that "consolidation in general is good." Then he mused on what to do with his company's large cash reserves. Oclary would make sense as a target, being about half the size of Finisar and wielding a significantly different customer list. Later, Oclaro CEO Greg Dougherty agreed that industry consolidation would be "healthy" at this point. So, both sides of the rumored pairing seem open to the idea of getting together.
So far, no actual buyout bid has occurred, and the surge may very well fade out into nothing. But don't cry for Finisar and Oclaro investors -- the stocks have gained 47% and 76%, respectively, over the last 52 weeks.
10 stocks we like better than OclaroWhen investing geniuses David and Tom Gardner have a stock tip, it can pay to listen. After all, the newsletter they have run for over a decade, Motley Fool Stock Advisor, has tripled the market.*
David and Tom just revealed what they believe are the 10 best stocks for investors to buy right now...and Oclaro wasn't one of them! That's right -- they think these 10 stocks are even better buys.
Click here to learn about these picks!
*Stock Advisor returns as of April 3, 2017.
Anders Bylund has no position in any stocks mentioned. The Motley Fool has no position in any of the stocks mentioned. The Motley Fool has a disclosure policy.