How Much Stock Does Bank of America Buy Back Each Year?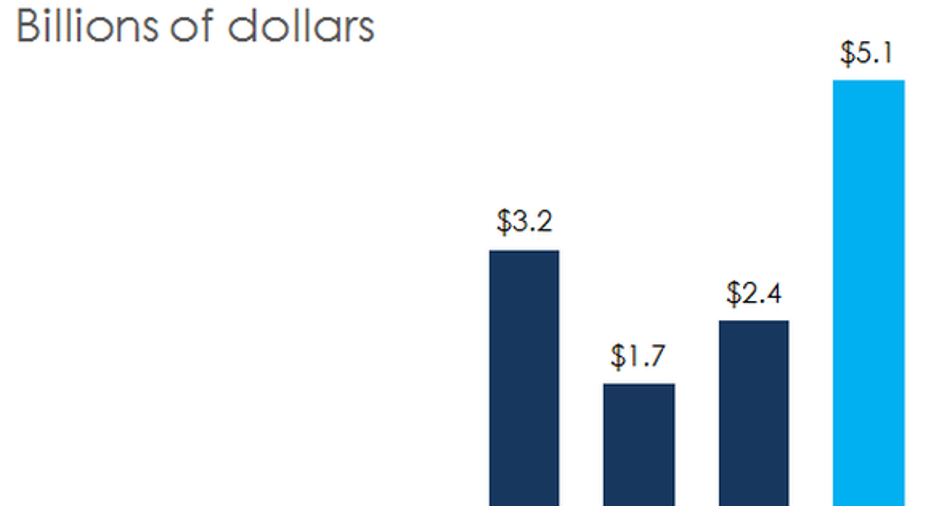 If there's one thing Bank of America (NYSE: BAC) has been clear about over the past few years, it's that it wants to buy back as much of its outstanding common stock as possible. Its chairman and CEO, Brian Moynihan, made this point soon after taking over at the bank, and he doubled down on it in his latest shareholder letter, released Wednesday, saying that the bank is focused on steadily repurchasing the 7 billion shares it issued during the financial crisis.
So here's the big question for shareholders of the nation's second biggest bank by assets: How much stock is it currently buying back? The answer is: a lot, but not as much as the bank would like to, given its still-low share price.
Data source: Bank of America. Chart by author.
In 2016, Bank of America spent $5.1 billion on buybacks. That was enough to repurchase 332,750 shares of stock. That's a fraction of its 10.1 billion outstanding shares, and an even smaller fraction of its 11 billion outstanding shares if unexercised options are factored into the equation, but it's nevertheless a step toward Moynihan's goal.
It's worth pointing out, as well, that 2016 was the fourth year in a row that Bank of America bought back stock. All told, over this stretch, the bank has spent $12.4 billion on common stock repurchases, reducing its share count by 6% from a peak of 11.7 billion diluted shares outstanding in the wake of the crisis.
Buybacks like these are especially valuable for Bank of America, given that its shares trade at the third lowest valuation among large-cap bank stocks, behind only Citigroup and Capital One. Just like an ordinary investor, this is when a bank, or any company for that matter, gets the best bang for its buck from purchasing shares.
Bank of America Chairman and CEO Brian Moynihan. Image source: Bank of America.
None other than Warren Buffett, the chairman and CEO of Berkshire Hathaway (NYSE: BRK-A) (NYSE: BRK-B), which happens to be one of Bank of America's largest shareholders, expressed his support for the bank's buyback policy in his own annual letter to shareholders this year:
It may go without saying, but the more stock Bank of America can continue buying at these prices, the better off its shareholders will be in the years to come.
10 stocks we like better than Bank of AmericaWhen investing geniuses David and Tom Gardner have a stock tip, it can pay to listen. After all, the newsletter they have run for over a decade, Motley Fool Stock Advisor, has tripled the market.*
David and Tom just revealed what they believe are the 10 best stocks for investors to buy right now... and Bank of America wasn't one of them! That's right -- they think these 10 stocks are even better buys.
Click here to learn about these picks!
*Stock Advisor returns as of February 6, 2017
John Maxfield owns shares of Bank of America. The Motley Fool owns shares of and recommends Berkshire Hathaway (B shares). The Motley Fool has a disclosure policy.