How Much Did the Financial Crisis Cost Bank of America?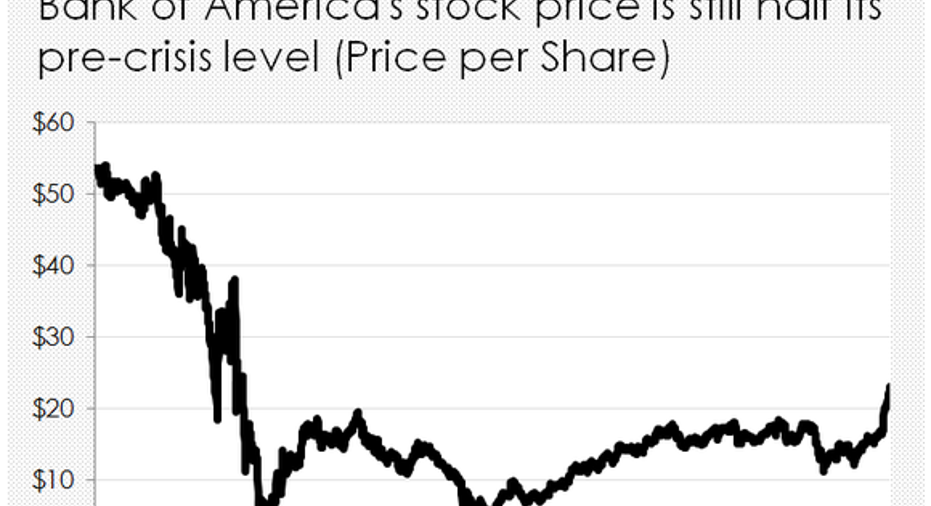 Image source: iStock/Thinkstock.
When it comes to the financial crisis of 2008, few banks that survived it suffered more than Bank of America (NYSE: BAC). But just how much did the crisis cost the North Carolina-based bank?
We've had a pretty good idea about this for a while but got a reminder of it last week, when Bank of America Chairman and CEO Brian Moynihan presented at the 2016 Goldman Sachs U.S. Financial Services Conference. According to Moynihan's presentation deck, the answer is $191 billion.
Data source: Bank of America. Chart by author.
That's a lot of money. It's larger than the market cap of every company on the S&P 500 outside of the 18 biggest members.
The losses can be broken down into four different categories.
$83 billion came from the charge-off of bad loans, the majority of which were in Bank of America's credit card division.
$44 billion came from costs associated with Bank of America's now-shuttered legacy assets and servicing division, which administered the bank's toxic and non-core assets dating back to the crisis.
$36 billion was spent on litigation expenses-- paying legal settlements, attorneys' fees, court costs, etc.
$28 billion stemmed from representation and warranties claims when institutional investors forced Bank of America to repurchase soured mortgages that had been originated by Countrywide Financial, a mortgage originator the bank acquired in early 2008.
The damage from these costs was substantial. As a result of them, Bank of America not only needed a $45 billion capital injection from the federal government to survive the crisis but it was also forced to dramatically dilute its shareholders in order to raise additional capital after its stock price had already plummeted.
The net result is that, even after the recent post-election rally in Bank of America's stock, its shares are still trading for roughly half their pre-crisis levels.
Data source: YCharts.com. Chart by author.
Fortunately, all of these costs are now in the rearview mirror. It's settled all material legal claims from the crisis. It closed its legacy assets and servicing division earlier this year, and the quality of its asset portfolio is beyond repute.
This bodes well for current holders of Bank of America's stock, who no longer need to be worried about how much the financial crisis cost the nation's second biggest bank by assets.
10 stocks we like better than Bank of America When investing geniuses David and Tom Gardner have a stock tip, it can pay to listen. After all, the newsletter they have run for over a decade, Motley Fool Stock Advisor, has tripled the market.*
David and Tom just revealed what they believe are the 10 best stocks for investors to buy right now... and Bank of America wasn't one of them! That's right -- they think these 10 stocks are even better buys.
Click here to learn about these picks!
*Stock Advisor returns as of Nov. 7, 2016
John Maxfield owns shares of Bank of America. The Motley Fool has no position in any of the stocks mentioned. Try any of our Foolish newsletter services free for 30 days. We Fools may not all hold the same opinions, but we all believe that considering a diverse range of insights makes us better investors. The Motley Fool has a disclosure policy.