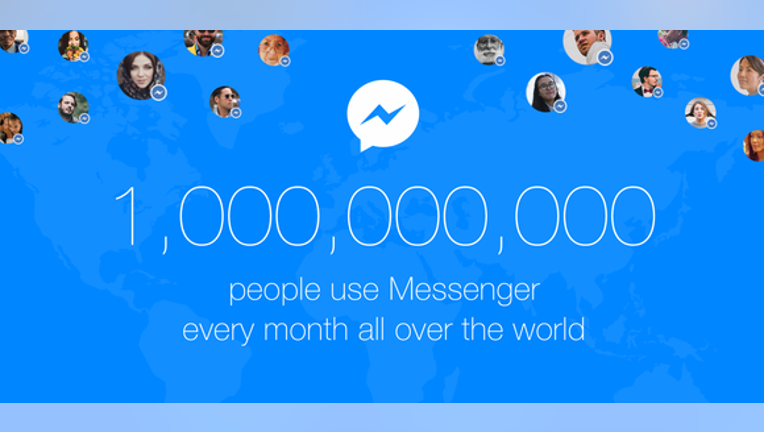 When Facebook (NASDAQ: FB) began notifying users in 2014 that they wouldn't be able to message people through the mobile Facebook app anymore and would instead be forced to use the separate Facebook Messenger app, it raised more than a few eyebrows. But three years later, it looks like the move has paid off for the company. Today, Facebook Messenger is the world's third-largest social network (tied with YouTube and behind Facebook and WhatsApp, which are in first and second place, respectively).
How many users does Facebook Messenger have? One billion monthly active users, as of Facebook's last update on the messaging app.
Image source: Facebook.
Facebook Messenger's rapid growth
It didn't take long for Messenger to grow to 1 billion monthly active users. Here's a look at Messenger's monthly active users on the various dates Facebook has shared an update on the service's size.
Data source: Facebook blog posts and quarterly updates. Chart by author.
Notably, Facebook hasn't updated investors on Messenger's monthly active users since July, so it's possible that Messenger could have an even larger user base today. Still, even with Facebook's most recent update on Messenger's user base, the app is undoubtedly a hit, growing from 500 million monthly active users in 2014 to 1 billion in 2016.
It's also worth mentioning that Messenger actually isn't Facebook's biggest messaging service. For now, that title belongs to WhatsApp, which was acquired by Facebook in 2014. As of February, the service had 1.2 billion monthly active users, making it the world's second-largest social network (behind Facebook's 1.9 billion monthly active users).
A big bet
Thanks to Facebook's rapid deployment of new features on Messenger, the app has morphed into far more than a messaging service. It's increasingly turning into a comprehensive social network in and of itself, making it appealing even if it isn't used in conjunction with Facebook. Today, users can use the service for text, group, audio, and video messaging, as well as to share locations, send stickers, interact with businesses, buy products, request an Uber ride, and more.
Recently, Messenger has received even more attention from Facebook. Following Snap's initial public offering in March, Facebook debuted Snapchat's "stories" format -- which enables users to collect and share photos and videos for 24 hours before they disappear -- on Messenger. The move came as part of an all-out competitive assault on Snapchat that included bringing the stories format to Facebook.
Time to monetize Messenger?
Of course, the next logical step for Facebook is to monetize Messenger. But investors shouldn't expect this to happen too quickly. In Facebook's most recent earnings call, CFO Sheryl Sandberg said the company is still primarily focused on "consumer growth and engagement." But investors shouldn't mistake this to mean that Facebook doesn't see monetization of Messenger on the horizon. Sandberg went on to say the reason it is so focused on user growth and engagement is that this is ultimately what will create monetization opportunities on Messenger.
Of course, while user growth and engagement are Facebook's primary focus right now, the company is already testing some ads on the platform. Sandberg admits, however, that Facebook is still in the "early stages" of exploring ads on the platform.
With Messenger's growth exploding since it was separated from the Facebook app, and with Facebook's WhatsApp and Messenger messaging services holding two of the top four spots in the world's largest social networks, messaging is clearly a key frontier for building out massive social networks today.
10 stocks we like better than FacebookWhen investing geniuses David and Tom Gardner have a stock tip, it can pay to listen. After all, the newsletter they have run for over a decade, Motley Fool Stock Advisor, has tripled the market.*
David and Tom just revealed what they believe are the 10 best stocks for investors to buy right now... and Facebook wasn't one of them! That's right -- they think these 10 stocks are even better buys.
Click here to learn about these picks!
*Stock Advisor returns as of April 3, 2017
Suzanne Frey, an executive at Alphabet, is a member of The Motley Fool's board of directors. Daniel Sparks owns shares of Facebook. The Motley Fool owns shares of and recommends Alphabet (A shares), Alphabet (C shares), and Facebook. The Motley Fool has a disclosure policy.