How Many Model X SUVs Will Tesla Motors, Inc. Deliver This Quarter?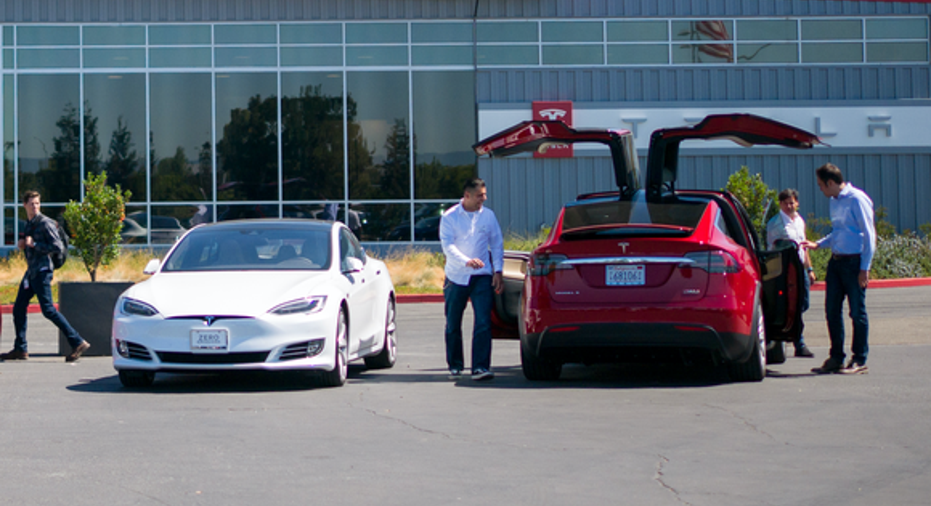 Model S (left) and Model X (right). Image source: The Motley Fool.
Launching its all-electric Model X SUV just over a year ago, Tesla Motors (NASDAQ: TSLA) has now had some time to ramp up production of the important vehicle. But with Model X deliveries in Q3 still increasing rapidly over Q2, estimating fourth-quarter deliveries of the SUV isn't a straightforward task. However, a look at some information provided by the company can help investors at least put a finger on a reasonable range to expect from Model X deliveries during the quarter.
Growth is expected -- but how much?
In Q3, Tesla's Model X deliveries jumped 89% sequentially. With third-quarter growth like this, it's likely growth in Model X deliveries will continue in Q4. But by how much should investors expect Model X deliveries to increase?
Data for chart retrieved from quarterly SEC filings for quarters shown. Chart source: Author.
Two things Tesla has said give investors some color on what to expect in Q4 from Model X:
Tesla said in its third-quarter shareholder letter that it expects to deliver "just over 25,000" vehicles in Q4, or just a few hundred more than it delivered in Q3.
Tesla emphasized in its second-quarter earnings call that it's "trying to balance the mix [between Model X and Model S deliveries] to be roughly half X and S."
Of Tesla's expected 25,000 deliveries, then, it's likely the company will use its fourth quarter as an opportunity to continue catching up to Model X demand, shifting more production toward the newer SUV. In other words, I'm expecting Model S deliveries to pull back slightly as Model X deliveries continue to rise. In total, I'm expecting Tesla to deliver about 10,000 to 12,000 Model X units.
Demand for Model X shouldn't be an issue. Not only is production still catching up to demand, but Tesla has recently made a number of moves aimed to increase demand for the vehicle. For instance, the company introduced a version of Model X with a larger battery and a zero-to-sixty time of 2.9 seconds, version 8.0 of Tesla's software, an option for foldable second-row seats, and a new suite of sensors for enhanced Autopilot.
Why Model X is important
Model X is key to Tesla's success for several reasons.
Model X body assembly line. Image source: The Motley Fool.
First, Model X could substantially boost Tesla's sales. With the large luxury SUV market three times the size of Model S's large luxury sedan category, Tesla is likely hoping it can capture a larger piece of this proven market.
Further, as Tesla's last new vehicle before its important Model 3 launch in the second half of 2017, higher Model X deliveries will help Tesla achieve greater scale, and likely turn the new vehicle into a cash contributor for the company. With Model 3's production ramp-up sure to be very capital-intensive, both Model S and Model X will need to generate regular operating cash flow to help fund Tesla's Model 3 expansion.
Tesla will announce its third-quarter vehicle during the first few days of January, following the fourth quarter's last day on December 31.
10 stocks we like better than Tesla Motors When investing geniuses David and Tom Gardner have a stock tip, it can pay to listen. After all, the newsletter they have run for over a decade, Motley Fool Stock Advisor, has tripled the market.*
David and Tom just revealed what they believe are the 10 best stocks for investors to buy right now...and Tesla Motors wasn't one of them! That's right -- they think these 10 stocks are even better buys.
Click here to learn about these picks!
*Stock Advisor returns as of November 7, 2016.
Daniel Sparks owns shares of Tesla Motors. The Motley Fool owns shares of and recommends Tesla Motors. Try any of our Foolish newsletter services free for 30 days. We Fools may not all hold the same opinions, but we all believe that considering a diverse range of insights makes us better investors. The Motley Fool has a disclosure policy.