How Many Model S Units Will Tesla Motors, Inc. Deliver This Quarter?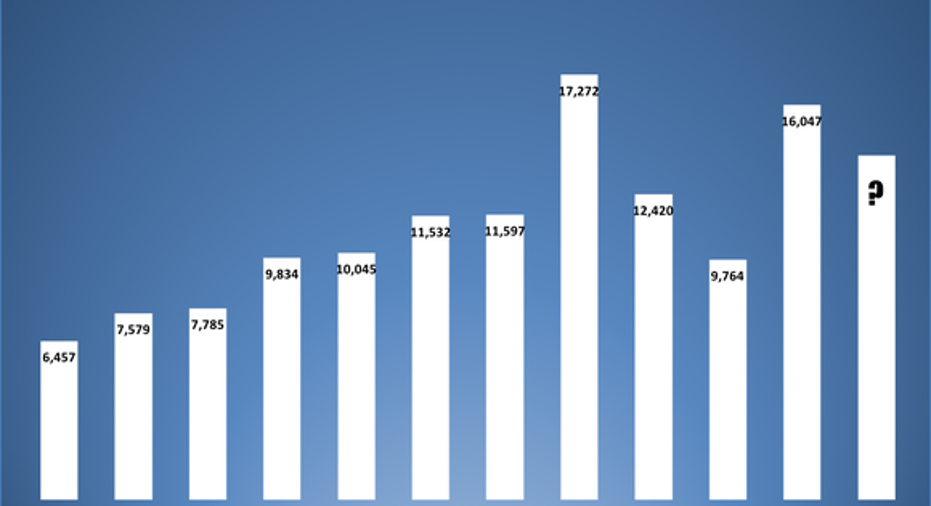 For electric-car maker Tesla Motors' (NASDAQ: TSLA) final quarter of the year, one key metric worth checking in on will be Model S deliveries. As Tesla's bread and butter, the Model S will play an integral role in whether or not the young auto company will have a good quarter.
Here's what to expect.
Model S. Image source: The Motley Fool.
What we know
Ultimately, predicting Tesla's Model S deliveries in Q4 involves a lot of guesswork. But there are a few indicators that could help investors hone in on a ballpark range.
In Tesla's third quarter, the automaker delivered 16,047 Model S units. These deliveries were up 64% sequentially and 38% year over year.
The big sequential jump in Model S deliveries was primarily driven by the timing of production in the company's second quarter. In Tesla's second-quarter update on deliveries, management noted it ended the quarter with 5,150 customer-ordered vehicles -- Model S and Model X units combined -- in transit for a third-quarter delivery. This figure was much higher than the 2,615 vehicles Tesla had in transit at the end of Q1 and helped drive growth in Q3.
Data source: Tesla quarterly SEC filings. Asterisk indicates author forecast. Chart by author.
Notably, Tesla's fourth quarter looks poised to benefit from a similar running start; Tesla ended Q3 with 5,065 vehicles in transit to customers. While Tesla doesn't specify how many of its in-transit vehicles are Model S and how many are Model X, it's likely more than half of in-transit vehicles were Model S, as the sedan's deliveries in Q3 almost doubled Model X deliveries.
And Tesla's guidance for fourth-quarter total vehicle deliveries can provide some additional context. For the fourth quarter, Tesla said it plans to deliver just over 25,000 Model S and Model X units combined.
Finally, investors should keep in mind that Model X deliveries are increasing rapidly as production of the one-year-old model rises. With Model X deliveries rising from about 4,600 units in Q2 to about 8,800 units in Q3, it's likely Model X deliveries will continue to rise quickly in Q4. So, considering Tesla is guiding for total fourth-quarter deliveries to be about the same as they were in Q3, it's likely Model X deliveries will represent a larger portion of these deliveries -- a trend that would imply Tesla potentially expects Model S deliveries to pull back slightly.
Factoring in this information about Tesla's recent vehicle sales and the company's guidance, I'm anticipating Model S deliveries to be about 13,000 to 15,000 units in Q4.
Have Model S sales peaked?
With an expected 13,000 to 15,000 Model S deliveries in Tesla's fourth quarter, this begs the question: Have Model S sales peaked? Interestingly, Tesla has failed to achieve record Model S deliveries in any quarter in 2016 yet -- and Model S deliveries of 13,000 to 15,000 in Q4 would extend this streak. Deliveries for the model hit a record high of about 17,500 in the fourth quarter of 2015 and haven't returned to that level since.
Tesla self-driving hardware won't enable autonomous driving until the feature is validated and regulators approve it. Image source: Tesla Motors.
While Tesla's guidance suggests the company still anticipates Model S delivery levels to remain below the vehicle's record quarterly deliveries achieved in 2015, Tesla has been pulling some significant demand levers in the second half of the year. The company has recently launched a P100D version of its Model S, making it the fastest-accelerating production car in the world, andteased an even faster zero-to-60 time that will be delivered to its P100Ds with an over-the-air software update in December. The automaker also began including its new Autopilot and self-driving hardware in every vehicle, and continues to open new stores. In Q4, investors will see whether product upgrades served as meaningful catalysts for Model S or not.
Tesla typically announces its vehicle sales within three calendar days after every quarter closes. With Tesla's fourth quarter set to close at the end of December, Tesla will likely announce fourth-quarter vehicle deliveries during the first few days of January.
10 stocks we like better than Tesla Motors When investing geniuses David and Tom Gardner have a stock tip, it can pay to listen. After all, the newsletter they have run for over a decade, Motley Fool Stock Advisor, has tripled the market.*
David and Tom just revealed what they believe are the 10 best stocks for investors to buy right now... and Tesla Motors wasn't one of them! That's right -- they think these 10 stocks are even better buys.
Click here to learn about these picks!
*Stock Advisor returns as of November 7, 2016
Daniel Sparks owns shares of Tesla Motors. The Motley Fool owns shares of and recommends Tesla Motors. Try any of our Foolish newsletter services free for 30 days. We Fools may not all hold the same opinions, but we all believe that considering a diverse range of insights makes us better investors. The Motley Fool has a disclosure policy.