How LinkedIn Ruined Its Influencer Program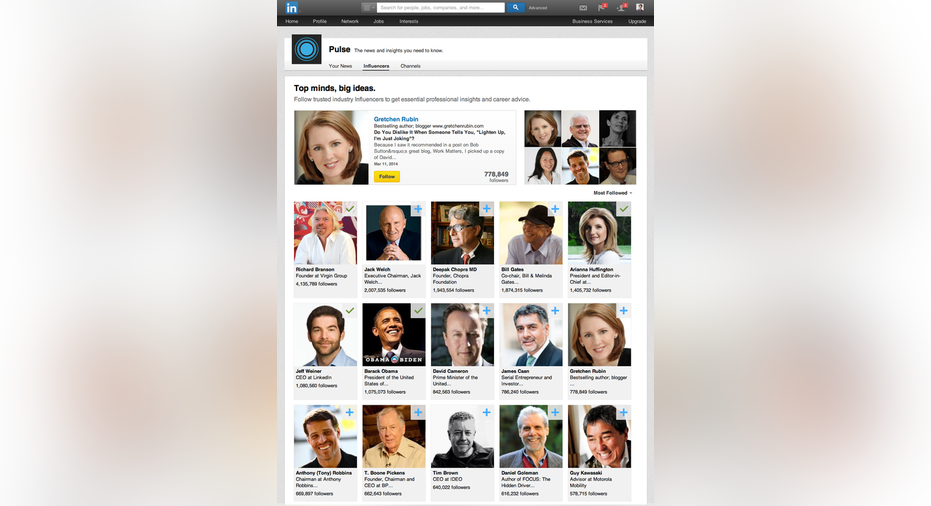 There are more than 1 million people publishing long-form content on LinkedIn's Influencer Program. Originally launched in 2012, the Influencer program first catered to high-profile users (businesspeople, politicians, and the like) with valuable insights to share. In 2014, LinkedIn opened the platform to all of its users, and the take rate has exceeded expectations.
Influencer used to be filled with only the biggest names in business and politics. Source: LinkedIn
But that's not necessarily a good thing. The influx of new users has caused the Influencer Program to become overcrowded with subpar content serving as a thinly veiled mask for self-promotion. Meanwhile, other social networks, such as Twitter , are focusing on content curation to draw in and engage a larger audience.
What's the goal of the Influencer Program?When LinkedIn started opening the Influencer Program to everyone, CEO Jeff Weiner had this to say about the strategy behind it: "The more engagement we can generate there, the more content being generated, the more [ad] inventory becomes available." It's pretty straightforward: The more content available for users to look at on LinkedIn, the more page views they'll generate, providing LinkedIn with more opportunities to show ads to users.
During LinkedIn's most recent earnings call, the company reported that page views per unique visitor increased 20% year over year. But if you look at where those page views are coming from, it might not be the Influencer Program.
Last quarter, the company reported that it saw a 90% increase in page views for its jobs board. This result was probably the benefit of a fourfold increase in total job listings from 1 million at this time last year to 4 million.
Meanwhile, it says that it saw 150,000 long-form articles published per week during the third quarter. That's a 15% increase from the second quarter. But the company neglected to provide any insight into how those articles are translating into page views.
Moving away from curationLinkedIn likes to throw out that articles-published-per-week number every quarter. Similarly, Twitter likes to point out that its users tweet 500 million times a day. But despite all of that content, Twitter admittedly suffers from an engagement problem.
Twitter's solution has been to create a new curation product called Moments, which collects the best tweets, images, and videos posted to Twitter around specific topics and updates them as new stories unfold. It's a way for new users to find the best content on Twitter and for existing users to reengage with Twitter.
With 150,000 articles being published every week on Influencer, it's hard to separate the things worth reading from the self-promoting garbage that makes up the majority of posts. (Twitter's core timeline suffers from a similar problem, and I'm guilty of tons of self-promotion on the platform.) When it was limited to real influencers, it was easy to find interesting articles. Now those articles get lost in the crowd.
While LinkedIn may be generating more page views from its publishing platform, we don't know how many more it could have generated if it had kept it closed and maintained the quality of its articles. When a user reads quality content every time he or she visits a website, that person is more likely to return more frequently. That's another idea Twitter has latched onto with its "While You Were Away..." feature. However, finding the good stuff is impossibly difficult on LinkedIn's homepage feed.
Without easy access to a curated group of articles from valued influencers in a user's field, LinkedIn has failed to become a Web destination for its users outside of when they need to update their resume, find a new job, and maybe a few other moments. LinkedIn may take a lesson from Twitter and focus on curating the best content its users create to draw users back more often. That would lead to sustained page-view growth and more ad inventory to sell.
The article How LinkedIn Ruined Its Influencer Program originally appeared on Fool.com.
Adam Levy has no position in any stocks mentioned. The Motley Fool owns shares of and recommends LinkedIn and Twitter. Try any of our Foolish newsletter services free for 30 days. We Fools may not all hold the same opinions, but we all believe that considering a diverse range of insights makes us better investors. The Motley Fool has a disclosure policy.
Copyright 1995 - 2015 The Motley Fool, LLC. All rights reserved. The Motley Fool has a disclosure policy.