How Leading Solar Panels Stack Up Against the Competition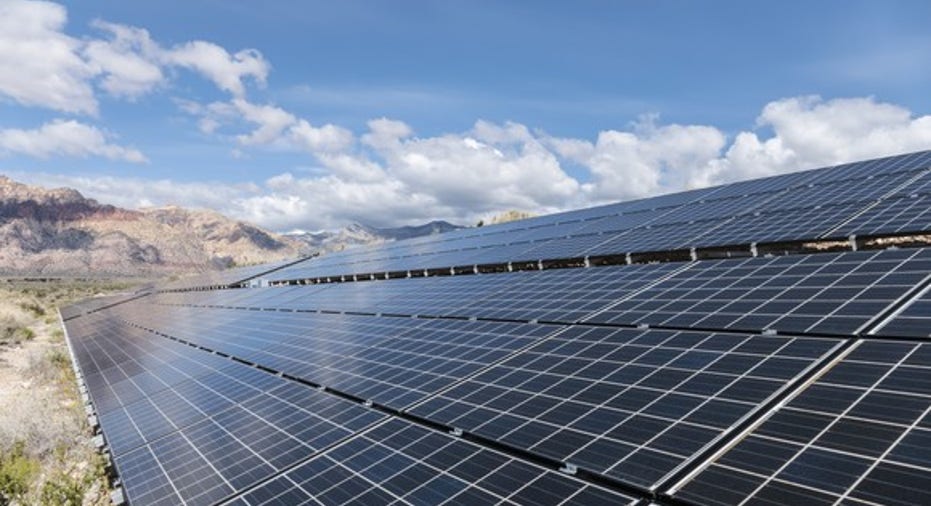 In the battle to win business in the solar industry, solar manufacturers have to find a way to differentiate themselves. Cost and efficiency are two of the biggest differentiators, and in the utility segment, a larger panel size can make installation more efficient as well.
Below, I've pulled the data sheet information for solar panels from Canadian Solar (NASDAQ: CSIQ), JinkoSolar (NYSE: JKS), and SunPower (NASDAQ: SPWR). And I'll show how their products compare from an efficiency standpoint.
Image source: Getty Images.
How solar panels stack up
There's generally three types of solar panels: the least efficient, polysilicon; monosilicon; and the most efficient, mono-PERC, for commodity-type construction. Canadian Solar and JinkoSolar have been leaders in building out mono-PERC capacity and are already expanding this product line.
The table below lays out how Canadian Solar, JinkoSolar, and SunPower's products stack up against each other, based on public data sheets.
Panel

Type

Size

Top

Efficiency

Canadian Solar Dymond

Polysilicon

330 watt

16.90%

Jinko Solar Eagle Dual

Polysilicon

335 watt

17.26%

SunPower P-Series

Polysilicon

350 watt

17%

Canadian Solar Maxpower

Monosilicon

340 watt

17.49%

Canadian Solar Superpower

Mono-PERC

300 watt

18.33%

JinkoSolar Eagle PERC

Mono-PERC

360 watt

18.57%
Data source: Company websites.
The reason I included SunPower in the mix is that its P-Series product was sold as being slightly more efficient than competing modules using the same cells. The datasheets don't currently bear that out.
What's also notable is that SunPower's P-Series module is the highest-wattage module among its peers because it's slightly bigger than competing products.
On the high-efficiency side, JinkoSolar appears to have a clear lead over Canadian Solar. As companies compete for customers who are putting higher value on efficiency, this is a small but critical lead to maintain.
Why efficiency is important
The efficiency manufacturers offer can be helpful to solar customers in a couple of ways. First, it leverages existing land and balance of system costs beyond the panel.For example, panels can be installed more efficiently because a crew could install 20% more 360 watt panels in the same amount of time as 300 watt panels. And with more efficient panels there would be fewer wiring connections, trenches to dig, and racks to install per MW.
Customers are also willing to pay a premium for efficiency. PV Magazine reported that late in 2016, polysilicon panels were selling for $0.41 per watt and mono-PERC were selling for $0.49 per watt. That's a premium that'll continue because of the value higher efficiency brings.
The emerging leaders in solar manufacturing
As it stands today, Canadian Solar and JinkoSolar are two of the biggest solar manufacturers in the world, and as they move to more efficient solar panels, they'll differentiate themselves from competitors.
SunPower is the unknown among these three. It's trying to compete in the commoditized market with a panel that uses commodity cells shingled to make a product that's slightly more efficient than competitors'. Right now, that differentiation isn't showing up on data sheets, and we don't currently know how it's pricing panels on the market. It may need to price aggressively to win business, which could mean low margins in utility-scale solar, a business that's been tough for every manufacturer to make money in.
Investors will want to watch how margin trends shift in coming quarters. High efficiency will be a differentiator, but there's a limit to the price premium customers will pay, so profits on high efficiency panelsmay still be razor thin.
10 stocks we like better than SunPowerWhen investing geniuses David and Tom Gardner have a stock tip, it can pay to listen. After all, the newsletter they have run for over a decade, Motley Fool Stock Advisor, has tripled the market.*
David and Tom just revealed what they believe are the 10 best stocks for investors to buy right now... and SunPower wasn't one of them! That's right -- they think these 10 stocks are even better buys.
Click here to learn about these picks!
*Stock Advisor returns as of April 3, 2017
Travis Hoium owns shares of SunPower. The Motley Fool has no position in any of the stocks mentioned. The Motley Fool has a disclosure policy.