How Jeff Bezos Made Over $7 Billion in 2016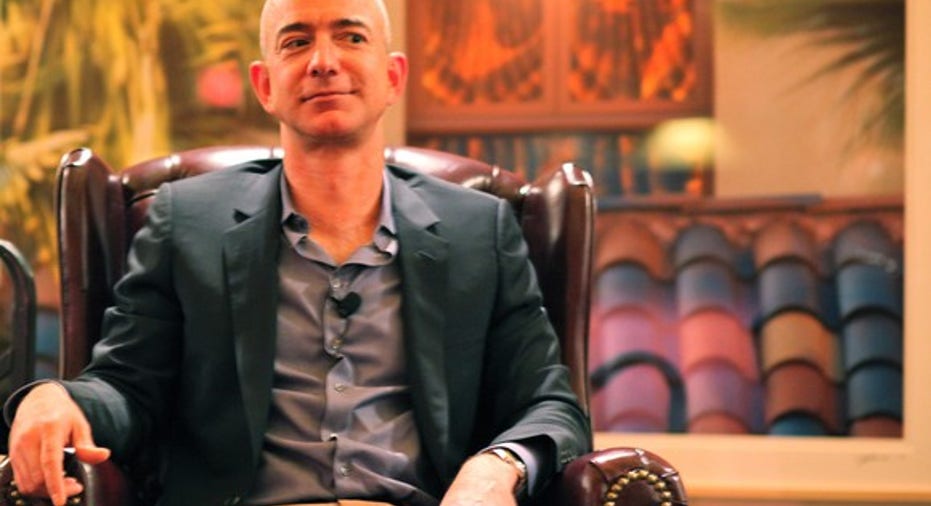 Image Source: Steve Jurvetson on Flickr
2016 was a pretty good year for Amazon (NASDAQ: AMZN) CEO Jeff Bezos. Not only did he get to play an alien in the newest Star Trek film, his net worth increased about $7 billion. Bezos retained his position as the fourth-wealthiest person in the world (behind Bill Gates, Warren Buffett, and Amancio Ortega) after climbing near the top of the list in 2015.
Propelling his $7 billion net worth increase was his 17% stake in Amazon, the company he founded and still runs today. Shares of Amazon are up nearly 14% year to date as of this writing. Bezos also owns The Washington Post, a space exploration company called Blue Origin, and a 3% stake of online publication Business Insider.
Amazon's earnings roller coaster
If there's one thing that Jeff Bezos and Amazon's management team made clear in 2016, it's that Amazon's earnings results are hard to predict. In each of the four earnings reports Amazon provided throughout 2016, the analyst consensus estimate was off by at least one-third of the actual results. Amazon's biggest earnings surprise came when it reported $1.07 in earnings per share versus analyst estimates of $0.49 per share.
The important thing for long-term Foolish investors to focus on is that despite Amazon's erratic earnings results, it posted consistent revenue growth in the range of 20% to 30% every quarter.
Part of the reason for Amazon's lack of earnings predictability is that management isn't afraid to spend money now to ensure continued revenue growth well into the future. Such was the case in the third quarter, when Amazon's earnings of $0.52 per share missed estimates by $0.26.
Amazon invested heavily in opening new distribution centers during the third quarter, and it also doubled its video content spend for Prime Instant Video. Both are key parts of Amazon's strategy in the fourth quarter. Amazon signs up a lot of Prime free trials during the holiday season, and Instant Video content is one of the best ways to convert trial members into paid subscribers. Additionally, the company needs extra warehouse capacity for its Fulfilled By Amazon program, which lets third-party sellers use Amazon's online marketplace and infrastructure to sell their products.
Amazon's fourth quarter results missed the mark last year because it didn't have enough warehouse capacity for all of its Fulfilled By Amazon orders. It had to spend extra to ship orders on time, which put pressure on earnings. The spending in the third quarter this year was to prevent that from happening again. And unlike last year's fourth quarter spending, the third quarter spending will provide benefits for years to come.
Amazon's results in the first and second quarters show what's possible when Amazon is firing on all cylinders. Earnings per share results outperformed expectations by a combined 69% over the two quarters.
Amazon's share price has mostly moved in-step with its earnings results. Since the good quarters outweighed the bad, the stock is up slightly more than the S&P 500 average for the year.
High expectations for the future
Analysts are expecting 2017 to be another strong year of earnings growth. Amazon's cloud computing business, AWS, continues to grow rapidly to support its earnings, while management invests in the continued growth of its retail business. AWS has significantly higher operating margins than Amazon's retail segment and the secular growth in the cloud computing market should support a rise in earnings for this segment. Analysts currently expect an 87% increase in EPS next year.
Of course, analysts have been hard pressed to get their numbers right. They've already revised their estimates down about 15% for the year on average since Amazon reported its disappointing third quarter results. Nonetheless, the long-term outlook for the company remains extremely strong, which means Jeff Bezos' billions should continue growing for years to come.
10 stocks we like better than Amazon.com When investing geniuses David and Tom Gardner have a stock tip, it can pay to listen. After all, the newsletter they have run for over a decade, Motley Fool Stock Advisor, has tripled the market.*
David and Tom just revealed what they believe are the 10 best stocks for investors to buy right now... and Amazon.com wasn't one of them! That's right -- they think these 10 stocks are even better buys.
Click here to learn about these picks!
*Stock Advisor returns as of Nov. 7, 2016
Adam Levy owns shares of Amazon.com. The Motley Fool owns shares of and recommends Amazon.com. Try any of our Foolish newsletter services free for 30 days. We Fools may not all hold the same opinions, but we all believe that considering a diverse range of insights makes us better investors. The Motley Fool has a disclosure policy.