How Freeport-McMoRan Inc. Makes Most of Its Money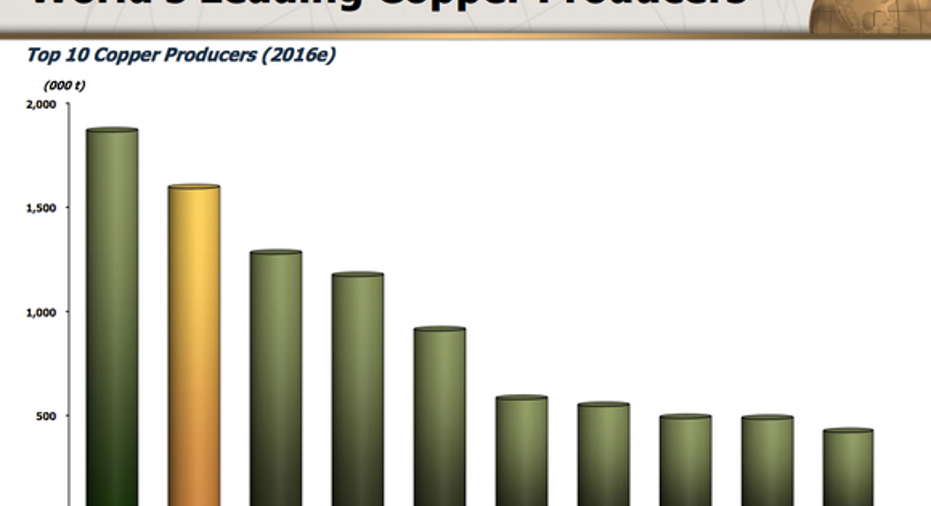 Diversified miner Freeport-McMoRan Inc. (NYSE: FCX) stumbled when it expanded into the oil drilling industry. It's slowly extracting itself from that investment, leaving it with three primary commodities: copper, gold, and molybdenum. Of those three, the most important to Freeport's outlook is copper. Here's how this miner makes most of its money and why you may still be focusing on other things today.
The quartet becomes a trio
Long-term debt on Freeport-McMoRan's balance sheet stood at roughly $13.1 billion at the end of the first quarter. That represents roughly two-thirds of the company's capital structure, excluding non-controlling interests. That's a relatively heavy debt load for a company that deals in often volatile commodities. However, the debt picture is a lot better than what it looked like at the start of 2016, when long-term debt stood at nearly $20 billion.
Image source: Freeport-McMoRan Inc.
Debt is an important number for investors to watch, but it also plays a big role in how Freeport makes money today. The vast majority of that $20 billion of debt was the result of an ill-timed investment in the oil business. The goal at the time was to expand the company's diversification by adding a fourth major commodity.
It didn't work out as planned when oil started to plummet in mid-2014, and Freeport has basically gotten itself out of the oil business. There's a small remnant that still has to be dealt with, but it's relatively minor at this point. The heavy lifting here has taken place over the last year or so. In other words, Freeport's business has gone from four commodities back to three only recently -- but it still hasn't gotten rid of all the debt, which stood at roughly $3.5 billion before the oil investment.
What's left
That's left Freeport with copper, gold, and molybdenum as its main commodities. Molybdenum is largely a byproduct of copper mining and is a relatively small piece of Freeport's business. And while gold is often mined by itself, almost all of Freeport's gold comes out of the giant Grasberg mine in Indonesia, which is also a key copper asset. In other words, gold, too, is largely a byproduct (though a very valuable one) for Freeport. Copper, then, is this miner's main commodity, accounting for roughly two-thirds of revenues in 2016. That number should be higher in 2017 now that the oil businesses is materially smaller than it was last year.
And it's a big player in copper, too. By the company's estimates, it was the second largest copper producer on Earth in 2016. It is the largest publicly traded copper miner. The next largest copper miners are more diversified Glencore and BHP Billiton, but copper is only one piece of much larger portfolios for those companies. That pair is followed by copper-focused Southern Copper. The top producer, Codelco, meanwhile, is owned by Chile, though it has publicly traded debt.
Freeport is one of the world's largest copper players. Image source: Freeport-McMoRan Inc.
While Freeport-McMoRan has mines around the world, roughly 70% of its copper reserves are located in North and South America. The rest is largely in Indonesia, which is a trouble spot today because the Indonesian government changed some rules at the start of the year. Note, too, that the vast majority of the company's gold reserves are located atGrasberg, making the troubles at this mine a gold issue, too. You'll want to keep an eye on the Grasberg mine in addition to minding the company's debt.
More than one trick
Freeport-McMoRan isn't a one-trick pony. It produces three main commodities (copper, gold, and molybdenum), with a small position in a fourth (oil) that it's getting away from. However, copper is the metal that drives the company's financial results. That fact has gotten lost in recent years with the ill-timed investment in oil, the heavy debt load, and the recent troubles with a key asset in Indonesia. You clearly have to understand and monitor those trouble spots, but you can't forget that, at its core, Freeport-McMoRan is a copper company.
10 stocks we like better than Freeport-McMoRan Copper & GoldWhen investing geniuses David and Tom Gardner have a stock tip, it can pay to listen. After all, the newsletter they have run for over a decade, Motley Fool Stock Advisor, has tripled the market.*
David and Tom just revealed what they believe are the 10 best stocks for investors to buy right now...and Freeport-McMoRan Copper & Gold wasn't one of them! That's right -- they think these 10 stocks are even better buys.
Click here to learn about these picks!
*Stock Advisor returns as of May 1, 2017.
Reuben Brewer has no position in any stocks mentioned. The Motley Fool owns shares of Freeport-McMoRan Copper & Gold. The Motley Fool has a disclosure policy.