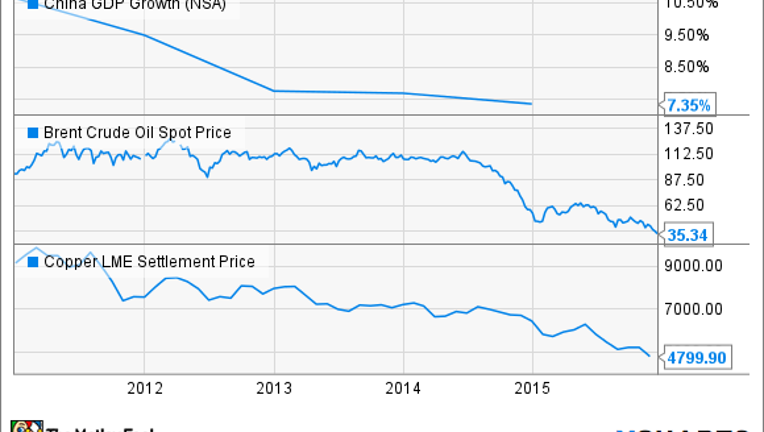 After exploring multiple funding options last year, Freeport-McMoRan is expected to start auctioning off its oil and gas assets early in 2016, according to a recent report by Reuters. What was surprising isn't the fact that Freeport now appears ready to unload the business it bought just over two years ago, but that while it paid nearly $20 billion to acquire this business in 2013, it might now only be worth a mere $3 billion. While that rapid value incineration is mainly due to the slide in commodity prices, the reason Freeport's assets in particular have fallen so far in value is due to its focus on development potential over current production.
Oh, happy day!Freeport-McMoRan never envisioned its current predicament when its management team announced the acquisitions of McMoRan Exploration and Plains Exploration & Production in December 2012. Instead, it was ecstatic when CEO Richard Adkerson, in his prepared remarks on the conference call, announced that company had finally found a way to capture the upside for commodity prices. Adkerson noted this by pointing out that:
The problem with this view is that the commodities picture quickly dimmed. China's economy started to noticeably slow, which led to weakness in the prices for the company's two key commodities: copper and oil.
China GDP Growth data by YCharts.
While China's demand for oil slowed, supplies ballooned due to the shale boom in the U.S. and strong production growth elsewhere around the world after years of triple-digit oil prices. That pushed the market out of balance, with supplies outweighing demand. It was something no one saw coming, especially not Freeport-McMoRan. In fact, it spent much the first year it owned the business tweaking its portfolio to position it for where it saw the most long-term potential.
Reshuffling the decks the wrong way When Freeport-McMoRan acquired its oil and gas businesses in 2013, the portfolio included acreage in the Eagle Ford and Haynesville shale plays, deepwater Gulf of Mexico assets, mature assets in California, and ultra-deep assets in Louisiana. However, given its expertise in exploration as well as building large-scale mining projects, it decided to make some changes to its portfolio to focus on what it knows best.
The first step was to sell its Eagle Ford shale acreage to Encana for $3.1 billion in June 2014. While the Eagle Ford was a hot growth play for the industry, Freeport-McMoRan was managing it for cash flow because it didn't find shale growth quite as appealing as did Encana, which liked the shorter cycle growth that it could drive from shale. Freeport, however, saw larger-scale projects like those found in the Gulf of Mexico to be more its style because these had some similarities to the large-scale mining projects it was accustomed to building.
Image source: Encana Corporation.
That's why it almost immediately reinvested a portion of its Eagle Ford proceeds into the acquisition of Apache's deepwater Gulf of Mexico assets, with Freeport paying $1.4 billion for Apache's interests in the Lucius and Heidelberg development projects as well as 11 exploration blocks. It was a move that Apache felt was necessary because like Encana, it preferred shale-driven growth as opposed to expensive deepwater development projects. Freeport then complemented this move by submittinga number of offshore leasing bids in 2014, paying $321 million to acquire additional exploration rights in the Gulf.
While these moves made sense at the time, it caused the company to become rather overexposed to upside potential at the expense of near-term production and cash flow. This meant that it needed to invest significant sums of money to turn this upside into production and that's cash it is now lacking at current commodity prices. In fact, when the original oil and gas acquisitions were made, Freeport expected that the pro forma company would produce $9 billion in annual operating cash flow, which would provide it with ample cash to fund its development projects and pay down some of the debt it used to make the acquisitions. However, at current commodity prices, the company only expects to generate $3.8 billion in operating cash flow in 2016, and that's after two years of growth projects have come on line. That slide in cash flow forced it to make significant cuts in order to fund its capex requirements.
Investor takeawayIn a sense, the structure of its portfolio is acting as a double weight for the company. Not only has the commodity price slide pushed down the value of its producing asset base because these are producing much less cash flow, but the assets that aren't generating any cash flow just yet are, in a sense, becoming a liability. That's how Freeport-McMoRan has incinerated so much value in such a short amount of time.
The article How Freeport-McMoRan Inc. Incinerated Nearly $17 Billion in Just Two Years originally appeared on Fool.com.
Matt DiLallo has no position in any stocks mentioned. The Motley Fool owns shares of Freeport-McMoRan Copper & Gold. Try any of our Foolish newsletter services free for 30 days. We Fools may not all hold the same opinions, but we all believe that considering a diverse range of insights makes us better investors. The Motley Fool has a disclosure policy.
Copyright 1995 - 2016 The Motley Fool, LLC. All rights reserved. The Motley Fool has a disclosure policy.