How Ford Doubled Its Profits in North America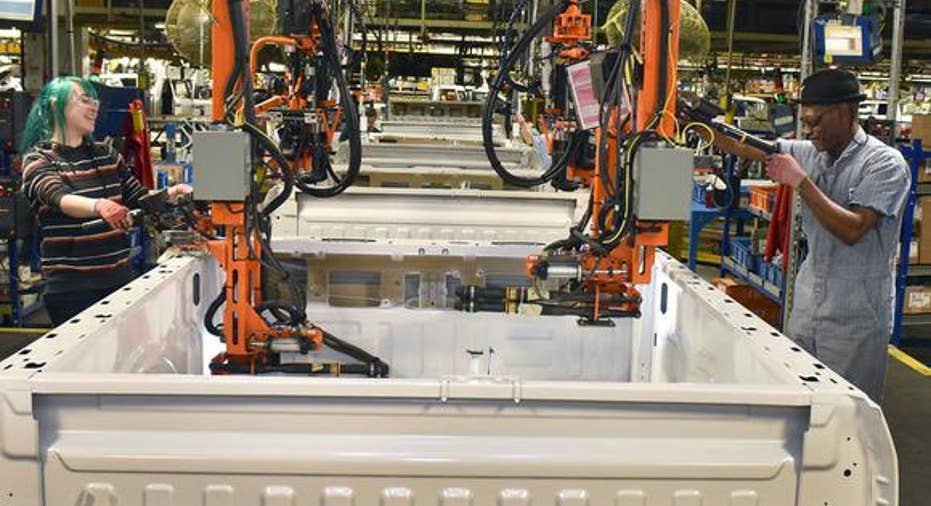 As is so often the case with Ford, the F-150 pickup played a big part in its jump in profits in the first quarter. But the F-150 wasn't the only player in the story. Image source: Ford Motor Company.
Ford Motor Company earned $3.1 billion before taxes in its North America unit in the first quarter of 2016, with a 12.9% operating profit margin.
Those are outstanding numbers. That profit was nearly double the $1.6 billion it earned in the first quarter of 2015. Ford also nearly doubled its profit in North America despite a big bump in rental-fleet sales, which led many analysts to think that its profits and margins in the region might slip year over year.
How did Ford manage that?
Ford has a lot more new F-150s to sell now than it did a year agoFord's chief financial officer, Bob Shanks, provided a detailed answer to that question during the Blue Oval's earnings call. His answer centered on this chart from Ford's earnings presentation, which "walks" from last year's result to the current one:
Image source: Ford Motor Company.
So what drove that $1.5 billion year-over-year improvement?
"As you can see here, it was higher volume, it was favorable mix, and it was lower cost performance," Shanks said. In other words, Ford's North America team was able to make improvements across the board.
Shanks went on to highlight a few of the most important details, starting with the biggest one. "If you look at the stock performance of $691 million in the callout box there for volume and mix, that is more than explained by the F-Series. This time last year, we were launching [the all-new 2015] F-150 in Kansas City. Obviously, that's behind us now, and we're operating both Dearborn and Kansas City at three crews. So that's simply reversing what was an anomaly last year and making it more normal."
The launch of the all-new-for 2015 F-150 was an extraordinarily complicated effort for Ford, in large part because the new truck's aluminum body panels required extensive reworking of the two factories that build it. The popular pickup truck is manufactured in two busy factories located in Dearborn, Michigan, and near Kansas City, Missouri. Each factory had to be shut down for roughly 12 weeks to be retooled to make the new truck. That led to months of shortages of the popular pickups, which during the first quarter of 2015 were still putting pressure on Ford's sales and profits in North America.
Ford has more F-150s available now than it did in the first quarter of last year, when it was still ramping up its factory in Kansas City. Image source: Ford Motor Company.
Now, as Shanks said, both factories are up and running at full speed nearly around the clock. Inventories are full, and sales have been strong. In other words, things are back to normal, and that's a very good thing for Ford's bottom line.
More to the story than pickup salesBut there was more to Ford's good story in the first quarter, and it involved two other products that were being launched at this time last year, the all-new versions of the Ford Edge and its Lincoln MKX sibling. "If you go into mix, mix and other, about $0.5 billion, that was actually favorable product mix," Shanks continued. "Again, that was around returning to normal with F-150, but also remember that a year ago we were launching the Oakville products, the Edge as well as the MKX. We are benefiting from the fact that that plant is now up and running. We've got normal supply of those successful products."
Supplies -- and sales -- of the popular and profitable Ford Edge were up big in the first quarter. Image source: Ford Motor Company.
Here's another way to look at it: Sales of the Ford Edge were up 53% in the first quarter, and Lincoln MKX sales jumped 81%. Like other Ford and Lincoln crossover SUVs, these are very profitable products.
Shanks also wanted to explain a negative item: That $1.193 billion in "incentives/other" shown above the "net pricing" bar. Did Ford jack up its incentives to boost sales. Not quite, as Shanks explained. "If you go into the net pricing, this one is interesting. You can see the incentives and other of negative $1.2 billion. Half of that is a one-time stock accrual that is taking place and most of that, about 80% of it. Again it's driven by the anomaly of last year. Last year, because we were launching the F-150 at Kansas City, we had extremely low levels of inventory. We also had very low levels of incentives."
He added:
Long story short: More sales of Ford's most profitable productsHere's the summary: Ford had more F-150s, Edges, and MKXs to sell in the first quarter than it did last year. Those are all very profitable, in-demand products. Having more meant that Ford was able to improve its "mix" of products sold and get year-over-year improvements in pricing. It also meant that it had to take a larger allowance for the usual incentives on those sales, particularly on the pickups -- but that was more than offset by the good gains on sales volumes and mix.
The article How Ford Doubled Its Profits in North America originally appeared on Fool.com.
John Rosevear owns shares of Ford. The Motley Fool owns shares of and recommends Ford. Try any of our Foolish newsletter services free for 30 days. We Fools may not all hold the same opinions, but we all believe that considering a diverse range of insights makes us better investors. The Motley Fool has a disclosure policy.
Copyright 1995 - 2016 The Motley Fool, LLC. All rights reserved. The Motley Fool has a disclosure policy.