How FireEye Inc. Burned to the Ground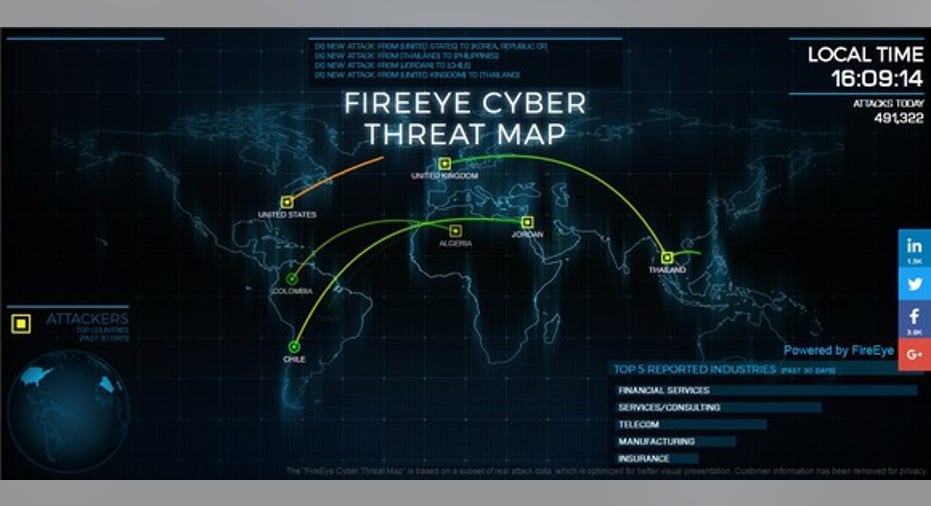 Shares of FireEye (NASDAQ: FEYE) plunged 16% on Feb. 3 after the cybersecurity firm posted a bigfourth quarter sales miss and a weak first quarter forecast and revealed the departures of key executives. FireEye's revenue stayed roughly flat year-over-year at $184.7 million, but that represented a big slowdown from its double-digit growth in previous quarters and missed forecasts by $6.3 million.
Billings fell 14% annually to $221.8 million, which missed the company's prior forecast of $230 million to $250 million. Gross margin fell one percentage point annually to 74%, but operating margin of -1% -- boosted by layoffs and cost cutting measures -- represented a solid improvement from -28% a year earlier. That's why FireEye's non-GAAP net loss narrowed from $0.36 per share a year ago to just $0.03 per share, beating estimates by $0.13.
Image source: FireEye.
But looking ahead, FireEye expects its first quarter revenues to fall 1%-5% annually, which would mark its first year-over-year decline since its 2013 IPO. Analysts had expected 5% growth. But on the bottom line, FireEye expects a non-GAAP loss between $0.26-$0.28 per share, which represents an improvement over its loss of $0.47 per share a year earlier. Unfortunately, analysts were expecting a narrower loss of $0.24. To top off all that bad news, FireEye disclosed thatCFO Mike Berry and Executive Chairman and former CEO David DeWalt were both leaving the company.
Faced with all these challenges, it isn't surprising that FireEye trades at just over half its IPO price of $20. Let's discuss the main headwinds facing FireEye, and why they could blow the company even further off course this year.
How FireEye lost its spark
FireEye provides a threat detection platform that intercepts attacks before they breach a company's network perimeter. It serves over5,000 customers in 67 countries, including nearly half of the Forbes Global 2000. It was also the first cybersecurity firm to be certified by the U.S. Department of Homeland Security back in2015.
FireEye's "best in breed" reputation and the rise of data breaches worldwide fueled its explosive revenue growth over the past few years, but that growth is decelerating. Its annual revenue rose163% in 2014, 46% in2015, but just 15% in 2016. That slowdown can mainly be attributed to slower enterprise spending, tougher competition in the threat detection market, and a shift away from on-site appliances toward more scalable cloud-based subscription services.
Image source: Getty Images.
FireEye is still considered the "best in breed" player in threat detection, but companies like Cisco (NASDAQ: CSCO) and Microsoft (NASDAQ: MSFT) are now challenging it with bundled threat detection services. Cisco's acquisitions of SourceFire andThreatGRID enhanced its ability to detect threats across networks powered by its hardware and software. Demand for Cisco's bundled security solutions notably boosted its cybersecurity revenues by13% to nearly $2 billion in fiscal 2016.
Microsoft recently launched Windows Defender ATP (Advanced Threat Protection) for Windows 10, which uses the company's cloud-based Security Graph (containing data from over 1 billion Windows devices worldwide) to intercept threats in a similar way. The tech giant also recently pledge to invest $1 billion annually into its cybersecurity business, which could make it tough for smaller stand-alone players like FireEye to stay competitive.
Widening the moat is a sluggish process
FireEye's core turnaround strategy is to pivot away from its sluggish on-site appliance business and toward FireEye as a Service (FaaS), a scalable cloud-based platform that continuously detects and analyzes threats without the need for appliances, on-site security teams, or managed security services providers.
Last November, FireEye expanded that ecosystem with Cloud MVX and MVX Smart Grid, which added newprivate, hybrid, and public cloud deployment options for mid-sized and larger businesses. It also launched Helix, an all-in-one platform that bundles its network, endpoint, Threat Analytics Platform, Advanced Threat Intelligence, and FireEye Security Orchestrator in a unified system undera single user interface.
However, turning customers toward that cloud-based platform is very tough on FireEye's revenue growth, since the company generates more upfront revenue per appliance sale than cloud-based subscription. That's why analysts expect its revenue to rise just 4% in fiscal 2017.FireEye hopes that this growth will stabilize over time, but its dismal billings growth in the fourth quarter indicates that it's a tough balancing act to pull off.
The silver lining
On the bright side, CEO Kevin Mandia has reversed FireEye's widening losses and slowed down its cash burn rate by downsizing its operations over the past few quarters. The bad news is that reducing FireEye's sales and marketing spend (down 38% annually last quarter) could cripple its ability to combat other competitors and bundled challengers like Cisco and Microsoft.
Therefore, I believe that FireEye is in serious trouble, and that its only real salvation is a buyout. Unfortunately, that might not happen anytime soon if potential suitors believe that the company can be bought out at a lower price in the near future.
10 stocks we like better than FireEye When investing geniuses David and Tom Gardner have a stock tip, it can pay to listen. After all, the newsletter they have run for over a decade, Motley Fool Stock Advisor, has tripled the market.*
David and Tom just revealed what they believe are the 10 best stocks for investors to buy right now... and FireEye wasn't one of them! That's right -- they think these 10 stocks are even better buys.
Click here to learn about these picks!
*Stock Advisor returns as of January 4, 2017
Teresa Kersten is an employee of LinkedIn and is a member of The Motley Fool's Board of Directors. LinkedIn is owned by Microsoft. Leo Sun owns shares of Cisco Systems. The Motley Fool owns shares of and recommends FireEye. The Motley Fool recommends Cisco Systems. The Motley Fool has a disclosure policy.