How Donald Trump and Hillary Clinton Are Affecting Holiday Spending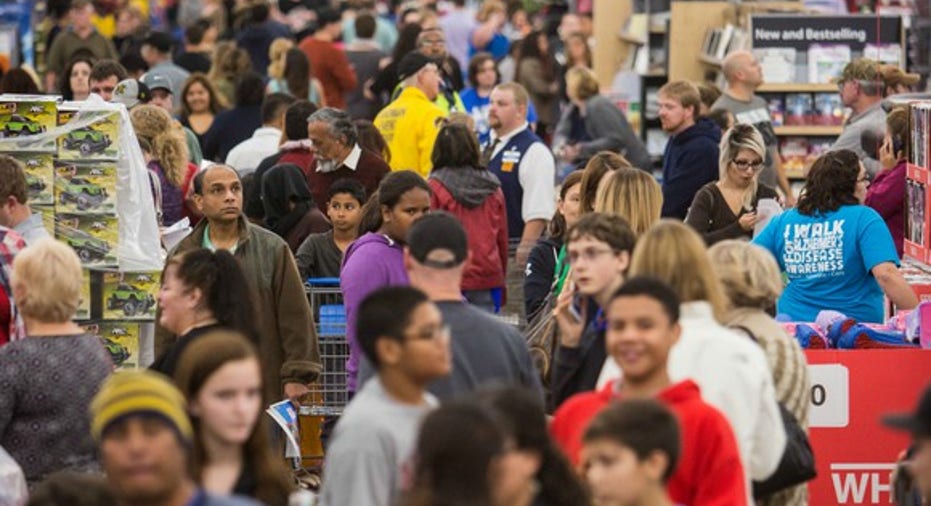 Uncertainty about who will become the next president is helping to put holiday spending on track to fall below below last year's record numbers.
Consumers are taking a more cautious approach to the holiday season, at least until the presidential race ends, according to the National Retail Federation's (NRF) annual consumer spending survey conducted by Prosper Insights & Analytics. The research found that people will spend an average of $935.58 during the holiday shopping season, down from 2015's record $952.58.
"Everywhere you turn -- whether you're picking up a newspaper or watching television -- political advertisements are taking up ad space that retailers typically use to get holiday shopping on the minds of consumers across the country," NRF President and CEO Matthew Shay said in a press release.
Customers shop at a Wal-Mart on a Black Friday. Image source: Wal-Mart.
It's not going to last
The good news for retailers is that barring a protracted tallying, like what happened between Al Gore and George Bush in 2000, Election Day should end the uncertainty. Even though either Hillary Clinton or Donald Trump supporters will be disappointed after Nov. 8, the public will at least know who has won, and television will move back to regular commercials.
"Once the election has passed, we anticipate consumers will pull themselves out of the election doldrums and into the holiday spirit," Shay said.
The NRF, in a separate poll, found that 43% of the American buying public say they "are being more cautious with their spending due to the uncertainty of the election season." That seems like a bad sign, but the survey also found that 87% of consumers could be convinced "to spend an extra $25 this holiday season if tempted by a good sale or promotion, the perfect gift for themselves or others or free shipping."
"Retailers should prepare for a rush of consumers in the weeks following the presidential election as they get more economic and political certainty and are looking to take advantage of promotions and deals that are too good to pass up for their friends, family and even themselves," Shay said.
Consumers are starting early
Despite the uncertainty of the election people are cautiously starting their holiday shopping well before Black Friday. The NRF research showed that 41% of shoppers began in October while the same amount will begin shopping in November. Only 18% will wait until December.
"While many holiday shoppers are starting early on their gift lists, Millennials are waiting to catch the best deals for their gifts, with nearly half (46 percent) waiting until November to start shopping," Prosper Insights Principal Analyst Pam Goodfellow said. "Younger consumers are likely to be looking forward to the Thanksgiving/Black Friday shopping 'experience' -- and know that retailers will be offering great promotions that weekend."
Stores are starting early
Department stores and big-box retailers like Target (NYSE: TGT) and Wal-Mart (NYSE: WMT) have pushed the start of the holiday season earlier each year. That includes opening on Thanksgiving, which both of those chains have done in recent years and launching Christmas merchandise before Halloween products have been cleared from the shelves.
That makes sense given the increased competition for holiday dollars. In addition to having to deal with election uncertainty, retailers like Wal-Mart and Target would do well to take note of one other trend, according to NRF's research.
"Many shoppers are taking the approach of 'one for you, two for me' this holiday season," Shay said. "Retailers are preparing by offering a wide array of merchandise and promotions -- items shoppers want to give as great gifts at prices so good they want to buy for themselves too."
That's an attitude that seems perfectly reasonable in a season defined by political unrest. The election's impact may fade by the time Thanksgiving, Black, Friday, and Cyber Monday roll around, but for now shoppers are being cautious. Still, stores need to be ready for a giant post-vote exhale.
10 stocks we like better than Wal-Mart Stores When investing geniuses David and Tom Gardner have a stock tip, it can pay to listen. After all, the newsletter they have run for over a decade, Motley Fool Stock Advisor, has tripled the market.*
David and Tom just revealed what they believe are the ten best stocks for investors to buy right now... and Wal-Mart Stores wasn't one of them! That's right -- they think these 10 stocks are even better buys.
Click here to learn about these picks!
*Stock Advisor returns as of October 3, 2016
Daniel Kline has no position in any stocks mentioned. He does very little holiday shopping (so you're not getting a gift). The Motley Fool has no position in any of the stocks mentioned. Try any of our Foolish newsletter services free for 30 days. We Fools may not all hold the same opinions, but we all believe that considering a diverse range of insights makes us better investors. The Motley Fool has a disclosure policy.