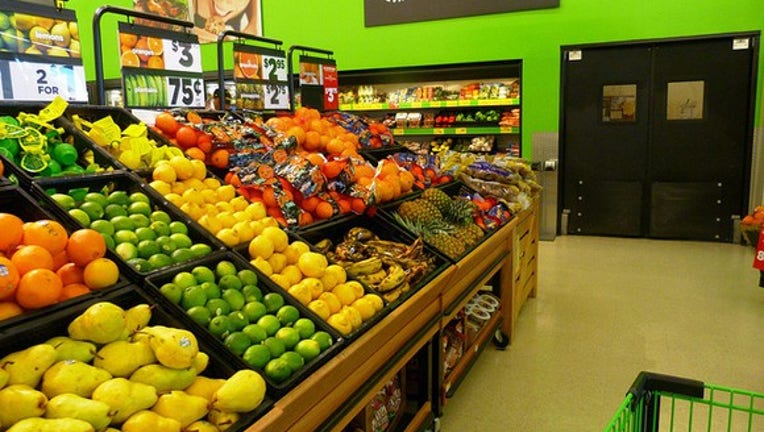 It's hard to beat the value you can find at dollar stores such as Dollar Tree, which have been investing in more name-brand goods to attract customers. Image source: Mike Mozart
The dollar stores are killing it. Both Dollar General and Dollar Tree reported earnings recently that showed higher sales and profits. In a landscape where retailers are struggling with sliding revenue and earnings, the dollar store industry is notable for continuing to notch gains.
How is it these deep discounters can ring up greater growth when the rest of retail is hunkering down trying to ride out the storm? By knowing their competition.
Not everything is moving online
AlthoughAmazon.comisarguably one of the biggest threats many retail operations face these days, undercutting their prices and offering shipping policies second to none, that's not whoDollar General and Dollar Tree are competing against.In fact, the online presenceof the deep discount chainsis secondary to their brick-and-mortar stores, almost as if they could care less the Internet retailer existed. No, they've got their sites set on different game: customers that shop at Wal-Mart .
Like Wal-Mart, the dollar stores target similar consumer demographics, low to middle income shoppers looking for a deal. But because the dollar stores tend to be located in more urban areas than Wal-Mart stores, they're able to provide consumers with the convenience their bigger rival cannot.
According to consulting firm Kantar Retail, the average Wal-Mart customers is a 50-year old white female with an annual household income of $53,000.That's largely the same cohort the dollar stores appeal to, though the average household income of their customer is around $46,000.
But reflective of the slowing growth it has experienced, Wal-Mart is looking to appeal to more upscale customers, though without quite forgetting its cash-strapped base. Last year, CEO Doug McMillon told analysts "Globally, we know growth will disproportionately come from middle and upper income households in the years ahead. In markets where we have a presence, middle income households are projected to drive 50% of total retail growth."
Yet in its first quarter conference call last week, Dollar General's CEO Todd Vasos revealed that middle income older males and millennial female shoppers were an increasingly important component of its growth story. He noted that Gen Y women in particular were emerging as a factor -- this group represents about 12% of its shoppers but 24% of total sales.
That could also have a profound impact on how Target performs in the future as its customers have typically skewed heavily toward that demographic, and their incomes are some $12,000 above typical Wal-Mart shoppers.
Tried and failed
Wal-Mart did try to compete against the dollar chains by opening small footprint Walmart Express stores that, at 15,000 square feet, were just a fraction of its 180,000 square footsuper centers. However, it didn't take long for the company to realize it couldn't run these smaller locations as effectively and quickly rebranded the stores as Neighborhood Markets, stores that are, on average, three times larger.
While low cost, fresh produce has made Wal-Mart a premier grocery chain, even Dollar General is bringing the goods to consumers at its DG Markets stores, raising the stakes. Image source: Rusty Clark
The dollar chains keep upping the ante, though. Dollar General, for example, is expanding its DG Markets concept, an upscale version of its discountstores thatoffer customers awider selection of goodsthan they're accustomed to, including fresh produce.
Not only is Dollar General investing in healthier, fresher items to attract the millennial shopper, but Dollar Tree is expanding its frozen and refrigerated selection by installing freezers and coolers in 400 more stores this year -- and introducing more name brands.
Dollar Tree is also benefiting from the acquisition of Family Dollar, which posted its third consecutive quarter of higher same-store sales, leading it to announce that the chain's situation has stabilized after years of decline. It's now able to offer a variety of price points to value-conscious shoppers.
A deeper bench
The deep discounters are no longer these bare bones operations, though there's still something of a "treasure hunt" atmosphere while shopping at one of their stores. They've invested heavily in their appearance and selection so that they find themselves in the sweet spot of retail, offering value, selection, proximity, and convenience.
Wal-Martis largely able to compete based on price and selection, but Dollar General and Dollar Tree have effectively blunted that competitive edge. That they can do so without also needing to worry about the likes of Amazon.com siphoning off customers means they'll continue to further encroach on Wal-Mart's territory, giving them room to grow even more.
The article How Dollar Tree and Dollar General Are Beating Wal-Mart originally appeared on Fool.com.
Rich Duprey has no position in any stocks mentioned. The Motley Fool owns shares of and recommends Amazon.com. Try any of our Foolish newsletter services free for 30 days. We Fools may not all hold the same opinions, but we all believe that considering a diverse range of insights makes us better investors. The Motley Fool has a disclosure policy.
Copyright 1995 - 2016 The Motley Fool, LLC. All rights reserved. The Motley Fool has a disclosure policy.