How Disney Exponentially Increased the Value of Star Wars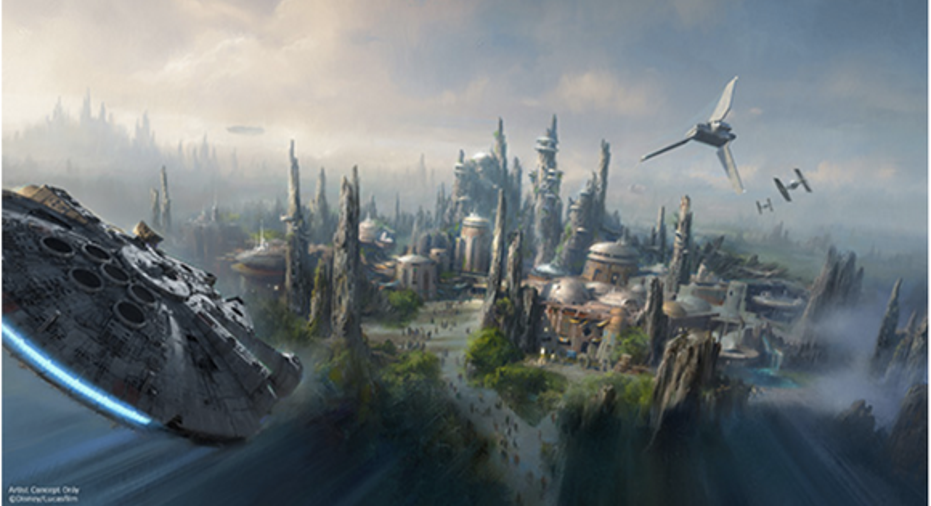 Image source: Disney.
In 2012,Disney bought Lucasfilm, including the Star Wars franchise, from George Lucas for $4 billion. The company has recently launched its first Star Wars movie, The Force Awakens, and the film is on track to becoming a massive success. The Force Awakens will most probably surpass Avatar as the highest-grossing film in the U.S. over the coming days, and it could easily turn out to be a record movie on a global scale, too.
Professor Aswath Damodaran, from the Stern School of Business at New York University, is one of the leading world experts in valuation. Back in 2012, Professor Damodaran calculated that Disney was paying a fair price for the Star Wars franchise. However, a more recent analysis after the launch of The Force Awakens puts the value of the Star Wars franchise at an estimated $10 billion.
These kinds of calculations always rely on multiple forecasts and assumptions, and even a renowned expert such as Professor Damodaran can make mistakes when calculating the value of Star Wars. Nevertheless, everything indicates that Star Wars is now far more valuable in Disney's hands, and this speaks wonders about the company's business model and management team quality.
A business from another galaxyDisney is planning to launch two additional Star Wars movies in 2017 and 2019, and the company is also planning three spinoffs from the franchise in 2016 and 2018. Damodaran calculates that the Star Wars movies will make $2 billion each, while the spinoffs are forecasted to make $1 billion each in box office revenue. The Force Awakens has already made $1.5 billion in only three weeks, so these estimations could turn out to be conservative.
Even better, most of the value of the franchise depends on additional businesses such as streaming and DVDs, toys and merchandise, books and ebooks, video games, and TV shows. Streaming is a particularly intriguing opportunity for Disney and the Star Wars franchise; children and adults with a young heart tend to watch this cult films multiple times, so demand for streaming and home entertainment could be huge.
In 2012,Netflix made a deal with Disney that gave Netflix the exclusive streaming rights for all of Disney's films, including the Star Wars properties, starting on January 1, 2016. Since The Force Awakens was launched on December 18, 2015, it's not included in the agreement. Only Netflix subscribers in Canada will get to see The Force Awakens via Netflix, while Starz holds the right to the film in the U.S. That is, unless Netflix and Disney make an additional deal for The Force Awakens, of course.
Toys and merchandise could be another huge revenue driver for Disney. Based on Damodaran's calculations, each dollar in box office revenues from the Star Wars movies will translate into two dollars in merchandising revenues.
Importantly, these calculations don't include the opportunities in entertainment parks, an area where Disney is making big bets. The company announced in August that it's building two huge Stars Wars attractions at Disneyland, California, and at Walt Disney World Resort in Florida. These new areas will be Disney's largest single-themed land expansions ever, at 14 acres each.
New attractions based on the powerful Star Wars franchise could be a smart way to bring regular customers back to Disney's parks and resorts in order to see the new attractions. Nobody should be too surprised to see lots of Star Wars fans, perhaps dressed like Darth Vader or Princess Leia, forming long lines at Disney's parks in the not-too-distant future.
The force is with DisneyIt looks like Disney made an amazingly good deal with the purchase of Star Wars, and other acquisitions such as Pixar and Marvel have also resulted in big gains for the company. This says a lot about Disney's business model and management skills.
When Disney buys intellectual properties, the company knows how to leverage its brand reputation and human talent to produce successful movies and TV shows from those assets. A particular franchise is generally more valuable in Disney's hands, and this creates a lot of value for investors in Disney over the years.
Even better, the company has a unique business model allowing it to profit from its productions via multiple platforms at the same time. A successful movie sets the stage for not only additional movies from the same franchise, but also big opportunities in streaming, merchandising, live shows, and entertainment parks attractions, among others.
This makes Disney an undisputed leader in the entertainment industry, and a world-class business for investors to hold over the long term.
The article How Disney Exponentially Increased the Value of Star Wars originally appeared on Fool.com.
Andres Cardenal owns shares of Netflix and Walt Disney. The Motley Fool owns shares of and recommends Netflix and Walt Disney. Try any of our Foolish newsletter services free for 30 days. We Fools may not all hold the same opinions, but we all believe that considering a diverse range of insights makes us better investors. The Motley Fool has a disclosure policy.
Copyright 1995 - 2016 The Motley Fool, LLC. All rights reserved. The Motley Fool has a disclosure policy.