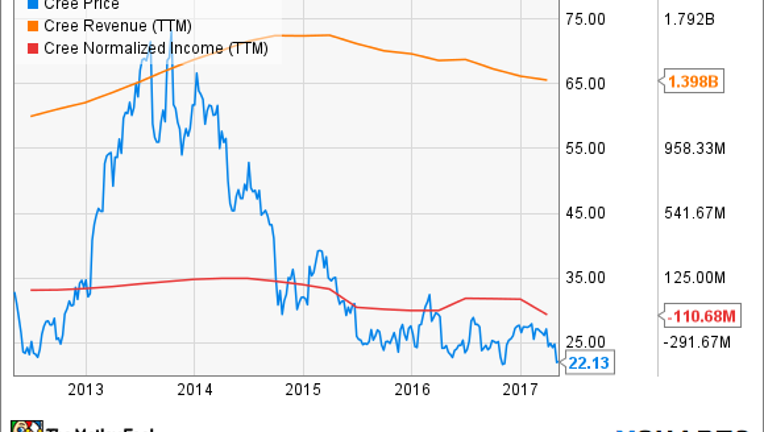 What happened
Shares of LED lighting manufacturer Cree (NASDAQ: CREE) fell 18.1% in April 2017, according to data from S&P Global Market Intelligence.
So what
The bulk of Cree's April pain followed after the company's third-quarter report, which fell short of Wall Street's earnings forecasts. Share prices dipped as much as 16% lower the next day.
Image source: Getty Images.
Now what
Cree's sales and earnings have not been inspiring in recent years, even as the company's signature LED lighting technologies started moving into the mainstream economy.
"Our lighting team is strengthening the fundamentals and laying the groundwork to grow revenue and profits in this business, and I'm confident they will deliver," said Cree CEO Chuck Swoboda in the third-quarter earnings call. "We're uniquely positioned as a market-leading innovator in all 3 businesses and target growth in each of these segments over the next several years. "
But he had no specific target dates for these projected growth spurts, leaving both investors and analysts in the dark regarding long-term value estimates. The LED revolution always seems to be right around the corner, never quite ready to start. Until that changes, I find it hard to pull the trigger on a LED specialist's stock that trades for 41 times forward earnings and 15 times trailing EBITDA profits.
10 stocks we like better than CreeWhen investing geniuses David and Tom Gardner have a stock tip, it can pay to listen. After all, the newsletter they have run for over a decade, Motley Fool Stock Advisor, has tripled the market.*
David and Tom just revealed what they believe are the 10 best stocks for investors to buy right now... and Cree wasn't one of them! That's right -- they think these 10 stocks are even better buys.
Click here to learn about these picks!
*Stock Advisor returns as of May 1, 2017
Anders Bylund has no position in any stocks mentioned. The Motley Fool has no position in any of the stocks mentioned. The Motley Fool has a disclosure policy.