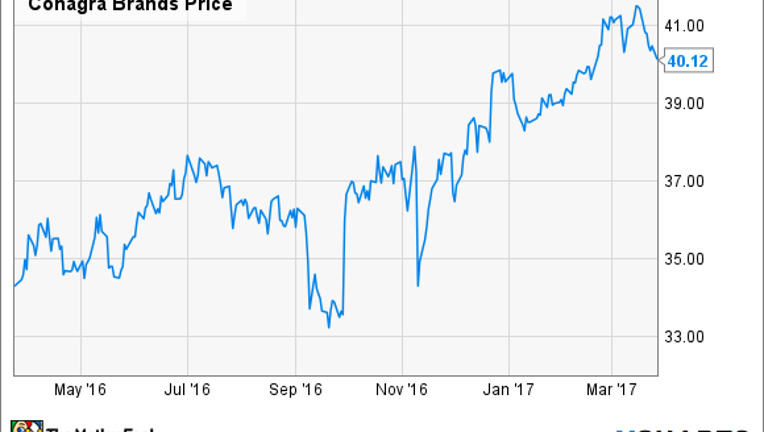 Conagra Brands (NYSE: CAG) continues its makeover to adapt to changing food trends by focusing on branded meals and snacks. The most recent quarter showed those efforts continued to pay off, as earnings per share from operations grew to $0.41 from $0.16 in the previous year.
However, with shares at all-time highs and valuations looking rich, this food company's stock may have gone too far too fast.
Data by YCharts.
A two-year timeline of changes
Back in 2015, Conagra hired Sean Connolly as the new CEO. Coming from executive positions at packaged foods companies Hillshire Brands and Sara Lee, Connolly's goal since arriving has been to narrow Conagra's scope to its branded food business while improving efficiency.
That strategy had already begun upon Connolly's arrival but gained clarification soon after he took the reins. A number of divestitures and acquisitions over the past two years have made the company a smaller but more profitable operation.
Data source: Conagra Brands.
Image source: Getty Images.
Investors have cheered the changes as they have resulted in higher profits afteradjusting for the spinoff of Lamb Weston last fall. The higher profitability comes in spite of lower sales as the company has slimmed down its food operations and overhead at the corporate level by eliminating positions. Now a leaner and more efficient company, the plan going forward will be more of the same.
Targeting higher-quality food sales
The new company focus is on high-quality pre-packaged food brands. Its recent acquisitions have been of "all-natural" and "high-quality"food and snackcompanies. The lineup of names is already quite extensive, including staples like Hunt's tomatoes and Peter Pan peanut butter and the frozen meals business of Marie Callender's and P.F. Chang's.
Conagra sees itself as an innovator in the food industry. Part of Conagra'sself-description reads this way:"Guided by an entrepreneurial spirit,Conagra Brandscombines a rich heritage of making great food with a sharpened focus on innovation." Innovation, in this context, basically means mergers and acquisitions that bring new products into the fold.
However, even though profit is on the rise, debt has been reduced, and the company has set itself up to go shopping for thoseinnovative new food makers, that doesn't mean the stock is worth buying.
Image source: Frontera.
Optimism about the remade Conagra Brands has shown up in the relentless rise of shares in the last few years and valuation looks pricey at this point. The trailing price-to-earnings ratio is sitting at 28 and the forward price-to-earnings ratio based on one-year estimates is 21. For reference, the overall S&P 500 trailing P/E ratio is at 25 and the one-year forward P/E is at 18. Conagra's 28 looks like asteep price to pay for a food company, even if "innovation" is used in the tag line.
Conagra is putting in some hard work to reduce expenses and update its portfolio for modern tastes that lean toward higher quality and more "natural" foods. While that is equatingto growth on the bottom line, the stock's rise has already taken into account future growth. I don't see enough upside left in the foods and snacksindustryto warrant a purchase at this point.
10 stocks we like better than Conagra Brands, Inc.When investing geniuses David and Tom Gardner have a stock tip, it can pay to listen. After all, the newsletter they have run for over a decade, Motley Fool Stock Advisor, has tripled the market.*
David and Tom just revealed what they believe are the 10 best stocks for investors to buy right now... and Conagra Brands, Inc. wasn't one of them! That's right -- they think these 10 stocks are even better buys.
Click here to learn about these picks!
*Stock Advisor returns as of February 6, 2017
Nicholas Rossolillo has no position in any stocks mentioned. The Motley Fool has no position in any of the stocks mentioned. The Motley Fool has a disclosure policy.